FREE US SHIPPING | RINGS HANDCRAFTED IN NORTH CAROLINA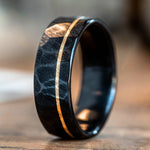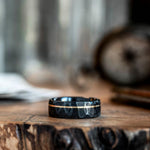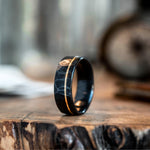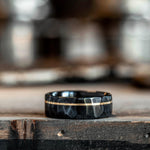 (In-Stock) The Apollo Noir | Men's Hammered Black Titanium Wedding Band with Offset 14k Yellow Gold Inlay - Size 10.75 | 8mm Wide
Ships fast! Ships within 24-48 hours of your order being placed.
Regular Price

$ 346.50

Sale Price

$ 346.50

Regular Price

$ 495.00

Unit Price

per
Like this ring but need it in a different size? Shop The Apollo Noir ring and let our skilled artisans craft the perfect black titanium band for you.
Introducing The Apollo Noir - a bold and captivating men's black titanium wedding band with an offset inlay that draws inspiration from the enigmatic depths of space. Crafted with precision and care, The Apollo Noir showcases the striking and mysterious allure of black titanium, while the optional offset metal inlay adds a touch of contrast and elegance. The hand-ground and faceted design conveys a sense of power and sophistication, making this ring the perfect choice for the man who desires a contemporary and distinctive symbol of his commitment.
Embrace the dark side of the cosmos with The Apollo Noir, a wedding band that combines the durability of titanium with the captivating charm of black, creating a piece that is truly out of this world.
The Apollo Noir Titanium Ring Features:
Lightweight, durable, hypoallergenic black titanium ring
An offset 14k yellow gold inlay
Finish: Facetted
Fit: Comfort
Size: 10.75
Width: 8mm
Handcrafted to order in the USA
Ships in 24 - 48 hours after ordering
Limited Lifetime Warranty
Like this ring but need it in a different size? Shop this style in our made-to-order ring: The Apollo Noir 
Black Titanium (BlackTi)
A distinguished and enduring choice for those seeking a bold, black metal ring that stands the test of time. Crafted from Spectore's Black Titanium (BlackTi), this exceptional material offers all the advantages of Titanium Grade 2 with the added appeal of a ceramic-like, deep black finish.
Experience the allure of a ring that is both fashionable and functional. Our Black Titanium rings boast a 100% natural finish, achieved through a proprietary alloy and process, without relying on any applied coatings. This ensures that the captivating black hue remains steadfast and unfading, reflecting the lasting commitment it symbolizes.
Choose Black Titanium for a wedding band that exudes sophistication, durability, and a timeless charm. Perfect for those who desire a ring that makes a statement, this material embodies the essence of resilience and unwavering elegance.
Will the black finish hold up to everyday use?

This is the most durable finish we've ever seen in a black metal ring. Our team has worn their rings for months, hammered them, thrown them on concrete, and essentially did all of the things we ask our customers not to do and the finish still looks amazing. In short, yes. These rings are made to last!
Faceted Titanium Wedding Band
Each Apollo Noir ring is hand-ground to add a unique faceted texture. The rough texture allows the black titanium to show its deep tones of black and subtle greys.
Every ring will have slight variations in the facetted pattern so you can be sure that the ring you get is truly unique.
14k Yellow Gold Offset Inlay

A 14k yellow gold offset inlay adds a distinct bit of class to the ring.

Each Ring is Handcrafted in North Carolina

We are proud to craft each ring by hand in North Carolina, and honored to play a small role in the "Made in USA" movement taking place across the nation and sharing a part in our American heritage.