13 Unique Groomsmen Gifts They'll Keep Forever
November 08 2022 – Summer Yarbrough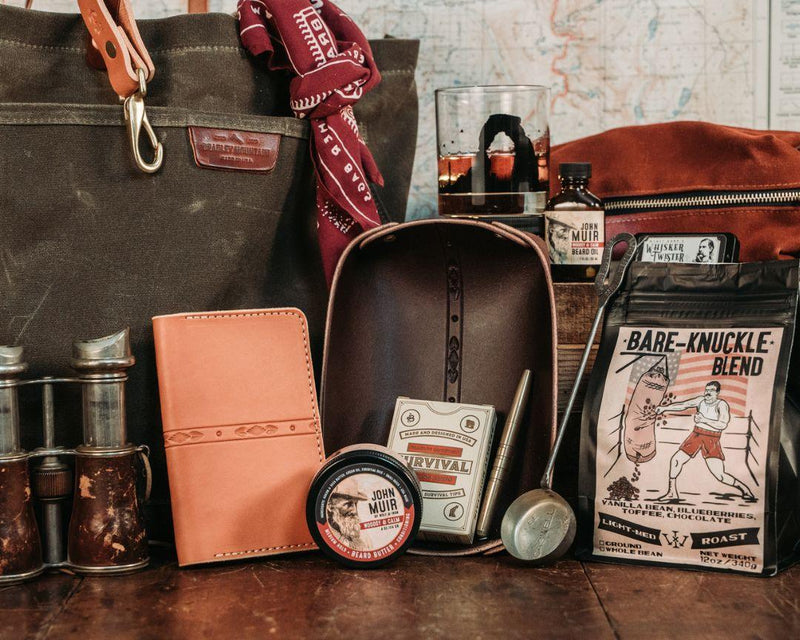 So you made the decision to commit to the woman of your dreams and who better to stand by your side than the men who have been there for it all? Not only do your groomsmen have your back in the day-to-day but they are expected to throw a killer bachelor party, stand beside you on your special day, and be the hype men at your reception.
Your groomsmen deserve more than sincere thanks and a firm handshake. They deserve a gift curated with thought and intention that will last them a lifetime. Skip the gimmicky gifts from a 101 "best" groomsmen gift list, can anyone say bottle opener or koozie? 
The best way to show your appreciation is to give a truly unique groomsmen gift to each of them. At Rustic and Main we believe your groomsmen's gift should match their personality and be made of high-quality, sustainable materials that will endure. Nothing is more high quality than a USA-made or handcrafted gift for your bros.
Don't stress over everyone receiving the exact same gift at the exact same price. A true friend is not keeping score or checking the price tag. You can personalize your unique groomsmen gifts by gearing the gifts towards their interests or choosing the same type of gift for each of your friends and family in a different style or color.
Trust us, our list of unique groomsmen gifts will stand the test of time just like your relationships, and you're not wasting your money on a gift that will end up in the landfill. We have organized our favorite groomsmen's gifts by the type of guy they would appeal to making it easier for you to show your appreciation for all they do for you. If the guys by your side on your big day are the thoughtful type, someone who is always on the go, or the guy who has it all, we have a gift for all of them. Better yet, we have them all in one place, so you can slay your groomsmen's gift list at one time instead of hunting down gifts all over the internet.
The Connoisseur: For the guy who appreciates a good drink
Black Lantern Pint and Whiskey Glasses
Price: $29.50 (for a set of 2)
The great thing about these whiskey glass gifts is there are so many exclusive designs to choose from and you can mix and match according to your Groomsmen's interest. You can get a matching set of pint glasses or choose a combination of the 4 different prints. If one of your buddies is into beer and whiskey you can pair up one of each glass for a custom set.
These beer and whiskey glasses are designed by a small business in Estes Colorado and are made of sturdy glassware. 
Bonus Feature: Not only are you supporting a US-based small business when you purchase these, but a portion of each sale also goes to protect our National Parks.
Wolf & Iron Coffee
Price: $15.99
 Some guys prefer the taste of coffee in the morning, or like our founder Mike all day long. Instead of ending the day with spirits, this coffee is freshly roasted in small batches in North Carolina and packaged right after to keep the whole bean freshness sealed in. Wolf & Iron designed these bags in honor of one of our Nation's Manliest Men: Teddy Roosevelt. Grab a pack of all three: Rough Riders Roast (light roast), Bare Knuckle Blend (medium roast), and Midnight Ride (dark roast ) to gift to your favorite Coffee Connoisseur.
The Philosopher: For the guy who is always thinking
Golden Age Supply Leather Notebook Wallet
Price: $125
Your favorite friend who loves jotting down his thoughts will love this notebook wallet. He can keep his cash, card, and notes all in his back pocket in this stylish handcrafted wallet. This gift is made in Mississippi from American leather and only gets better with age, much like your friendship. The notebook insert is replaceable, so he can start fresh once he fills up the original one with all of his ideas.
Machine Era Brass Pen
Price: $38
This solid brass pen by Machine Era is a great stand-alone gift or pairs well with the leather notebook wallet. We like these so much that you can find them on the desk here at Rustic & Main. This pen is made from heavy-duty brass and has a balanced satisfying feel in the palm of your hand. All Machine Era Pens are made in Richmond VA and will develop a beautiful patina as they are used by your buddy to capture all of his musings. Who knows, maybe your best man's speech will be written with one of these pens. 
Bonus feature: You can personalize these pens with an engraving. Many guys will choose their groomsmen's name or a clever saying like Mightier than the sword, to add to the thoughtfulness of this gift.
The Woodsman: For the guy who would rather be camping
Bradley Mountain Camp Cards
Price: $20
What is better than playing poker with your friends…learning how to survive in the wild while doing it. These Survival Cards feature hand-drawn graphics and a survival tip on every card. You can use these on a camping trip, a bachelor party, or a guy's night. We love the fact that these cards are made right here in the US by American Card Playing Company.
Bradley Mountain Bandanas
Price: $20
Both of these bandanas are printed and made here in the US from Japanese Selvedge Cotton. That means they are made of great material and sewn on the edges to prevent any fraying in the future. Your bro can use this to keep sweat off of his face while on a long hike or to add to the neck of his four-legged buddy. We chose a backpack print and a foliage print to celebrate the great outdoors.
The Beardsmen: For the guy who is proud of his beard
Wolf & Iron's Beard Care Products
Beard Oil Price: $22
Beard Butter Price: S24
Organic Mustache Max: $16 
Now I have to admit we are a bit partial to these products since this is our other company Wolf & Iron. We have spent years perfecting the essential oil scents and the all-natural ingredients combinations to give the best beard and mustache grooming experience possible.
W&I's beard oil is designed to be a lightweight, quick-absorbing product that never leaves your beard feeling greasy. The beard butter provides your facial hair with a daily deep condition and has a light-to-medium hold, and the organic mustache wax, Wyatt Earp's Whisker Twister, will help you curl, twist, and shape your whiskers without pulling out precious hairs as you work it in.  
There are several scent profiles to choose from dignified earthy to swashbuckling rum to a cedary lost-in-the-woods scent. You are guaranteed to find a scent for each bearded guy on your gift list. 
The Traveler: For the guy who is always on the go

Sturdy Brothers Waxed Canvas Dopp Kits
Price: $79
These Waxed Canvas Dopp Kits are one of our most versatile gift ideas. Yes, they can be used for shaving kits and traveling all over the nation but they are a great idea for storing favorite tools, and art supplies and even carrying your favorite French press coffee set up wherever you go. Choose from three of our favorite colors Navy, Rust, and Forest Green, all made from 11 oz duck canvas. Each bag is handcrafted and hand waxed in Georgia and comes with a lifetime guarantee. Just like the guys you chose to represent you on your special day.

Bradley Mountain Waxed Canvas Tote Bag
Price: $99
Hands down, this waxed canvas tote bag is one of the favorite products we carry here at Rustic & Main. This tote bag is made from 18 oz waxed duck canvas that is known for strength and durability as well as being waterproof. You can carry this tote by your side with the leather handles or sling it over your shoulder with the cotton straps. Some of our favorite ideas for use are to carry a laptop for work, use it for foraging in the woods, or use it for an impromptu overnight trip. Bradley Mountain stands by all its bags and will repair any bag that has been worn by everyday use.
The Leather Connoisseur: For the guy who always dresses on point

Smith's Leather Balm Kit
Price: $79
This is a gift that is fitting for the hiker who takes care of his favorite boots or the motorbike rider that takes pride in his favorite leather jacket. The Leather Balm Kit includes leather balm and the tools needed to care for fine leather goods. We love that the leather balm is handmade in Maine by a husband and wife team who wanted to create leather care that was made from only high-quality all-natural ingredients and was just as good for people and the environment as well as the leather. If your friend is fond of his footwear we recommend purchasing the kit with the leather boot laces in it. Both kits come in a wood storage box to help keep all the items organized.

Golden Age Supply Leather Key Clip
Price: $36
Maybe your cousin is always losing his keys or enjoys exclusive VIP passes for his favorite band. Either way, he can keep up with keys, work IDs or tour passes in style with this Leather Key Clip by snapping it shut around their belt. This key clip is handcrafted with American made leather and solid brass findings that will last as long as they need it to.
The Musician: For the guy who never leaves his guitar behind

Golden Age Supply Leather Guitar Pic Keychain
Price: $30
This leather guitar pic keychain is perfect for your groomsman who lives for music and is always at the ready with his guitar to entertain the group. He will never be stuck looking for his pick again. This key chain is handcrafted from American made bridle leather in Mississippi and fits both regular-sized and wide-sized guitar picks.
The Guy's Guy: For the guy who is well-rounded and organized
Golden Age Supply Leather Valet Tray
Price: $95
The guys in our shop call this a "stuff tray" You know, a tray to put all your stuff in. I call it a great gift for just about any guy. This tray can be by the front door to hold keys, in the bathroom to hold jewelry and watches while you shower, or at work to hold pens and a notebook. It is handcrafted with American made leather and hand-hammered solid brass rivets. This leather valet tray only builds character with use and will stand by your friend's side just like he did on the day you said I do.
No matter what gift you choose from this list we know your groomsmen will be pleased with a thoughtful, well-made gift. In case you are wondering, it is okay to send your groomsmen gifts in the mail or wait until the bachelor party or big day to hand your groomsmen their gifts. We recommend you include a handwritten note expressing your thanks for their hard work and why you chose them to stand by your side either way.
We also recommend you take time to check out our one-of-a-kind wedding bands on our site. Rustic & Main will handcraft a wedding band for you out of our own curated materials or sentimental materials you send in. Call us or live chat with us today if you need any help deciding on the best gifts or customizing your very own wedding band.