45 Unique Wedding Ring Engraving Ideas
January 30 2023 – Mike Yarbrough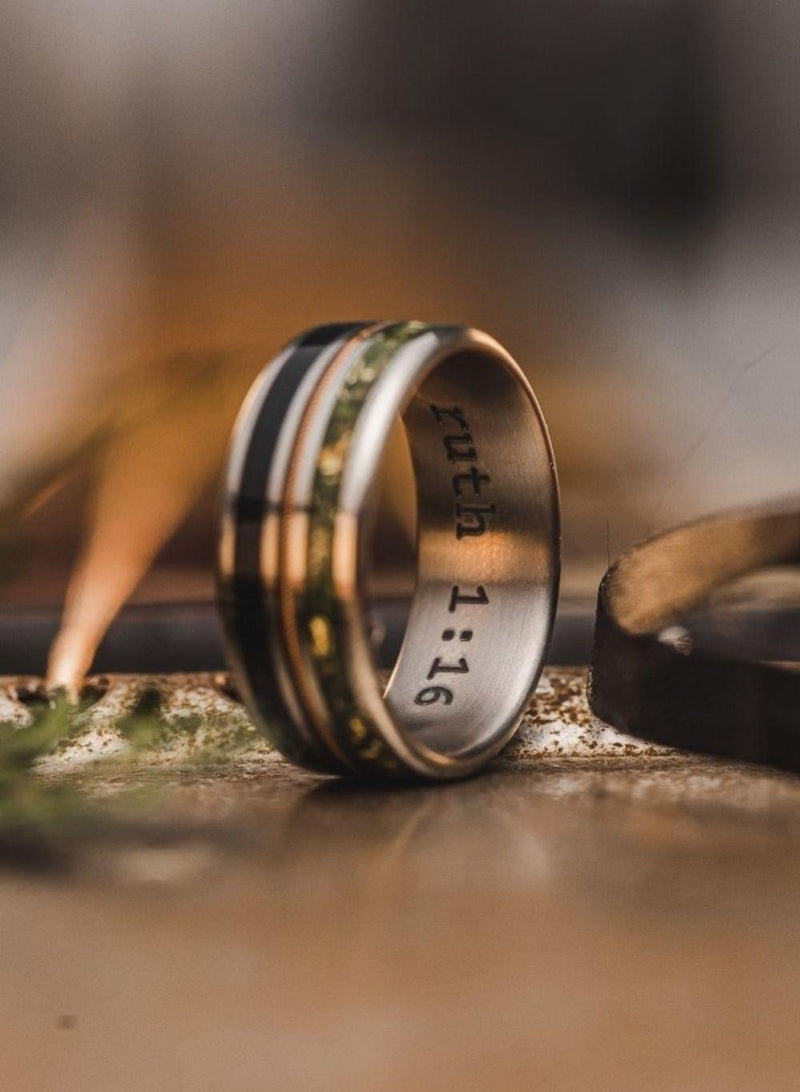 If you're thinking about the details that make your wedding truly yours, wedding band engraving can be a meaningful way to personalize your experience. In fact, it's one of the primary items that you get to take with you into the marriage, offering regular reminders of your love for one another. If you're looking for wedding ring engraving ideas, we've got you covered: from funny to inspirational, here are a few thoughtful approaches to deciding what to engrave on a wedding ring.
First, let's address a few common questions about the process.
When should you engrave your wedding rings?
The choice about when to engrave your wedding rings is entirely up to you! Some couples have them engraved immediately after purchasing, while others may wait until closer to the wedding as a special reveal to one another. Either way, engraving should be the final step after any necessary resizing, polishing, anodizing, or finishing.

How much does wedding band engraving cost? 
How cost to engrave your wedding ring may depend on the jeweler, but typically engraving costs range from $50 to $100. You may find more competitive engraving prices if you opt to have the engraving done with the same company you purchased the ring from. For example, Rustic & Main offers an optional add-on ring engraving service ($35) to any titanium or gold wedding band purchased.
What types of rings can be engraved?
Laser engraving is a process specifically designed for etching onto metals. For this reason, you can't add engraving to wood or silicone wedding bands. Titanium and tungsten wedding bands typically have lighter (shallower) engraving than gold or platinum, so keep that in mind when envisioning your final product.
Custom Wedding Ring Engraving Ideas 
1.) Short Engraving Quotes
When choosing a quote to engrave on your wedding band, remember to keep it very short. Most rings may only accommodate up to 30 characters. Short love quotes for ring engraving might include religious excerpts, common sayings, song lyrics, poems, or parts of your vows. Consider your favorite bible verses, part of your wedding song, or even a short mantra from your favorite show, artist, movie, or book. Allow yourself to consider sayings or references that are only meaningful to the two of you.
Examples: 
The beginning of forever

Love, honor, cherish

1 Peter 4:8

Love you forever-[YOUR NAME]

My haven 

Just the way you are

I love you more

I am always with you

Past, Present & Future

Forever & Always

Ecclesiastes 4:9

You and Me Forever

Funny Engraving Ideas

2.) Funny Engraving Ideas
The beauty of ring engraving is that it's personal and largely private, meaning you can have some fun with it! Embrace your personality as a couple with something humorous, like playful care instructions, lighthearted reminders for the marriage ("Behave yourself!"), movie quotes, or references to inside jokes. It's a great way to offer enduring communication with your spouse-to-be, so why not make them smile?
Examples:
Finders Keepers

A Perfect Fit

Put Me Back On!

You're my favorite

The Better Half

Lucky

#Team[LAST NAME]

A Perfect Fit

Ditto

No Take Backs

A Deal Is A Deal

Challenge Accepted

3.) One-Word Engraving Ideas
Sometimes simplicity says it all! Don't feel pressured to stand out by doing something different: do what speaks to you. You might opt for "Forever," "Eternity," "Together," "Believe," "Amore," "Faith," or a specific word that means something special to both of you. If you're lovers of practicality, you can also consider simply engraving your shared last name. Add a little more personalization by pairing your chosen word with your wedding date, coordinates, or the date you met.
Examples: 
Soulmates

Dearest

Lover

Forever

Enternity

Wife/Husband

Always

Us

Sweetheart

Forevermore

Beloved
4.) Other Languages and Symbols
If you speak other languages, have traveled, or feel especially connected to your heritage, you might consider engraving your wedding ring with a few words in another language. In terms of non-alphabetic symbols, you might consider adding the coordinates of your wedding or where you first met. You might also choose a symbol that means something to both of you. Consider mathematical references like the infinity symbol, religious symbols, or even references to your shared hobbies and professions, like strings of programming code.
Examples: 
A heart  ♥️ (Symbol)

An infinity sign ♾️ (Symbol)

Joie sans fin (Joy without end, French)

Mon amour (My love, French)

Semper Fidelis (Always faithful, Latin)

Deus nos iunxit (God joined us, Latin)

Tesoro mio (My treasure, Italian)

Sei tutto per me (you're everything to me, Italian)

Mo Anam Cara (Gaelic  for My Soulmate)

Grá go Deo (Gaelic for Forever Love)
While brainstorming unique ring engraving ideas, you might also consider how your ring engraving pairs with the ring style. Preview our engraved ring collection to find the style that suits your vision!