Crafting our Wood Tartan Wedding Ring
June 21 2019 – Mike Yarbrough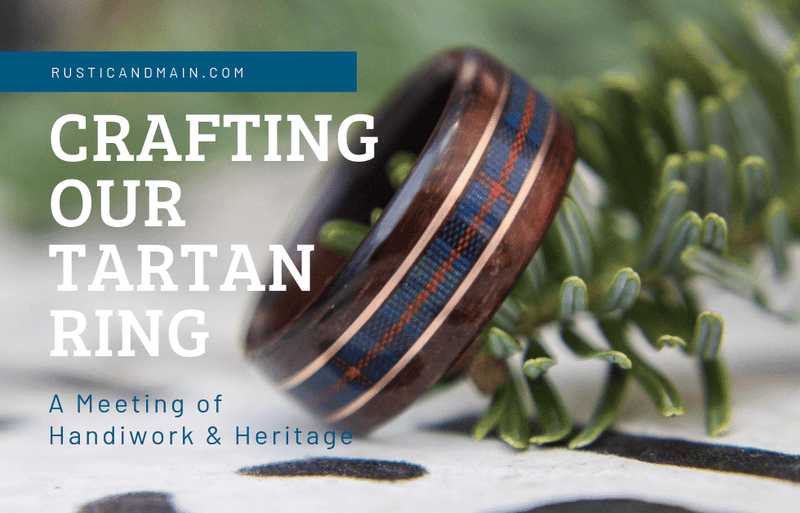 A Ring that Tells Your Story
Most of us express a measure of our personalities through apparel or body art. It is a way to communicate our unique identities or connect through shared interests. In essence, it's what we want others to know about us. And, there is a sense of pride produced when our outward appearance expresses, to some degree, our internal interest or identity.
When I began working at Rustic & Main as a ring craftsman I was intrigued by the personal and historical materials used to create the wooden rings. Their rings had unique and significant stories. Being exposed to such ideas fostered creativity within me. I am extremely interested in researching family history, so I began brainstorming how to express my heritage in a ring. I wanted to find a way to incorporate years of ancestral research into a single piece of art. The dilemma: rings are small!
I finally came up with the idea to craft a ring made with my Scottish Clan Tartan (plaid) and Scotch Whisky barrel (credit to Mike Yarbrough for his WWI fabric design as inspiration). After many attempts with various types of fabric, I found a shop in Scotland that produces tartan ribbon with a micro-pattern. Many clan tartans are available, as well as a few national and patriotic patterns. Since so many people have multiple clan/family associations, I decided to utilize base patterns that would identify heritage in a broad manner (but still be unique enough to identify country of origin). Nevertheless, for those who have one particular clan to represent, specific clan tartans are available as well.
The History Behind the Patterns used to Craft our Celtic Tartan Rings
To begin, Scottish clans/families are best known for their unique tartan patterns. These patterns represent a family, clan, or specific district. Historically, they were used in apparel, such as the kilt, to distinguish one group from the next. Scottish and Irish clans were tribal and territorial. Thus, individuals could join a clan for the purpose of protection and community, taking on the surname of the Chief, even if they were not blood related. Therefore, the tartan symbolizes family/clan or ancestral territory.
Colors found in early tartan patterns were made from dye producing plants; thus, color choice was limited to what grew in a specific area.
"When speaking of the use of tartan historically, we can draw some conclusions from color, but nothing like the symbolism that many today imagine. For instance, red was a very expensive color to obtain with natural dyes. Therefore, someone wearing tartan with a lot of red in it was more likely to have wealth… A dark, earth-toned tartan might be chosen to blend in with the environment…

More meaning can usually be found in the tartan design itself, rather than in the colors used. It is possible to show relation by similarity in tartan design... In this way they show relation to the larger parent clan. …It is when you get into the more modern era that you can start to identify meaning behind the colors of the tartans" (Tartan Symbolism).
Therefore, historically, the design pattern identified the family or geographical location in which the clan lived. This could be accomplished by adding a single stripe or changing the color of such in order to differentiate from a neighboring clan. Yet with modern patterns, the colors can have considerable meaning as the use of tartans are now widespread across the globe.
Both he Scottish and Irish are renown for making Whiskey or Whisky. "…Whichever spelling, the origin of the word goes back to both Ireland and Scotland. Uisge beatha or usquebaugh is Gaelic for 'water of life'". The first written record of whiskey in Ireland and Scotland dates back to the 15th century. Therefore, a ring made with whisky barrel captures a significant part of the cultural identity and history of these countries. (As an alternative to Whisky barrel, we offer Rosewood for its aesthetic quality in complementing the tartan patterns.)
The meaning behind the material used to craft our Celtic Tartan rings:
Both Scotland and Ireland have a brutal history of internal conflict and being invaded. Due to such, we chose the "Flower of Scotland" tartan pattern for the meaning behind the song. It was written by Roy Williamson, referring to a battle victory in 1314, led by Robert the Bruce, which ultimately led to a period of independence from England. The song captures the essence of the many battles the Scots fought, the taste of freedom from oppressors, and benefits of unity. The tartan pattern was created to celebrate the writer of this unofficial anthem (which is passionately sang at special events). It is made with traditional 18th-century colors of Lichen green and blue with a red center stripe.
The other pattern we utilize is Irish National. The iconic green, white, and yellow/gold speaks to Irish Nationalism, and the hope of unity within. Besides being referred to as the Emerald Isle due to the landscape, St Patrick's use of the shamrock to describe the Trinity, and Gaelic order, "the left third of Ireland's flag is green… This dates back to the 1790s, when the Society of United Irishmen launched a rebellion to end British rule and found an independent Irish republic. Their flag was green, the color that came to represent the side fighting for Irish independence" (Patriot Wood). In addition, these familiar colors represent a geographical area, which is traditionally consistent for Irish tartans. 
Each ring has dual metal inlays and can be customized to fit with association and/or aesthetics. Yellow or white gold is gorgeous next to the Irish National tartan and carries an obvious stereotypical association. Further, rose gold compliments the colors of the Flower of Scotland tartan. However, copper can be used as well in association with copper whisk(e)y stills. And finally, for the Scotch-Irish, a Scottish whisky barrel wood, with an Irish tartan (or vice versa), honors both native Scottish roots and immigration to Northern Ireland.
Both of our featured patterns can be associated with pride of heritage, and a history of people who sought to preserve it at great cost. In addition, ancestral tartan patterns represent how these groups substantially contributed literature, unique music, dance, and food that is still celebrated abroad. Our Celtic Tartan ring honors the history, culture, and influence of ancestors. And at its core, it tells your story….
 This article was written by Rustic and Main Ring Craftsman, David Lemmond. David is former counselor turned expert ring maker. He has a love for history, particularly genealogy, and philosophy, and makes some of the best BBQ sauce on the planet.
Works Referenced/Cited:
https://albanach.org/tartan-symbolism-3b165f62b2d2
http://www.bbc.com/travel/story/20110318-travelwise-a-guide-to-the-lingo-and-history-of-whiskey
https://www.lochcarron.co.uk/blog/scottish-irish-kilts-difference/
https://www.patriotwood.com/blogs/news/17779417-the-meaning-of-the-irish-flag-s-colors