FREE US SHIPPING | RINGS HANDCRAFTED IN NORTH CAROLINA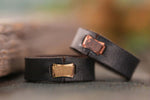 Clean Leather Ring | Stone Blue
Regular Price

$ 50.00

Sale Price

$ 50.00

Regular Price

Unit Price

per
Note, due to the popularity of our leather rings, it may take 1-2 weeks for your order to ship. Don't worry though, it will be worth it!
Our Leather Ring

Leather has been everywhere and done everything. It's classy, dependable, rugged and refined. There's nothing that feels quite like it and we wanted to have a ring crafted from it that was like nothing else you've ever seen or worn.
Our Clean Style
A leather ring for those that like to keep it simple. There is no design stamped into this ring. Simply put it on and let it patina.
Made for Rough Work
Since our wood rings are typically crafted from historic woods and other rare materials, we wanted to offer our customers a ring that had meaning and style and could be worn without worry. Whether you're turning a wrench, hitting the gym, or surfing this ring is going to hold up.
Our Custom Bowtie Bracket
As simple as the design may appear, we've been working on our leather ring concept for about 2 years. Stylish and practical, our bowtie bracket allows us to add a pop of color to the rings and also provides a permanent joint for the leather. 
Our brackets are all antiqued to give them a touch of character. Select from copper or brass.