FREE US SHIPPING | RINGS HANDCRAFTED IN NORTH CAROLINA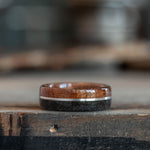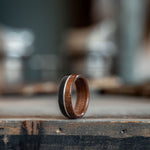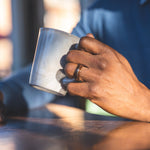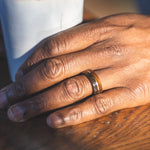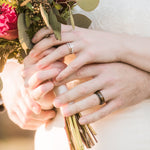 (In -Stock) The World War I Men's Rifle Stock Wood Wedding Band with WWI Uniform & Sterling Silver Inlay- Size 7 | 7 Wide
Ships fast! Ships within 24-48 hours of your order being placed.
Regular Price

$ 412.00

Sale Price

$ 412.00

Regular Price

$ 515.00

Unit Price

per
Like this ring but need it in a different size? Shop The World War I ring and let our skilled artisans craft the perfect uniform and 1903 Springfield band for you.
The Springfield 1903 was the famed U.S. rifle of WWI. We source authentic WWI or WWII-era walnut wood stocks to craft our rings and pair them with authentic used WWI-era Army wool. The result is nothing short of a stunning wooden ring filled with history.
The World War I Ring Features:
Authentic WWI/WWII Springfield 1903 rifle stock wood ring
1/2 WWI Olive Green wool field shirt ring inlay
A center sterling silver ring inlay

Fit: Comfort Fit

Size: 7
Width: 7mm

Handcrafted to order in North Carolina, USA

Limited Lifetime Warranty

Like this ring but need it in a different size? Shop this style in our made-to-order ring:  The World War I
The Story
Springfield 1903 Rifle Stock Walnut Wood Ring
In the year 1903, the U.S. Army designed and adopted a bolt-action rifle in response to the popular Mausers experienced during the Spanish-American War and other battles in the late 1800's. The Springfield 1903 would accompany American soldiers in the trenches of WWI and the fields of WWII, and remains a fine rifle to shoot and a collectors item to this day. Theodore Roosevelt, having personally experienced the barrage of mauser bullets with his famed Rough Riders in Cuba, pressed for the creation of this historic rifle. It was with the Springfield 1903 that the President hunted game in his infamous African Safari.
We obtain our 1903 stocks from reputable sellers and check both the style of the rifle stock and cartouche stamps to make sure they are authentic WWI or WWII era pieces.
WWI Wool U.S. Army Soldier's Field Shirt
Classic America! We put so much thought and quality into the products created in the early 20th century. A soldier's uniform was made of wool, all made in the U.S., for the fabric's superior ability to keep a soldier warm, even when wet. The wool infantryman's field shirt used in this ring was worn by a soldier in WWI. The olive drab green not only creates a wonderful contrast to the ring, but has a unique texture you won't find in any other ring. A strip of sterling silver, ties the elements together and adds a touch of class.
Center Sterling Silver Ring Inlay
We decided to feature this design with a strip of sterling silver gives honor to the silver Citation Star awarded to soldiers for distinguished acts of gallantry in WWI. It ties the elements together and adds a touch of class.
This is a true American Joe's ring, perfect for the history buff and sentimentalist.
Each Ring is Handcrafted in North Carolina
I am proud to craft each ring by hand in Charlotte, North Carolina. It is my honor to play a small role in the new "Made in USA" movement that is taking place across the nation and to do so by sharing part in our American heritage.