FREE US SHIPPING | RINGS HANDCRAFTED IN NORTH CAROLINA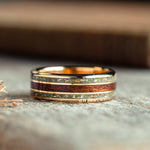 The Muir | Men's Mahogany Wood and Green Peridot Gold Wedding Band
10K, 14K & 18K White, Yellow & Rose Gold
Regular Price

$ 1,592.00

Sale Price

$ 1,592.00

Regular Price

$ 0.00

Unit Price

per
Available widths:
6mm, 7mm, & 8mm
Shipping Time
This ring will be made to order just for you! We will ship this ring within 6 weeks of your order being placed.
Introducing The Muir: named for the legendary naturalist and wilderness advocate, John Muir. Crafted with the same passion for nature that drove Muir's life's work, this gold ring celebrates the Earth's raw beauty. Its inlays of Peridot, mixed with silver and gold flakes, echo the lush green landscapes Muir tirelessly worked to preserve, while a center inlay of mahogany pays homage to the towering forests he so loved. For the man who shares Muir's deep connection to nature, who finds solace in the wild, and who seeks adventure with a mindful spirit, The Muir is more than a ring—it's a symbol of a life lived in harmony with the natural world.
Peridot & Mahogany Ring Features:
SCS certified 100% recycled gold ring base
Peridot with gold and silver flakes ring inlay

Mahogany wood ring inlay
Fit: Comfort Fit

Finish: Polished
Available in: 10K, 14K & 18K Yellow Gold, Rose Gold & White Gold
Available Widths: 6mm, 7mm, 8mm

Free ring size-from-home kit available*
Handcrafted to order in North Carolina, USA
Limited Lifetime Warranty

All Rustic & Main rings are handmade. Each piece is unique and variations are considered part of the beauty of the design.

Read More
FREE RING SIZING KIT
We will ship you a Free Ring Sizing Kit 1-2 days after you place an order when you select "I HAVE NOT used a Rustic & Main Sizer"
Hand Size:
Small - sizing kit includes ring sizes 5-6.5 + plus a medium sizer
Medium - (most common) sizing kit includes ring sizes 7-12.5 only
Large - sizing kit includes ring sizes 13-16 plus a medium sizer
Note: Ring size smaller than what is listed in our kits or unsure of your ring size? Reach out to us via email, phone or live chat so we can assist you further.
Your custom sizer(s) will arrive with instructions on how to use the sizer and how to update your ring size and width for your order when you've determined the best fit.
We will not start making your ring until your ring size and width has been added to your order.
Want to change this design or don't see what you want? We can customize most existing designs or custom make a ring from scratch. Please contact us with questions.
The Story Behind the Ring
Recycled Solid Gold Men's Wedding Band
Our 100% recycled gold wedding bands use a sustainable form of refined gold that is just as pure and valuable as standard gold but eliminates the negative environmental and social impacts caused by gold mining. This gold wedding band is the perfect way to symbolize your unique love and unity while passing on that love and care to our people, our planet, and future generations.
Whether you choose White Gold for its cool tones, Rose Gold for its rosy hue, or Yellow Gold for its classic look, your one-of-a-kind gold ring will outshine the average big box jewelry store design any day.
Each gold blank used here at Rustic & Main is sourced from Stuller, a brand established in 1970. We are proud to work with a like-minded business that believes in an Earth First Commitment and that every business should operate with social responsibility in mind. Stuller is certified through the Responsible Jewellery Council which holds each business accountable for protecting the human rights of those involved in the jewelry supply chain.
Mahogany
Mahogany, a wood revered for its rich color and enduring strength, finds a special place in The Muir ring. While not native to the landscapes that John Muir explored, its inclusion in this piece symbolizes the universal beauty and resilience found in nature's creations. The deep, warm tones of mahogany evoke a sense of timeless elegance and connection to the Earth, mirroring Muir's own profound relationship with the wilderness. Its presence in the ring serves as a bridge, linking diverse ecosystems and reflecting the shared values of respect and preservation that define the legacy of John Muir. For the wearer of The Muir, the mahogany inlay is a reminder that nature's wonder transcends boundaries, uniting us in admiration and stewardship of our world.
Natural Peridot Ring Inlay with Gold & Silver Flakes

Prized for its rich green color and unique mineral composition, peridot is a form of olivine, a mineral that is formed deep within the earth's mantle and brought to the surface through volcanic activity. It has also been found in some meteorites and comet dust. Peridot has been called the "Evening Emerald" because of its ability to keep its glow under starlight. The Peridot in this ring is an eye-catching element that both softens the overall aesthetic while contributing to the unique story of the Muir ring.