What Are the Best Materials for Men's Wedding Bands?
April 23 2020 – Mike Yarbrough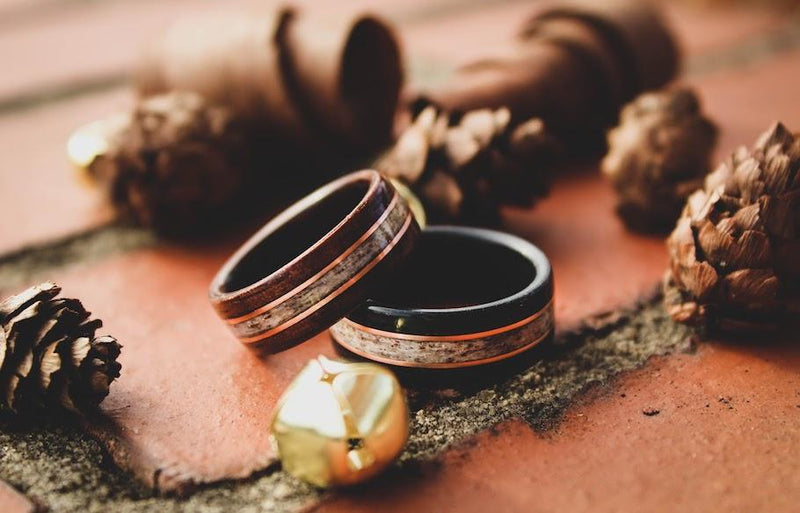 When you're choosing the best material for a men's wedding band, it's not just about what looks good. It's also about finding the material that speaks to you and tells your story for all to hear.
With so many options to choose from, it can be overwhelming trying to decide on the best material for men's wedding bands. To make the decision a little easier for you, here are some of the most popular wedding band materials, both traditional and alternative.
Gold Rings
Gold, gold, gold. Yellow gold, white gold, rose gold. Trying to choose which type of gold for your wedding band is enough to intimidate even the manliest of men. Luckily, it's not as intimidating as it seems. A primary consideration is whether or not to match your fiancée's ring. Many couples choose to have elements in each ring that reflect their spouse's ring. 
If you are more into the classic look, yellow gold is the way to go. White gold, on the other hand, gives a touch of modern style. Rose gold, is a handsome metal, thanks to the combination of pure gold and copper, which also gives it its unique rosy color -- perfect for the more romantically inclined guys out there. 
Platinum Rings and Palladium Rings
Usually associated with luxury and extravagance, platinum is a precious metal known for its high price tag and durability. It is generally the most expensive wedding ring material. Unlike gold, you don't need to worry about polishing it regularly as it rarely shows signs of wear and tear.
Like platinum, palladium is another white metal with a high shine, but it isn't quite as expensive. Palladium is lightweight, hypoallergenic and comfortable, making it an excellent choice for men with a more active lifestyle.
Titanium Rings
Titanium isn't nearly as valuable as platinum, palladium or gold, but it is an incredibly strong and durable metal given its light weight. Scratch-resistant, and affordable, titanium is great for active men who don't want to worry about maintaining their wedding ring after wearing it all day, every day. With a simple wipe of a cloth, titanium can be cleaned and look as good as new.
Wood Rings
There's just something about wood. The grain of every piece of wood has a story to tell, sometimes going back hundreds of years. It can tell your story too, of course, merging it with a much grander history that spans generations. 
From hardwoods like maple, cherry and chestnut to more exotic species like Indian rosewood, pink ivory and purpleheart, our artisans work with the finest woods, and handle each piece with care. We also have access to historic pieces of wood that have even more elaborate histories, including:
Historic teak wood from the USS North Carolina and USS New Jersey battleships

Springfield 1903 rifle stock wood

WWII era M1 Garand rifle stock walnut

Reclaimed barnwoods from the 1800s
Leather Rings
Leather rings are perfect for someone who works with their hands and needs a comfortable, durable ring that will go with them to work and back. With several embossed designs and a wide range of colors, leather rings are always ready for your next adventure. 
Whiskey Rings
We've collected barrels from many of the world's foremost whiskey makers to create wedding bands from authentic whiskey barrels. These are perfect for the whiskey, bourbon and scotch enthusiast. Options for whiskey rings include, but are not limited to, the following distilleries, each available in weathered or natural finishes: 
Jack Daniel's 
Jim Beam
Buffalo Trace

Maker's Mark

Woodford Reserve

Jameson

Wild Turkey

Lagavulin

Macallan 
Antler Rings
Combining the rugged appeal of antler with the lightweight feel of wood, elk antler wedding rings are perfect for the hunting and outdoors enthusiast. Elk antler inlays are an excellent complement to rings made from antique walnut or weathered whiskey barrel wood.
At the end of the day, the best material for a men's wedding band is the material that speaks to you and your fiancée. If we don't have it in stock, we can also make your wedding ring out of a material you provide. We love to create unique rings using customer-supplied wood, antler, metal, cloth and other materials. 
Our artisans at Rustic & Main are dedicated to crafting one-of-a-kind wedding rings that reach back to the past while looking to the future—your future. Take our ring style quiz to find out which ring style is best for you and get started designing yours today!