How to Include Your Heritage in a Ring
October 15 2020 – Mike Yarbrough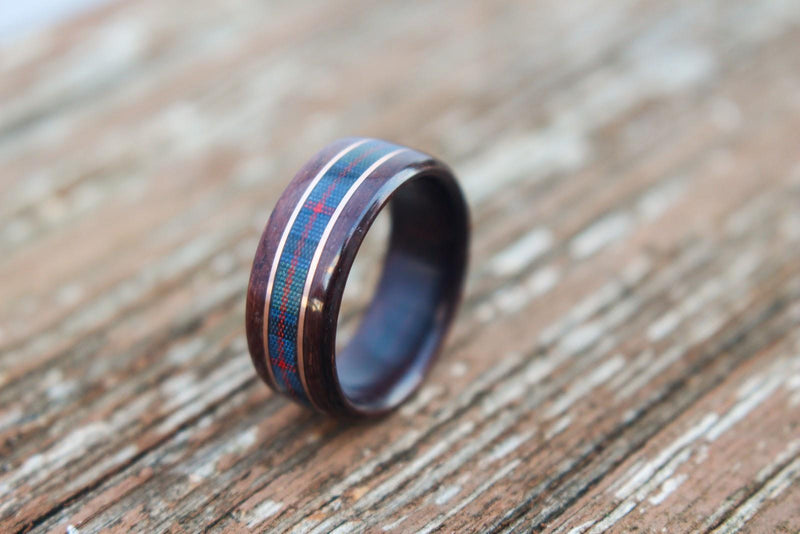 We see reminders of our ancestry and heritage everywhere, whether we're looking for them or not. It could be a worn blanket your grandmother knit. It could be an old knife your grandfather passed down. It could be a sideways glance in the mirror when you realize you really do have your mother's eyes.
We cherish these moments and memories. Some of the most gratifying experiences we've ever had in the ring business are the times we've been able to capture a customer's family heritage in a ring and create a wearable piece of art that reminds them of who they are and where they came from.
We do this through the materials we use and, in many cases, materials our customers have supplied us with. If you want to wear a ring that connects you to your heritage, this is how you can do it.
The Meaning Behind the Materials
Objects mean different things to different people. That's something we've learned over our years of making custom rings. We always do our best to use materials that have a connection to a greater story, like the 100+ year-old walnut wood we sourced from a historic barn right here in North Carolina and turned into our Antique Walnut Rings. We've also created rings using turquoise to symbolize Native American heritage.
Sometimes, however, people connect to our rings in ways we least expect. Many of our customers have found meaning in the little things. One customer wanted a ring with a copper inlay because his father was a plumber and the copper reminded him of being a kid and going around helping his dad with his work. The copper held a deep significance that connected him with his family. Another customer wanted a ring made with elk antler because hunting was an experience he had always shared with his father. We love hearing these kinds of stories.
Military Heritage Rings
Many Americans today have a father, grandfather or great-grandfather who served in the military. It's no exaggeration to say that we would not have the freedom we enjoy today were it not for the sacrifices our ancestors made. Their stories echo all around us, and we've done our best to do them justice with our Military Heritage Rings. To connect with that heritage and pay tribute to those who served and sacrificed, we've made rings from some very special materials. 

WWI Rings
In honor of those who served in the "Great War", we designed a ring using WWI uniform wool, along with walnut wood from a Springfield 1903 rifle stock. For those of us whose forefathers fought to defend freedom in this awful war, this ring offers a real and tangible connection. Our design for these WWI rings also includes a silver inlay, representing the Silver Star medal for bravery.
WWII Rings
In tribute to our ancestors of the Greatest Generation, we designed a WWII Ring using wood from an M1 Garand, the rifle that many of our predecessors carried into battle during the Second World War. With the addition of a gold inlay and a purpleheart wood lining to symbolize the Purple Heart—the medal given to military personnel injured or killed in combat—this ring tells the story of those who came before us. 
U.S. Navy Rings
We also wanted to create a ring to honor the heritage of all our forebears who have served in the Navy, during times of war and times of peace. In doing so, we got very lucky. We were able to purchase the last good-condition teak wood from the decking of the USS North Carolina, and we were also privileged to be able to obtain the teak wood decking from the USS New Jersey. The folks in charge of the restoration were very generous in their cooperation, and we were able use some of the wood from both ships to create our USS New Jersey Teak Wood Rings and USS North Carolina Teak Wood Rings. 
Claddagh and Tartan Rings
From Irish claddagh rings to Scottish tartan, these designs and patterns for Scottish and Irish clans go back through the centuries, linking people of Scottish and Irish descent back to their roots. Untold millions immigrated to America from these countries during the 19th and 20th centuries, and if you're one of their descendants, then you know how treasured the family colors of a tartan can be.
We're happy to say we've found a way to incorporate these colors into our Scottish & Irish Heritage Rings. Some of our most popular designs in this category are the Flower of Scotland tartan and the Irish National Tartan, which any Scot or Irish man or woman can connect with. Perfect for handfasting ceremonies and other Celtic wedding traditions, if you're looking for a ring that more specifically reflects your family's Celtic heritage, we've also partnered with Scotland Shop and House of Tartan to custom-make a ring with any family tartan. 
Custom Heritage Rings
We're all about using non-traditional materials to tell stories and capture our family heritage. Some of our favorite projects we've ever worked on have been rings made with materials our customers brought us -- like straw flowers from a fiance's garden and fabric from a loved one's military beret. There's simply no better way to pay tribute. We've had customers ask if we could use wood from a tree that grew behind their childhood home, rose petals from their late spouse's garden, and a number of other meaningful materials. More often than not, our answer is "yes."
One of our favorite stories is when a woman came to us looking to have a ring made for her nephew with various materials that were special to him and honored his connection with his grandparents. She supplied us with wood from a pew of the church where his grandfather pastored, a ribbon from his grandmother's bible, and gold wire that was drawn down from his grandfather's wedding band. We were able to direct her to Facet Foundry Jewelry Studio who helped her have the heirloom ring converted to metal wire that we were able to incorporate into a ring for him -- full of meaning and personal family history.
If you would like to create your own custom ring, take our ring style quiz and check out our customization page to get started. For custom wood rings we do have a few specific requirements: the wood you bring us should be at least 1" x 2" x 8" with no knots, non-wicked, dry, and with the grain running along the width of the wood. As for fabrics, all we ask is that they be at least 2 inches x 4 inches.
We can't promise that we can make a ring out of anything. But if you have a desire to create your own custom ring using your own wood or other materials, we always encourage you to reach out to our live chat team. Capturing your family heritage in a ring is one of the reasons why we do what we do.