The Story Behind the Ring: WWI Ring
October 01 2020 – Mike Yarbrough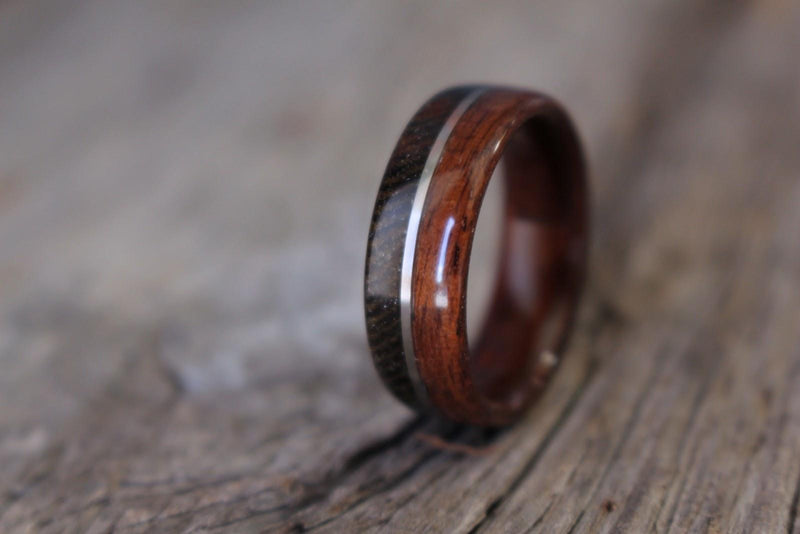 There's a story in every piece of wood, and sometimes the story they tell is also our own. As the old battlefields of Europe return gradually to forest, as trees overtake the trenches, bunkers and gravestones we left behind, those stories—those memories—are as clear as ever. 
We call it World War I, but in its day it was known simply as The Great War. To have called it World War 1 is to have assumed there to be following wars. At the time, however, it was to be the "war to end all wars." 
World War I ended in 1918, barely a century ago, but what's a century? A hundred year-old tree has scarcely approached middle age. At Rustic and Main, we've always been so fascinated by the history wood holds in its grain, and by the stories it can tell. We wanted to create something, some small token of remembrance that someone could hold in their hand, that would honor the sacrifice and continue telling the stories of all the soldiers who fought in The Great War. 
Wood and Wool
The idea of creating a ring that paid tribute to those who fought in WWI only seemed natural, so we set out to create a bold design to represent WWI. There was something about The Great War we just couldn't shake. It seemed to represent the best and worst of humanity all at once. The war introduced many horrors of modern warfare never before seen. Airplanes, which had been around for barely a decade, dropped bombs for the first time. Trench warfare replaced open battlefields. The first tanks rumbled across the scarred landscape. And the world witnessed the cruelty of chemical warfare for the first time. 
And yet, all the brutality of war was met with incredible humanity. An entire generation banded together to defend the freedoms that we still enjoy today. Men left their homes in America to fight in a strange land; they went there to ensure that the fighting would never make its way here. In their absence, everyone on the home front turned their attention to supporting them any way they could. 
Many of our grandparents or great-grandparents fought in that war. We all owe a debt of gratitude that we can never repay, but our WWI Wood and Wool ring is our small way of paying tribute to that sacrifice. 
Springfield 1903 Rifle Stock
The primary rifle used during World War I -- the Springfield 1903 -- was, and remains, a thing of beauty. It was originally developed in response to the Spanish Mauser rifles encountered during the Spanish American War which, at the time, were some of the most powerful and accurate rifles ever used in combat. The Springfield became a favorite of President Theodore Roosevelt, who carried one on his famed hunting expeditions in Africa.
Roosevelt also, as the story goes, threw a fit when he saw the flimsy bayonets that were attached to the first Springfield 1903s. Alterations were made at his insistence before the guns were put in soldiers' hands and sent into battle. A staple of both World Wars, the rifles were eventually phased out of common usage by the mid-20th century, but the Springfield 1903 rifle remains prized by collectors thanks to its historic significance as well as its beauty. Each of these rifles was made by a skilled craftsman, each a work of art with a handsome walnut stock.
We were able to acquire some WWI/II-era Springfield 1903 stocks—most of them unable to be safely used in a working rifle—so that our own modern-day craftsmen could turn them into something new. That rich walnut wood, with its highly visible grain and almost chocolate-like color, is just one element in our WWI rings that pays tribute to the stories of The Great War.
WWI Uniform Wool
World War I saw many new technologies, and the uniforms worn by American soldiers represented advances that were just as significant as the new weapons being used and the new tactics being developed. Even the idea of wearing uniforms designed for camouflage was relatively new, with khaki and olive drab uniforms having been introduced only in 1902. 
The uniforms were also made of wool. The fabric has long been prized for its superior ability to keep a soldier warm, even when wet. No doubt many WWI soldiers were grateful for that during long, cold nights in the trenches of France. A few of these uniforms, though they become rarer and rarer, are still around today. We knew that we'd be able to get our hands on a few if we kept at it. With a little luck, we were right. 
The uniforms we've been able to use for our WWI rings (in most cases wool infantryman's field shirts) were all worn by soldiers in the war. In many cases, they are too worn-out and tattered to be used for anything else, and we're honored to be able to give them a second life. To create each piece, we fit the olive drab wool onto the ring, seal it with an epoxy and then finish it along with the rest of the ring. It adds something truly unique to the story each ring tells, and creates an amazing and complimentary contrast as well.
A Tangible Connection to the Past
You can customize these rings in many different ways, but our standard WWI ring uses a sterling silver inlay in the center of the ring to separate the walnut rifle stock wood and the WWI uniform wool. The sterling silver inlay reminds us of the Silver Star,  which represents bravery and valor. All the elements come together to tell a complete story and create a physical link between the past and the present.
Thinking about the first World War, two different thoughts come to mind. On one hand, we're all fortunate to be living in a time when we'll never have to experience the horrors of that war. It was a war that some thought would be the end of humanity, and it very easily could have been. At the same time, we should all be thankful for the soldiers who fought those battles. Generations of free peoples owe their freedom to the soldiers in the trenches of WWI. While this is a debt of gratitude that can never be repaid, it might just be that remembering is the best one can do.
Here at Rustic and Main, we love to create rings that tell a story and
honor our history and heritage
. 
If you would like to find out how to customize this ring with your own military uniform, please reach out to our team of ring craftsmen via our live chat team
so we can help you tell your story.