How to Get the Correct Men's Wedding Band Width Measurement
May 03 2020 – Mike Yarbrough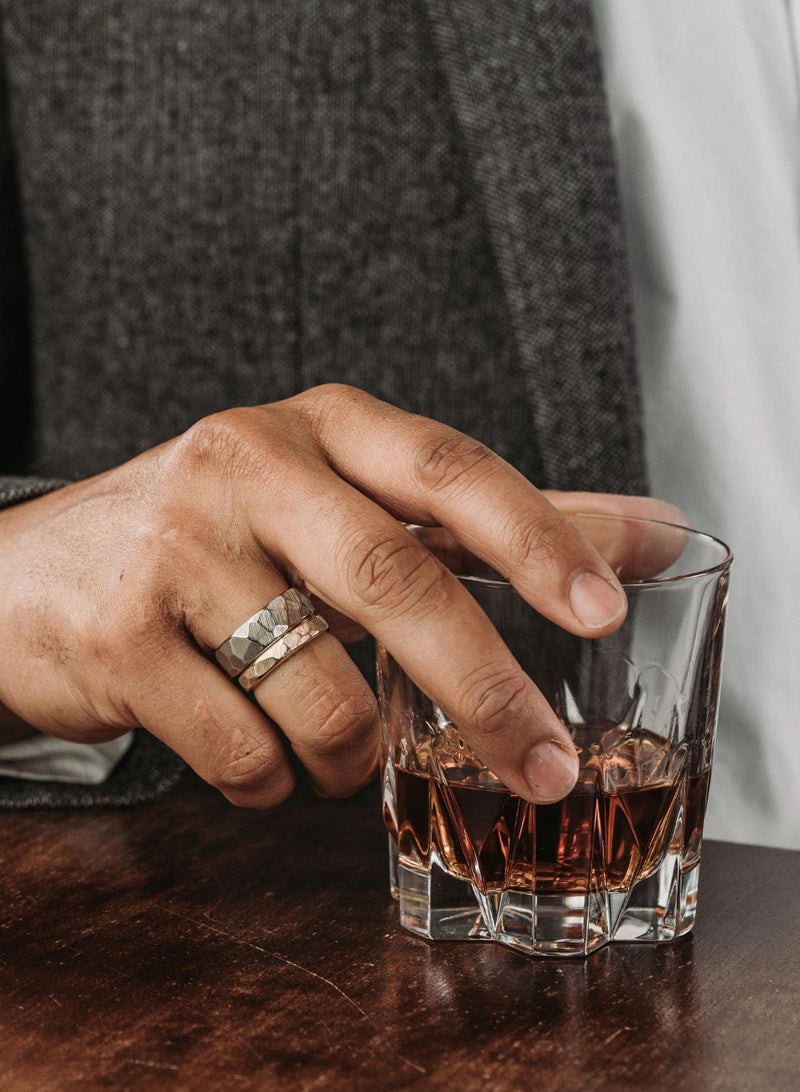 A lot of things go into choosing a wedding band, from colors and materials to style, size and width. One of the most common issues people face when buying a ring is trying to determine their wedding band width. The width of a wedding band is often difficult to figure out for the simple reason that it's hard to visualize in terms of millimeters (mm). In this blog, we'll explain how to easily find the men's wedding band width perfect for either you or your future spouse.
The Basics of Choosing the Best Men's Wedding Band Width
Men's wedding band widths are generally between 6 mm and 12 mm, the average being 8 mm. However, available widths can vary by material.
Here is a general breakdown of Rustic & Main's available ring width, depending on the materials:
Wood: 5mm, 6mm, 7mm, & 8mm
Titanium: (Depends on the design) 8mm, 6mm, 5mm, & 4mm
Gold: 3mm, 4mm, 5mm, 6mm, 7mm, & 8mm                                      (reach out to team@rusticandmain.com if you are interested in custom width for gold rings such as 9mm or 10mm)
Ring width is considered narrow if it is under 6 mm and wide if it is over 7 mm. Most men prefer a wider wedding band as a wider band is associated with being more masculine, while a narrower band is thought of as being more feminine. That's open to some debate, but there's no doubt that a wide band makes a bigger visual impact. A lot of men looking to make a statement will go with a wider band. 
It is important to also consider hand shape and finger sizes when choosing a wedding band. There are no firm rules here, but men with larger hands tend to favor a wider wedding band, while a narrower band typically looks best on men with smaller hands and more slender fingers. Again, it's still a matter of preference—no one can say a man with small hands can't wear a wider ring—but these are all factors worth considering. 
Exact Measurement or Rough Estimation?
Time to pull out those piggy banks! If you don't have a ruler lying around, a great way to estimate the width of a wedding band is to use spare change - a handful of pennies will do. Stacking up some pennies can easily tell you which wedding band width is right for you. For reference, a penny is 1.52 mm thick, so four pennies stacked together would be about 6 mm thick, while five pennies are approximately 8 mm thick.
How to Learn More about Men's Wedding Band Widths
We've made rings of all widths and sizes, using alternative materials ranging from antique rifle stock wood to naturally shed elk antler. Our goal is to create something that's more than just a piece of jewelry; we want to craft a one-of-a-kind object that truly represents the person who wears it. Because each ring is handcrafted to order, we can create a truly unique ring in your desired width.
Take our ring style quiz to find which Rustic and Main ring collection best suits your style. If you already know your style, go ahead and start designing your custom wedding band. Our live chat team is standing by to answer any questions you might have about men's wedding band widths, styles and materials.