All About the Scottish Highland Games
August 12 2021 – David Lemmond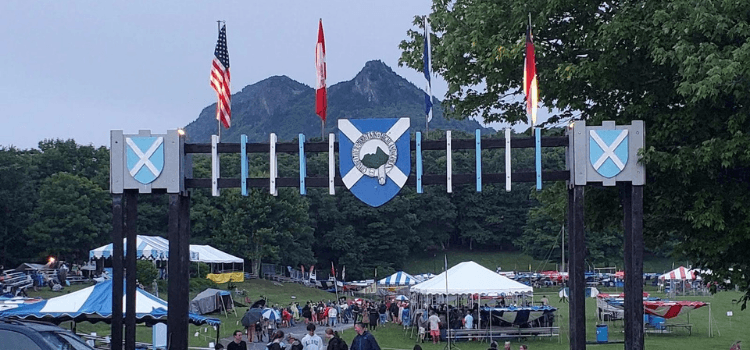 One of the benefits of living in the United States is that we can experience the living history and traditions of various cultures through attending festivals. In addition to cultural appreciation, we also have the opportunity to celebrate and preserve our own unique heritage. The focus of this blog will be the Scottish Highland Games, which is part of Celtic heritage.
The Celtic Nations are composed of Ireland, Scotland, the Isle of Man, Wales, Brittany, and Cornwall. In the United States, Celtic festivals are easily identifiable by the inclusion of well-known Irish and Scottish traditions, such as kilts (tartan plaid) and bagpipes. And when we step into festivals such as the Scottish Highland Games, we gain insight into Scottish events and practices that are steeped in history and culture.  
The History of the Scottish Highland Games
The name "Highland" refers to the northern part of Scotland, where the Highland clans lived. According to the Celtic Cultural Alliance,
"The exact origins of today's highland games are unknown. However, it is likely that they came from the contests of strength, speed, agility and skill which were commonplace during the various fairs, clan gatherings, and tainchels, or great hunts, of medieval Scotland.
From the earliest times, the highland chieftains would gather their clans together to celebrate in times of peace. The clan's warriors used these gatherings to test their physical fitness, as these events provided a great excuse to challenge each other in running, jumping, wrestling, and with early forms of weight putting with boulders. Such games also ensured that the Highlanders would keep fit for war."
The history and cultural significance of these games are quite remarkable. During the 18th century, many elements of Highland Scottish culture were outlawed by the English, including Gaelic language, clan tartans, weapons, and bagpipes. In essence, the culture itself was outlawed.  
Music Competition
With this history in mind, the mere sight and sound of the massed bands, dressed in clan tartan plaids (kilts), marching in unison, and playing Scotland the Brave on pipes and drums, will bring chills to the soul. It is a beautiful sight and a highlight of what is experienced at the games. Beyond the massed bands, there are numerous other musical performances to experience, such as Celtic rock, tribal songs, and traditional Irish or Scottish music played with flutes, drums, and bagpipes. Another unique instrument often played is the Celtic harp.
In addition to entertainment, there are competitions held for demonstrating musical skills. Common categories include bagpipes, drums, Celtic harps, and fiddles. Many of these are individual performances that are scored by official judges.
Heavy Athletic Events
Heavy athletic events include wrestling, tossing the caber, sheaf toss, hammer throw, and stone put. Professional athletes travel around to games accumulating points. Top earners can compete at a national level (e.g. the Celtic Classic in Bethlehem, PA). However, some Highland Games allow amateurs to compete against one another. At both professional and amateur games, there are clinics held to teach people how to engage in the events. If your interest is participation rather than spectating, there are plenty of local Highland Games that are geared more towards crowd participation.
 A highlight for many families is the fact that children can also participate in the clinics and games. Miniature versions of the adult games, sheaf toss, tug of war, and track and field are common events for children.
Dance
There are two styles of dance commonly found at Highland Games: Highland and Country.
Highland Dance Competition
According to Historic UK, a site dedicated to researching the history of the UK, 
"Perhaps nothing captures the spirit of Scottish culture better than the sight of Highland dancing being performed at some Highland gathering in some far flung corner of the world. This sophisticated form of national dancing has been spread by Scottish migrants across the world and competitions are now regularly organized in Australia, Canada, South Africa, New Zealand and the United States. Whilst the majority of dancers now entered into these competitions are female, the roots of these ritualistic dances lay with warriors imitating epic deeds from Scottish folklore."
Highland Dances include the Highland Fling, Sword Dance, Seann Triubhas (Old Trousers), The Reels, Irish Jig, Sailor's Hornpipe, and National.
Scottish Country Dance
Country dance is an entertaining group activity. Clinics are offered for those who want to give it a try. According to the Royal Scottish Country Dance Society, 
"Scottish Country Dancing may have its roots in the assemblies and balls of the 18th and 19th centuries, but its popularity has continued to increase to this day. Dancers are normally grouped in sets, typically of three, four or five couples arranged either in two lines (partners facing each other) or in a square. They work together to dance a short sequence of formations that provide a particular dance with its identity. The originality of the formations ensures each couple gets the chance to experience the dance from different positions."
Education
In order to celebrate and preserve any culture, education must be part of the experience.  Education is provided by both family clan members and official representatives. Common topics include Scottish clan history (main family surnames and septs), tartan patterns and history (both clan and utility patterns), Gaelic language, and whiskey.
Food and Drink
The most unique food found at the Scottish Highland Games is haggis, the national dish of Scotland. Authentic haggis is not sold in the United States due to the lung ingredient.  Again, from Historic UK,
"To be a little more precise, a haggis is normally made up of the following ingredients: a sheep's 'pluck' (its heart, liver and lungs), minced with onions, oatmeal, suet, salt and spices, all mixed with a stock and traditionally boiled in the animal's stomach for around an hour. As unpleasant as this may sound, the end result is a culinary masterpiece which should of course be washed down with a 'dram' of the national drink [which is whisky]."
Scotch whisky is the national drink of Scotland and whisky tasting is also featured due to its rich regional history and world recognition.
Festival Planning Tips
Relevant information can be found on official festival websites: Google "Highland Games near me" or visit

https://www.transceltic.com/celtic-festivals-usa

Read festival overview information on these websites to see if it fits your desires.

Check the list of registered participating clans and societies if they're personally relevant to you.

Read all rules and regulations (pets, alcohol, outside food for picnics, etc.).

Check to see if parking is available on-site or if a shuttle bus is required.

Carefully review the schedule of events in order to determine the best times/days to attend.

Check for advance tickets or family discounts.

Purchase special activities tickets in advance, if required (e.g. whiskey tasting).

Pre-register for participation events if necessary (e.g. amateur games).

Check food vendor information for selection.

Save all travel directions and schedule of events to your phone for offline referencing.

Verify if ATMs are available or bring enough cash for meals, treats and souvenirs.

Dress and prepare accordingly for weather, walking, and activities.
Rustic & Main Heritage Rings
Our core focus at Rustic & Main is crafting rings that are personally, culturally, and historically meaningful. One way that we provide this for customers is through our line of heritage rings. Rustic & Main offers a variety of Scotch and Irish Whisky barrel woods, as well as micro-tartan patterns that can be used as inlays. In this way, both cultural heritage and ancestry can be celebrated and preserved in a unique ring.
This article was written by Rustic and Main Ring Craftsman, David Lemmond. David is a former counselor turned expert ring maker. He has a love for history, particularly genealogy, and philosophy, and makes some of the best BBQ sauce on the planet.