11 Ways to Have a More Eco-Friendly Wedding
November 08 2020 – Mike Yarbrough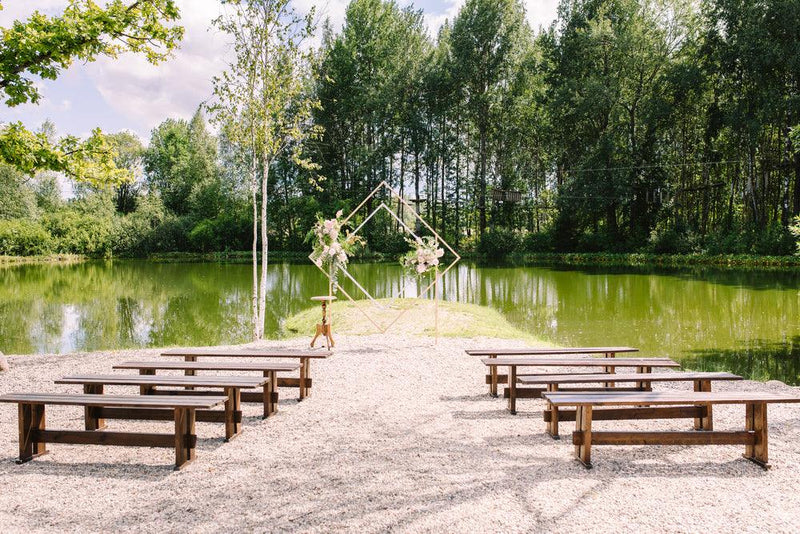 Your wedding day is one of the biggest and most memorable days of your life. Sadly, in many cases it can also be among the most wasteful. From the endless paper-ware trashed to a staggering quantity of food thrown away, the average wedding generates a tremendous amount of waste.
Let's do something about that! From wedding planning to celebrating the big day, here are a few tips for reducing wedding waste and enjoying a more eco-friendly wedding.
1. Shop Sustainable Wedding Rings
Choose an engagement ring and wedding bands that are sourced sustainably. Materials like reclaimed wood, elk antler sheds and repurposed metals are all great ways to make your rings more sustainable. Shopping vintage rings is also an option. If you do choose diamonds or other precious stones, make sure they're ethically sourced. 
2. Make Eco-Friendly Wedding Invitations
Wedding invitation suites can be a big waste of paper and, in the end, most of them will find their way into the trash anyway. Make your invitations a little greener by using recycled paper and envelopes or these seeded wedding invitations that take on new life. Your stationer should be able to offer you some good eco-friendly options. Or, you can skip printed invitations altogether by sending everyone a digital invite or referring them to your wedding website.
3. Choose a Dual Wedding & Reception Site
Having your wedding ceremony and reception at the same site will help cut down on carbon emissions. Not only will you save the energy needed to light, heat and power a second location, but you'll reduce your guests' transportation needs. To make the wedding venue even greener, have your wedding outdoors to cut down on electricity use. Not having to duplicate any disposable decorations, cups or other serving ware can also be less wasteful. 
4. Hire Green Wedding Vendors
Planning an eco-friendly wedding involves hiring many different vendors, from cake bakers, dress designers and DJs, to photographers, florists and makeup artists. Before you pick each vendor, ask them if they use sustainable and eco-conscious practices (this is, of course, a more applicable question for some vendors than others). Above all, try to hire local vendors whenever possible to reduce carbon emissions (and support local businesses!). 
5. Use Potted Plants for Decor
No perfectly healthy flowers need to die for your table arrangements! Instead, adorn each table with live potted plants or succulents, sourced from a local nursery. They can even double as wedding favors for your guests, and can go on living for years.
6. Eliminate Single-Use Dishes & Utensils
Single-use paper and plastic dishes and utensils are one of the biggest wedding wastes. They may be convenient, but they also end up in landfills more often than not. Opt for real dishes and glasses, and if you do use disposables, choose paper dishes that can be composted, and plastic cups and utensils that can be recycled. You can search antique stores for unique and beautiful chinaware or decorations, which is a fun treasure hunt your bridal party can do together.
7. Pick a Caterer Who Sources Food Locally
Choosing a great caterer is one of the hardest parts of planning an eco-friendly wedding. While you obviously want somebody who will serve a fantastic meal for all your guests, it's also best to find a caterer who uses locally-sourced ingredients. This is not only better for the environment—shipping foods across the globe leaves a big carbon footprint—but it also helps support local farmers, and ensures a fresh farm-to-table meal for your big day. 
8. Rent Instead of Buying
Many couples end up buying things for their wedding that they'll only use once. Why not rent them instead? You can rent wedding decor, furniture, and even linens and china. This will not only reduce waste, but also help support local businesses. 
9. Reduce Transportation Needs
In addition to having your wedding and reception at the same venue, there are other ways you can cut down on your guests' transportation needs. Choosing a wedding location that's as close to home and convenient for as many of your guests as possible will reduce air travel and car emissions. You can also choose a venue that has lots of accommodation options close by, and encourage guests to carpool. 
10. Compost Food Waste
Much of what gets thrown away at a typical wedding can actually be composted. That includes a significant portion of the food waste, floral bouquets and centerpieces (assuming you chose not to go the potted plant route), paper plates, napkins and even some paper wedding decorations. Be sure to talk to your caterer about what happens to the food waste after the wedding. 
11. Wear More Sustainable Clothing
Wearing thrifted wedding attire isn't for everybody, but there are some great options out there. You can find killer tuxes and wedding dresses at vintage clothing stores, and some brides may also want to wear a dress or veil that's been handed down. If none of that works out, you can always rent tuxes for the groom and groomsmen instead of buying them, and choose an ethical dressmaker for the bride.
Making your wedding more eco-friendly is possible with any type or style of wedding. Take our wedding style quiz for some inspiration! And remember, having an eco-friendly wedding also means having eco-friendly wedding rings. Part of our mission at Rustic and Main is to use sustainably-sourced materials with a rich American history. Message our live chat team to
 learn more about the materials we use and get started designing your own custom wedding ring.