Who Should Be on Your Wedding Vendors List?
August 13 2020 – Mike Yarbrough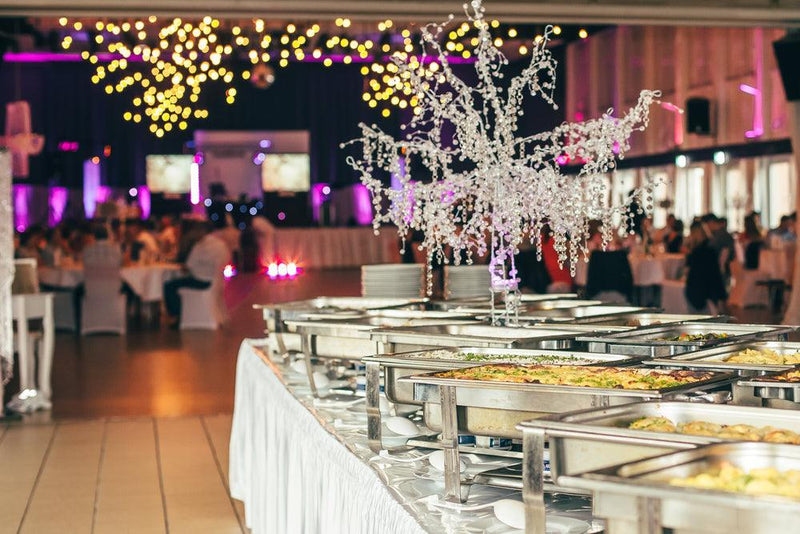 Couples who are planning their wedding often run into quite a few surprises along the way. One of the things that catches people off-guard the most is the sheer number of people who end up needing to be involved. It's a big project and one that requires a carefully planned wedding budget.
A wedding vendor is anyone you pay to provide a product or service for your wedding, and the list can be quite extensive. It's also different for every couple. We've done our best to give you a complete wedding vendors list leading up to your big day. 
Most Common Wedding Vendors
There are a multitude of wedding vendors out there. In this 2020 Newlywed Report by WeddingWire, the average couple hires 15 vendors for their wedding. These are some of the most common:
The Venue -

The physical locations where your wedding and reception take place are the first things you should book. You need to make sure that your dream wedding venue is actually available before making any other plans. If you don't have an address, you can't send invitations, and if you don't know the layout of the space you can't fully arrange details for decorations or pictures. Whether you're getting married in a church, banquet hall, open garden or old barn, you need to get it nailed down right away.




The Wedding Planner - If there's one person who can help ease the burden of planning a wedding it's (drum roll please...) a wedding planner.

The catch is that wedding planners tend to be booked out really far in advance. You'll want to get one locked in at least 9 months before your wedding date or, if you have a shorter engagement, as soon as possible.




The Caterer -

Catering is essential! Whether you need food for the rehearsal dinner, a full-on wedding day banquet for hundreds of guests, drinks for the cocktail hour, or you're looking to hire a food truck for your

backyard reception

, great food is a big part of what makes a great wedding. You'll want to start researching catering options about 6 months out and finalize the menu options soon after.




The Photographer -

One time I went to a wedding where the bride and groom decided not to hire a photographer. Instead, they asked all their family and friends to take pictures and send them the best ones. It did not go well. Take it from me, great photographs of your wedding are an investment you'll be glad you made for the rest of your life. This is well worth planning in advance -- a good wedding photographer is in high demand and is often booked out well in advance so you'll want to choose a photographer 9-10 months out from your date to ensure you get them locked in for your wedding.




The Videographer -

More and more couples are choosing to have their weddings not only photographed, but filmed as well. It's great to be able to relive your wedding day, and even pass the footage down to your kids and grandkids. You might be able to have the same company take both pictures and video. If not, when you book your photographer, use that as a reminder to go ahead and book the videographer at the same time so you don't forget later.




The Hair and Makeup Pros -

Every bride wants to look her best on her wedding day. Not everyone hires a professional hair stylist and makeup artist, but those who do seldom regret it. Even if you are a pro yourself at hair and makeup, it can be fun and relaxing for someone else to pamper you on your big day. Four to five months out is a good time to start experimenting with different looks and to book your glam squad.




The Baker -

Choosing a baker to bake your wedding cake is one of the most enjoyable parts of the wedding process. Taste test anyone? Be sure to look at a few different bakers, consider any allergy or dietary needs of your guests, and definitely try as many different cakes as you can before making any final decisions. Giving yourself about 5 months for this will be helpful -- and if you want to try all of the cake flavors ever invented, feel free to get started as soon as you pop the question.




The Florist -

Wedding flowers are an essential part of the wedding decor, from table centerpieces to the bride's bouquet. About 3 months out, you'll want to consider what flowers are going to be in season on your wedding day and choose your favorite from those options. This can help save some costs if those flowers are in season. Ask your florist about delivery and pickup options, too.




The Jeweler -

It's hard to imagine a wedding without wedding rings. Whether you find a great set of vintage rings from a traditional jeweler, or you have your rings custom made by us, the rings you exchange should perfectly reflect your unique love story. Hand crafted or customized rings can often take a couple of months to create. Assuming you're going to wear this ring for the rest of your life, it's worth taking the time to customize something that is special to you, so make sure you have plenty of time for this process. Shipping and any potential resizing can add additional wait time so it would be good to get started at least 6 months beforehand.



The Entertainment -

Whether you hire a DJ, a jazz trio or a rock band as your

wedding entertainment

, it's hard to have a great reception without great music. It's also not something you want to DIY. Eight to nine months in advance is a good rule of thumb. You'll want to review the playlist with your DJ a couple months before the wedding.




The Stationer -

Picking out stationery is fun! From your save-the-dates and wedding invitations to escort cards and place cards, choosing great stationery is an opportunity to make your wedding even more personalized. Six to seven months in advance of the wedding date should give you the time you need to pick the design and get invitations printed so you can give everyone on your guest list advance notice. Some guests will be coming from out of town and need to book a hotel or plane flight so the more notice you can give, the easier it will be for them.




The Dressmaker -

I don't have to tell you how important a great wedding dress is. It goes without saying that you'll want to work with an amazing dressmaker who can realize you and your spouse's vision for your gown. Finding a dress that makes you feel beautiful and like your best self will make the day that much more special. Be sure to allow time for follow-up fittings to ensure the dress is comfortable and fits well, but 8-9 months in advance of the wedding is a good guideline to purchase the dress. Try looking around online before then or do some early shopping to see what styles you like. Gathering some pictures of what you do and don't like will help the consultant or sales attendant be better equipped to help you find what you're looking for. This is also a good time to figure out what you want your bridesmaids to wear and make sure their dresses coordinate well with your dress.




The Tailor -

It's not all about the bride! Well, it mostly is... but the groom should look his best too. About 9 months out, you'll want to talk to a tailor about the perfect tux or suit, giving you a few months to figure out what you want to wear so you feel classy and comfortable. Also, now is the time to start thinking the groomsmen's outfits.




The Officiant -

None of the above will do you much good if you don't get the marriage license and hire 

someone to officiate your wedding

. This is pretty important so you should find them asap! It doesn't matter if you're having a religious or secular wedding ceremony, you need to pick someone who can officially declare you husband and wife. Note that state laws vary, but just about any ordained minister, priest or rabbi can do the job, along with a Judge, Justice of Peace, and County Clerk. 
Whether you're having a traditional wedding or an intimate backyard ceremony and reception, we're here to create the perfect, unique wedding bands that will tell your story and symbolize your love throughout your lifetime and beyond. Take our ring style quiz to find out which of our ring collections best suits your unique tastes.