Your Guide to Planning a Backyard Wedding
July 30 2020 – Zach Chapman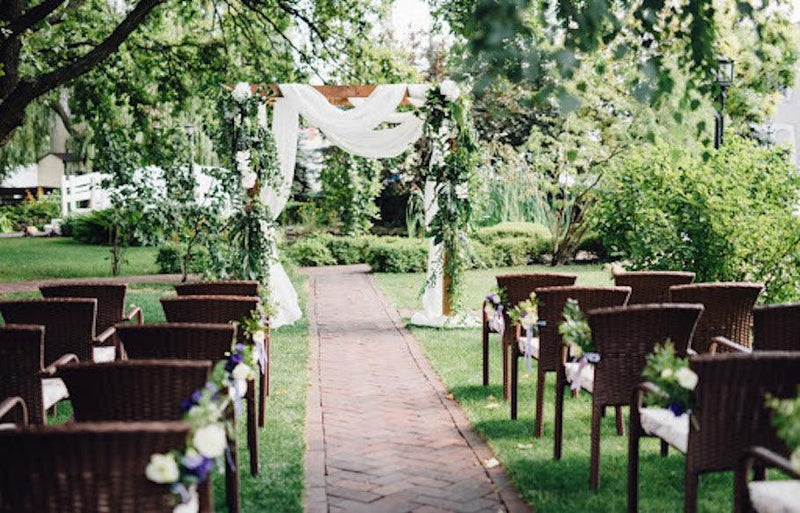 As many of our friends and neighbors find themselves having to rethink their wedding plans due to COVID-19, we try to keep in mind that sometimes when one door closes, another one opens. Scaling down your big day can actually have tons of benefits, like making the experience more intimate, unique and personal. 
Backyard weddings are, unsurprisingly, becoming much more popular this summer. As we progress through the uncertain months ahead, our team at Rustic & Main is excited to be part of some upcoming backyard and other outdoor wedding experiences.
Drawbacks of Planning a Backyard Wedding
Planning a backyard wedding can have many advantages, but it's also important to be aware of the potential drawbacks. For starters, the ceremony will be smaller, so you'll have to trim a few people off the guest list (personally, I'd put that in the "pros" column, but it might be a con if you've always dreamed of a big wedding).
The other potential drawbacks are that you will have to take on more of the planning and setting up on your own, which could be stressful in your already busy life. You will also have to contend with the weather—renting a big tent could be a good way around any unexpected hail storms or overbearing heat.
Advantages of a Backyard Wedding
Taking into account those couple of drawbacks, there are some major advantages:
It's more flexible. A backyard wedding allows you to do pretty much whatever you want. Pick any date, set your own schedule, choose your favorite food and drinks, have the cocktail hour whenever you want, lay out the chairs in any configuration, set up the dance floor wherever you want… it's all up to you! You can set the scene in a way that feels special to you, and the fact that you're having your wedding at home, getting married in your own backyard (or the backyard of a close friend or family member, whatever the case may be) means you don't have to work around the strict rules of a traditional venue.


You can invite (only) who you want.

Yes, you will most likely have to reduce your guest list, but look on the bright side. You get to invite your true BFFs and family members, without having to worry about whether a bunch of distant relatives you've barely met are having a good time. Plus—and I think this is a real bonus—you can have your four-legged friends present as well.




You'll save money. Seriously, so much money. Planning a backyard wedding means you can skip the expense of renting a wedding venue, hiring caterers, etc. The cost of a backyard wedding reception is usually between $1,000 and $5,000, depending on the size, number of wedding guests, vendors hired and entertainment chosen. By comparison, the average cost of a traditional wedding in the U.S.

is around $25,000

.




It can be a more unique and meaningful wedding.

You've probably been to a few weddings that all look and feel about the same. After a while, they all start to blend together. That won't be the case with your backyard wedding. With a smaller guest list, intimate atmosphere and one-of-a-kind location, your wedding day will never be remembered as "just another wedding" among your family and friends. 
Tips for Planning a Backyard Wedding
Even though backyard weddings are typically simpler than traditional weddings, they can be a lot of work to plan. Here's how to ensure that yours goes smoothly, and creates a lifelong memory for you and your spouse:
Talk to someone who's been there.

Chances are, you know a friend, acquaintance or co-worker who has had a backyard wedding. Talk to them to get a feel for what the experience was like. What did they like and dislike about it? What would they do differently? You might pick up some good ideas or tips, even if it's as simple as "buy more string lights," or "don't forget the citronella candles."




Start planning in advance. Just because you're not renting a traditional venue or hiring a wedding planner doesn't mean you can throw your wedding together at the last minute. You'll want to buy your wedding rings, figure out the guest list, map out the space, make arrangements for food, decide who will be officiating, and many other considerations well in advance, just like you would if you were planning a traditional wedding.
Enlist your friends.

When it comes to planning a backyard wedding, we all get by with a little help from our friends. If one of your buddies owns a sound system, bakes cakes, owns a rental company for big tents or

operates a food truck

, now is a good time to start cashing in some favors. But maybe think twice about asking your best friend's band to play at the reception. Just saying. 
At Rustic & Main, our focus has always been on creating one-of-a-kind wooden wedding bands that tell your story, blending the traditional with the non-traditional. Planning a backyard wedding offers an opportunity to do just that. Take our wedding style quiz to find out if a backyard wedding is right for you. Regardless of the type of wedding you decide to have, reach out to our live chat team to learn more about picking out the rings to match the occasion.