Memorializing American History: The Stories Behind Our USS Battleship Teak
May 29 2022 – Mike Yarbrough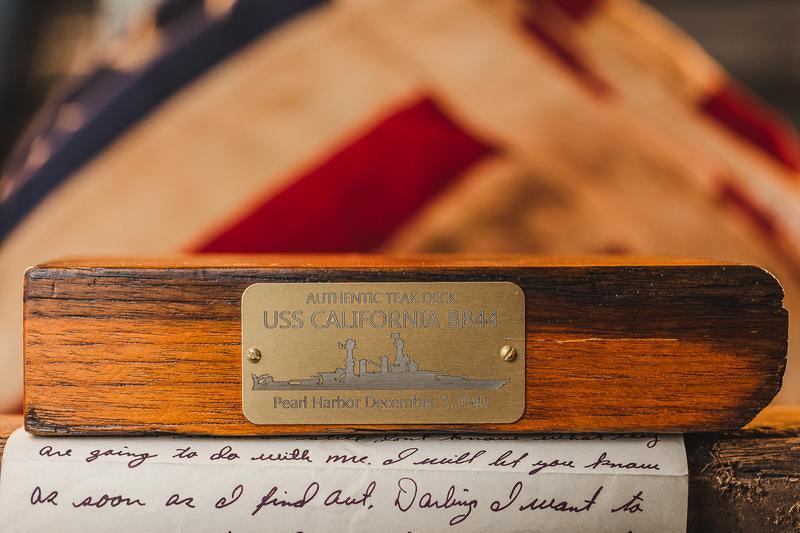 Seaworthy Teak
All of our USS Battleship woods are teak. 
Why Teak? 
Teak Aesthetics 
Collecting Ship Decks
We have teak from three different battleship decks: the USS North Carolina, the USS New Jersey, and recently the USS California. 
Do the Teaks Look Different?
The USS California sunk at the Attack on Pearl Harbor but would rise again to serve out its military career in WW2. 

A Brief History of the USS North Carolina
Existing factories were converted to build everything from tanks and airplanes to guns and ammunition. 
Battleship Saved By North Carolina Man
On November 10, 1982, the battleship received National Historic Landmark status. 
A Battleship Museum 
Acquiring the Deck of a Ship
Rustic & Main USS North Carolina Designs
We craft the band's base from the USS North Carolina teak. We then lined the inside of it with wood from a whiskey barrel. Finally, we inlaid the ring with a metal of your choice. 
A Brief History of the USS New Jersey 
The USS New Jersey's WW2 Career
Legendary Leadership
She was under Halsey's command for the battles of Peleliu, Formosa, and Leyte Gulf, which is largest battle ever fought at sea.
The USS New Jersey's Lebanese Civil War Career
The USS New Jersey rounded out its military career with the Lebanese Civil War, where the ship assisted in American operations.

A Brief History of the USS California
Rustic & Main
USS California Rings 
Memorial Day Activities
Today, we encourage taking a moment to think of those who have given their lives for this country, and if you are local to these areas, you might consider checking out the USS North Carolina or the USS New Jersey battleship museums. 
Supporting our Military
It's our way to show our appreciation for your service. 
Rustic & Main donate 5% of our profits from The Purple Heart Ring, The Valor, & The Valor in Gold to the Independence Fund, and we'd deeply appreciate you helping us support them. 
Click here for more information about this great organization. 
Memorialize History with Rustic & Main
USS North Carolina Sources:
USS New Jersey Sources:
USS California Sources: