Preserving American Heritage and Culture
August 26 2021 – David Lemmond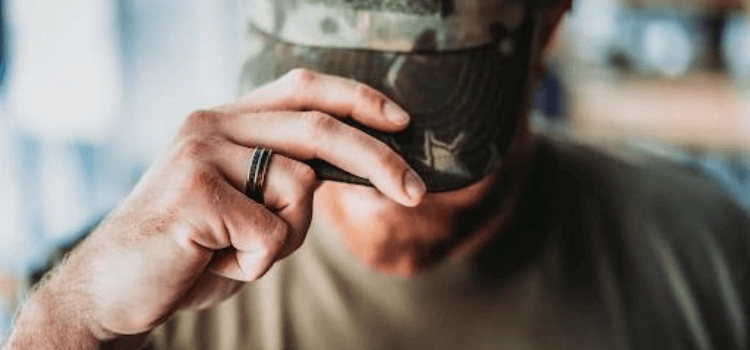 Since its founding in 2016, Rustic & Main has maintained a focus on preserving and celebrating the stories of individuals and cultures in every ring we craft. This is accomplished through utilizing personal mementos, and spans all the way to artifacts associated with significant world events. In short, our passion is grounded in capturing history and personal stories in unique rings. In this blog, we will revisit early America as a way to highlight our roots through stories.
Reflection
American heritage is steeped in the stories of immigrants, frontier people, and the military. We have countless books and movies in our culture that retrace the experiences of early Americans. That's because their journeys were extraordinary and impactful. In essence, we have a rich and honorable heritage that began in a very different environment, not so long ago. The following personal examples provide a contrast in experiential perspectives, and authentic historical recognition.
In 2015, I traveled solo on a motorcycle from North Carolina to the borders of South Dakota, Wyoming, and Montana. The two-week trip was just under 4,000 miles (well over 300 miles per day). I camped in a tent and made my breakfast and dinner each day with a small backpacking stove. I was intimidated by the possibility of running into difficulties; however, I prepared to the best of my ability for what was within my control.  Being on some of the isolated roads alone prompted deep reflection regarding the experiences of early immigrants. 
I had a phone, map, paved roads and well-established routes, rubber tires, gas stations, fast food, packaged food, a propane stove, campgrounds with showers and electricity, access to first responders, basic safety training from military and law enforcement experience, comfort of established laws, and a home to return to. When I considered what early immigrants endured in order to settle and establish this country, it produced a sense of both pride and humility.
History Coming to Life
Many of the people who immigrated to early America were experiencing some sort of hardship in their native countries, from oppression/suppression, hunger, and extreme poverty, to violence due to the actions of those in charge. For early immigrants, the improvement was coming to a wild frontier. Waves of immigrants also arrived after the Revolutionary and Civil wars, when more areas were established, developed, and secured. Nevertheless, immigrants often spent months on ships to get to America, then traveled by foot, horse, or wagon to their destinations.  Unlike today, there were no local crisis centers to feed or house the homeless, nor grocery stores, hospitals, rescue resources and abundant law enforcement. What they did have, however, was grit.
Roots and Culture Worth Honoring
Ancestors from my mother's side immigrated to America circa 1700. Pictured below is James Dulin, grandson of North Carolina native and Revolutionary War Veteran, "Sugar" Dulin. At age 17, James joined a wagon train bound for Texas. He ventured across many frontier states as a grindstone crafter, gold miner, logger, scout, and cattle driver, often camping and cooking in the woods. In 1862, James enlisted in the 34th Texas Calvary. Years after the war, while in "Indian Territory," he met Pocahontas Walner. Through this marriage, James acquired citizenship rights in the Chickasaw Nation. Eventually, he became a rancher who owned thousands of acres in Paoli, Oklahoma. 
Settlers and frontier people encountered multitudes of obstacles, such as the Badlands (so named for the difficulty of crossing it), mountain ranges, rivers, and lakes. Therefore, these people would have to go around or change direction when they encountered such obstacles. Even in the 19th century, cattle drivers and gold prospectors ran into similar difficulties.
People farmed, hunted, fished, mined, traded, established leadership structure and divisions, developed towns, social services, defended their principles and communities, and even assisted others who had the same vision. Our country has sacrificed much for the principles of liberty and justice. 
The beauty is that we have progressed beyond measure on many fronts, thanks to the true grit of early Americans, their descendants, and all those who currently strive to protect and preserve our founding principles.
Capturing History and Culture
With such a history in mind, where do we start when it comes to representative or expressive jewelry? What we offer at Rustic & Main are key parts of the American story: Colorado Elk antler, rifle stock, battleship teak wood, tobacco barn walnut wood, iconic whisky barrels, distinct fabrics, stones and precious metals.
In the next blog, we will begin exploring some possible pairings of materials that complement each other in regards to interest, history, and meaning. Specifically, we will look at our whiskey barrels by type: Bourbon, Tennessee Whisky, Scotch, and Irish Whiskey.
Take a look at some of our ring collections or get started designing your own custom ring today!
This article was written by Rustic and Main Ring Craftsman, David Lemmond. David is a former counselor turned expert ring maker. He has a love for history, particularly genealogy, and philosophy, and makes some of the best BBQ sauce on the planet.