Unique Wedding Rings for Women: A Lowdown on Non-Traditional Materials and Styles
September 17 2020 – Summer Yarbrough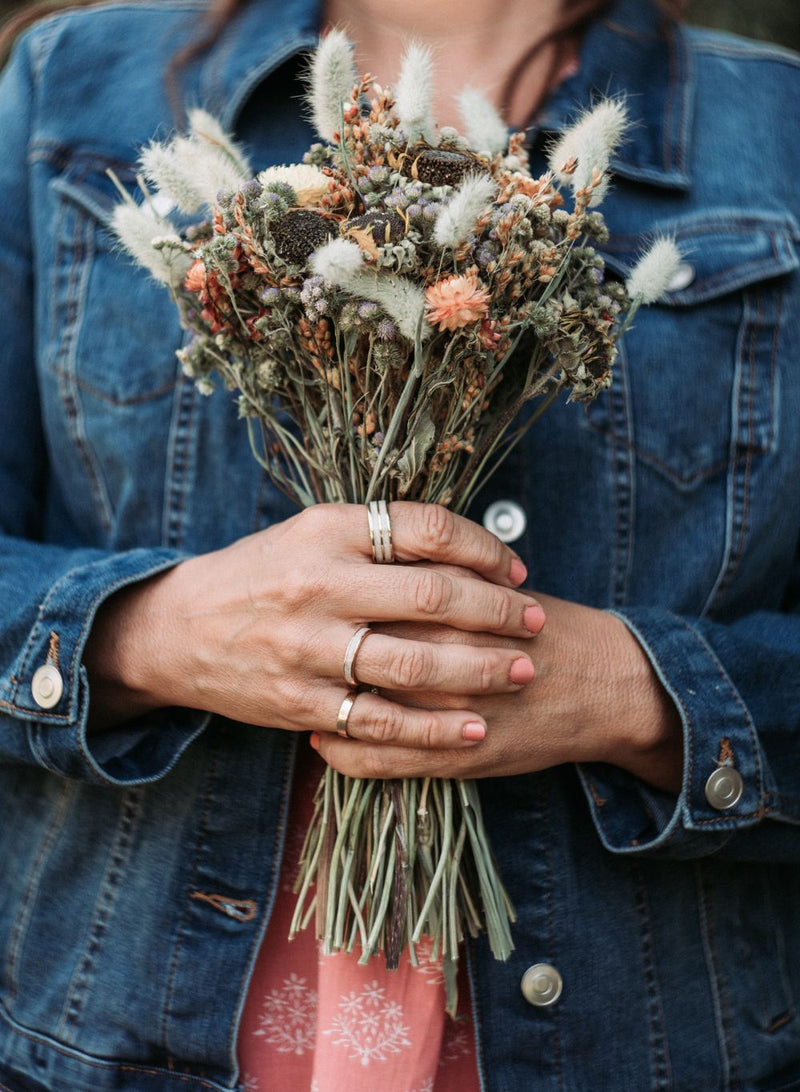 Generally speaking, women's wedding rings get a lot more attention than men's. But, for some reason, when the conversation turns to alternative and non-traditional wedding bands, it's men's rings that become the focal point. It doesn't have to be that way!
There's no reason that non-traditional wedding bands should just be for men. With countless combinations of style and material available, you and your significant other can both wear rings that are as unique as you are. Here are a few non-traditional options for materials and styles you may want to consider.
Non-Traditional Wedding Ring Materials
Wood Wedding Bands
 Wood rings offer a wider variety of textures and colors to make your rings meaningful and unique. Wood has come to be a popular choice for men's wedding bands, but there are beautiful options for women too, including bentwood rings made from walnut, rosewood, and many others. Wood can also be combined with inlays of gold, silver or other metals, with virtually endless combinations.
White Gold & Rose Gold
 Yellow gold is a classic wedding band material. If you're one of the many people who appreciate the beauty of gold but want a gold ring that isn't as traditional, rose gold and white gold are both worth considering. Rose gold is an alloy of gold, copper and silver that many brides love for its rosy blush color. It's also more durable than yellow gold. White gold is another popular choice; it closely resembles sterling silver but is much more durable.
Alternative Metals
 From precious metals to more common fare, the options for wedding band metals go far beyond silver and gold. Platinum, though expensive, is prized for its sleek luster and extreme durability. Tungsten, titanium, cobalt and stainless steel all get points for strength as well, and are more budget-friendly alternatives. Copper rings have their proponents, and there are countless design options that incorporate more than one metal—or combine metals with other materials—for a unique look.
Alternative Stones
Diamonds are not the only option when it comes to engagement rings. Sapphire and turquoise are becoming increasingly popular options. You can choose a stone with meaning particular to you, such as your fiancé's birthstone or favorite color or you can learn about the different meanings of various gems and choose a stone that helps tell your unique story.
Other Materials
One of the ways that you can add variety and meaning to your wedding ring is to use your own custom materials. At Rustic and Main, we have created custom rings using customer-provided wood, coffee grounds, flowers and sand, just to name a few. Another option is family-owned military uniforms. This is a great way to honor your loved one's military service and add unique color and texture to your ring.
Non-Traditional Wedding Ring Styles
Nesting Wedding Bands 
A perfect option for women who intend to continue wearing their engagement ring as well as their wedding band, nesting rings have a curved shape that allows them to "nest" around their engagement ring. Some nesting rings are sold as a set with their matching engagement ring, but it's also possible to find one on its own, or have one custom made.
Claddagh Rings
A traditional Irish ring with a heritage dating back centuries, the design of a Claddagh ring features two hands grasping a heart that wears a crown. Claddagh rings are typically carved, etched or molded -- or stamped like our leather Claddagh ring -- and are a great way to make a statement while, at the same time, being traditional and unique. They are most often worn by men, but there are many beautiful women's Claddagh wedding bands. Some brides and grooms, especially those of Irish descent, choose a matching set.
Custom Inlay Rings 
This style of ring provides many unique combinations of materials. Inlay rings are great for anyone who wants their ring to stand out, and to represent something that is important to them. Women's wedding bands with inlays often include precious or semi-precious stones inlaid into a channel in a ring of metal or wood. Other options would include materials like flower petals, iconic whiskey barrel wood, naturally shed elk antler, or metal inlays. 
Infinity Rings 
These rings incorporate the infinity symbol—a representation of eternal love—which has been used in rings and other jewelry as far back as ancient Egypt 4,000 years ago. Some infinity rings feature the symbol around the ring's entire circumference, while others incorporate just one infinity symbol into the design.

Vintage Wedding Rings
Shopping for vintage wedding rings offers numerous possibilities, including unique wedding ring styles that are hard to find today. From the bold, bright designs of Victorian-era rings to the geometric patterns of Art Deco rings, there are some striking ring designs out there. Vintage rings are also eco-friendly, and often very affordable, not to mention you will be hard pressed to find another ring like it.  
If you would like to learn more about our unique wedding band options for women (and men) and find out which ring style is best for you, take our ring style quiz.
 From the traditional to the one-of-a-kind, you and your significant other should have wedding bands that are extensions of your personalities, heritage, values, and unique love story.