Wedding Checklist for the Groom: Do's and Don'ts for Your Special Day
June 04 2020 – Mike Yarbrough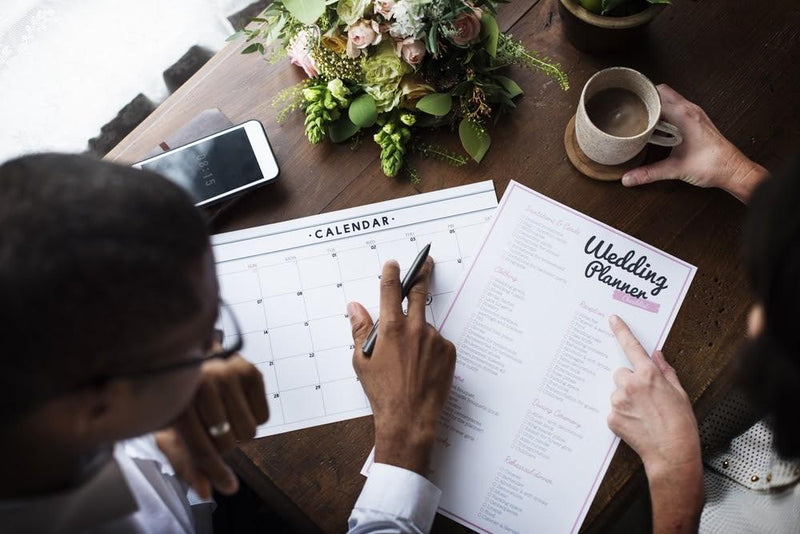 There was a time when the groom's only real wedding job was to show up and say "I do." Hate to break it to you fellas, but times have changed. 
Let's be honest though—they've changed for the better. Wedding planning is a job for two, and since you're a chivalrous, upstanding gentleman, you surely don't mind pitching in and lending a helping hand.
Wedding Checklist for the Groom
How you divvy up the wedding chores is for you and your fiancée to sort out, but here are a few suggestions. In the months and weeks leading up to the day of the wedding, this wedding checklist for the groom should be of some help:
Work out the budget.

No one likes to discuss finances leading up to such a joyous occasion as a wedding, but it's necessary and unavoidable. You need to have some real talks with your fiancée, her parents, and your parents, to set the budget and figure out who pays for what.
Pick your best man.

This is an important job. Remember that he's going to give a speech—probably a quite embarrassing speech—so choose wisely.
Sort out the guest list.

How many people are you willing to accommodate? Who's on the bride's side and who's on the groom's side? Who sits next to who? What's the capacity of your wedding venue? Who's coming to the rehearsal dinner? The wedding party? You and your betrothed are going to want to work together on this one.

 
Book the talent.

Whether it's a priest, a rabbi, a justice of the peace or an old-timey ship captain, you'll need to book

someone to officiate

the ceremony. It usually falls on the groom's shoulders to book the wedding band or DJ, too. A word of advice: make sure you AND your fiancée have heard their music and she gives it her stamp of approval.
Pick the ushers.

The groom usually selects the ushers. How many you will want depends on how many people are expected to attend the wedding (one usher for every 50 guests is a good general estimate).
Choose your attire.

The bride traditionally has input on how the groom dresses but, at the end of the day, it's up to you. So, if you opt for a powder-blue tux, there's no one to blame but yourself. Don't forget suits for the best man, ushers, and fathers.
Write a speech.

Yep, you're going to have to

give a speech

. It should hit all the sweet spots—touching and romantic with a laugh or two thrown in. Make it good! Call up your old English teacher if you have to! Leave everyone in attendance with a

fond memory

of a great wedding.
Order wedding rings.

You do not want to forget about this one. Surely you and your fiancée have had plenty of discussions about the types of rings you want. Classic gold or

non-traditional, alternative materials

? Traditional design or unique engravings and inlays? In any case, it's up to you to order the rings, make sure they arrive safely, and keep an eye on them until the big day.
Check marriage license requirements.

Rules vary from state to state, sometimes even county to county, so make sure you're prepared. Do your research, and make a date with your fiancée to go get the necessary paperwork

before you get hitched

!
Book the honeymoon. Every couple works out their honeymoon plans in different ways. You might plan the trip together, or the groom may plan a surprise getaway to sweep the bride off her feet. Either way, it's typically the groom who takes the lead when it comes to actually booking the trip (plane tickets, hotel reservations, etc).
Order wedding presents. Did you know it's customary to have a present to give to the bride on your wedding day? You do now! It doesn't have to be a big thing, but a heartfelt and meaningful gift on the morning of the wedding will start off the day in the best of spirits. And don't forget to get your groomsmen gifts as well to show how much you appreciate their friendship.
Are these the only jobs you'll have to do leading up to your wedding day? Not by a long shot. But hey, it's a start! If you have any more questions about how we can help you prepare for your big day by creating a custom ring, we're here to help. Take our short ring style quiz to find the perfect wedding rings for you and your bride-to-be!