10 Inexpensive Groomsmen Gift Ideas
November 01 2020 – Mike Yarbrough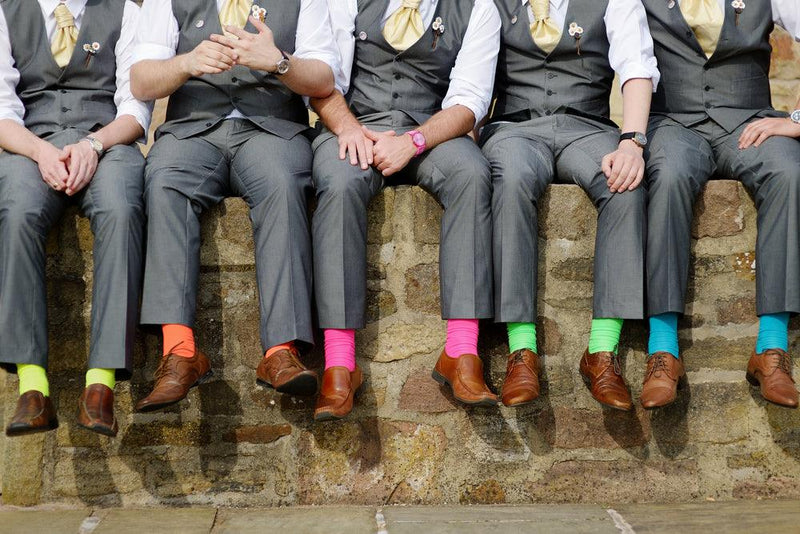 The groomsmen and best man are the groom's closest friends. The guys who have been there every step of the way, through the proposal, the wedding planning process and long before. It's nice to get them a little something to show how much you appreciate their efforts - and their friendship. 
Getting gifts for your groomsmen is a time-honored tradition. But with all the other costs that go into planning a wedding, we thought it might be helpful to share some thoughts on how to pick out inexpensive groomsmen gift ideas that are still meaningful.
Tips for Choosing Groomsmen Gifts
Don't Spend Too Much
One spending guideline that has been thrown out there is that you should spend between 10-25% of what each groomsman has spent on the wedding for their tux or in helping throw you a killer bachelor party. If this seems like confusing math when you have a million other details to focus on for your wedding, don't worry, there are plenty of inexpensive groomsmen gift ideas out there -- most of them for $50 and under. We included a few that are a little more than $50 but they're worth it!
Choose Something Useful
Nobody wants a paperweight. Pick out gifts that the guys will actually enjoy and use. It's okay to make it something related to the wedding, but you don't want it getting tossed in a closet as soon as the wedding is over and forgotten about for the next 20 years. 
Get the Best Man a Little Something Extra
Your best man is your best man. He's gone the extra mile with you. Choose a gift for him that stands out! That could mean getting him a little something extra on top of the standard-issue groomsmen gifts, or a version of the groomsmen gifts that's just a little bigger and better. 
Time It Just Right
Not sure when to give your groomsmen their gifts? Traditionally, gifting has taken place during the rehearsal dinner, at the bachelor party, or while you're getting ready on the morning of your wedding day. 
Make It Personal
Put a personal touch on your groomsmen gifts. Some people like the idea of getting everyone the same gift because it links you all together and ties you back to your wedding day. That's perfectly acceptable if there's a gift idea that you know everyone will appreciate, but getting each person a different gift based on what you know about each of them as a friend is a much better idea. 
Inexpensive Groomsmen Gift Ideas
1. Knife or Multi-Tool
For the outdoorsman and the handyman alike, knives and multi-tools are perfect gift ideas for groomsmen. They're useful, you can get a decent one on a budget, and it's a gift that just about any guy will be happy to receive. You can even go further and have the knife handles custom engraved for each groomsman. For the knife enthusiast in your group you can also include this book on the history of knives that one of our co-founder's, Mike, wrote himself!
2. Cufflinks
Cufflinks are an accessory that most men find themselves needing every now and then, but we never seem to buy them for ourselves. Plus, everyone can wear them at the wedding! That memory will be attached to the cufflinks every time your groomsmen put them on from that day forward. 
3. Leather Rings
 With several design options to choose from, our leather rings make a great gift for the rugged groomsmen in your party. Comfortable and durable, these are a small but meaningful gift option.
4. Glassware
Custom glasses are a nice way to toast your wedding with all your groomsmen. You can choose the same glasses for everyone, or make them unique for each member of your party. Get a pint glass for the craft beer connoisseur, a whiskey tumbler for the Scotch aficionado, and a shot glass for the party animal. 
5. Wallet or Money Clip
A new wallet or money clip is a great gift that can help any guy keep their pocket contents organized. Slim front pocket wallets are a great option that combines the best elements of both a wallet and a money clip. This is also an easy gift to customize; leather wallets can be monogrammed and metal money clips can be engraved. 
6. Beard Grooming Products
Whether mustached, bearded, or sporting a Fu-Manchu, every man with facial hair needs the proper tools and products to keep them well groomed. Beard oils and butters, mustache wax, as well as combs, brushes, and dopp kits are sure to please the groomsmen in your party - as well as their significant others. For the reading enthusiast - there's also a full book written in 1922 - The Philosophy of Beards that's as applicable today as it was nearly 100 years ago.
7. Flask or Bar Accessories
Engraved stainless steel flasks are a classic groomsman gift (leather-clad flasks are great too). Other bar-ware can also be an ideal gift, like a mixology bartenders' kit, or a book of classic cocktail recipes.
8. Outdoor Gear
We all have at least one outdoorsy friend and outdoor gear is a perennial favorite gift. From golf supplies and fishing tackle to camping equipment and outdoor clothing, there are plenty of outdoorsy gifts you can get on a budget.  
9. Bottle Opener
How many times have we all been looking for a bottle opener and not been able to find one? They make great small gifts for your groomsmen. Keychain bottle openers are one option, and sleek credit card bottle openers are a more modern variation that makes a perfect present. Both are easily engraved to make them more personal. 
10. Food and Drink
It's never a bad idea to give your groomsmen a gift something that they can eat or drink. Choose a bottle of their favorite liquor or spirits, coffee beans from a high-end roaster, or gift boxes filled with goodies like meat, cheese and other favorite snacks. Tailor each person's gift to their specific taste.
While your best man and groomsmen deserve a little something for helping you become the man you are (and for lending a hand during the wedding planning process), don't spend so much time thinking about getting gifts for them that you overlook the wedding rings! If you're unsure about which ring style is best for you, take our ring style quiz to find out! Once you know, feel free to reach out to our live chat team to get started designing your own custom wedding bands for you and your fiancé(e)!