Honeymoon Tips for a Stress-Free Newlywed Vacation
December 20 2020 – Mike Yarbrough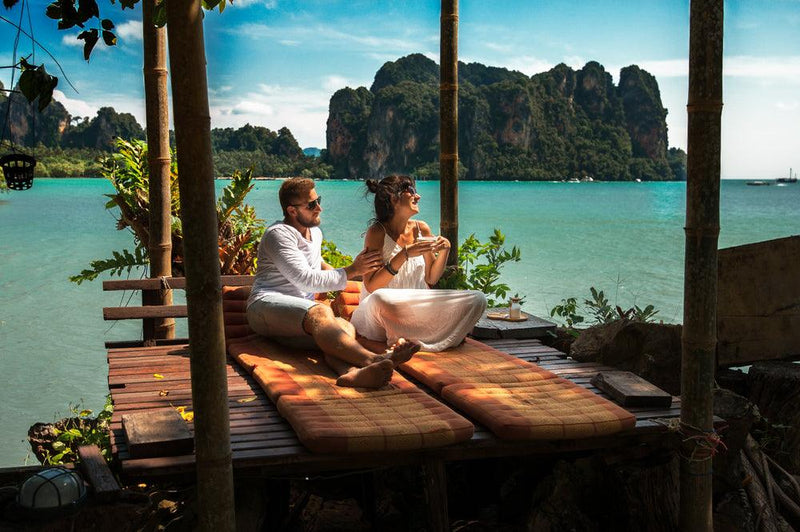 Planning your honeymoon can be one of the most thrilling parts of the entire wedding planning process but it can also be one of the most stressful. From putting together the itinerary to budgeting for the trip, there are so many variables to consider. Hopefully, these honeymoon tips will make the whole process a little easier. 
Honeymoon History
The tradition of going on a honeymoon after getting married has a fascinating history. Even the term "honeymoon" has some unique origins that are not commonly known today. 
The term has its origins in the 5th century. At that time, it was customary for a newly married couple to drink mead—a type of wine made from honey—during the first moon of their marriage. Thus this period of time was called the "hony moone" in Old English.
Eventually, the word came to represent the early stage of the marriage. Honeymoon was the word used to describe the phase in which the happy couple was overcome with newlywed love and excitement. It was only in 19th century England that couples started going on holiday after being married, and this trip came to be known as a honeymoon. But even then, it wasn't so much a blissful vacation as a "wedding tour," in which the couple would travel around and visit family and friends who couldn't make it to the wedding.
Honeymoon Tips
In the modern age, your honeymoon is an opportunity to celebrate the beginning of a new life together, to connect on a deeper level, and to have fun! Here's how to make it as stress-free as possible. 
Start early. The generally-accepted rule of thumb is that you should start planning your honeymoon six to eight months before the travel dates. While that may seem like a lot of time now, that should be the minimum. If you're going to a faraway destination, planning up to a year in advance would be better.


Plan together.

This should be a trip that both of you look back on fondly for the rest of your lives. Plan it together so it's the honeymoon you both want (and fits both of your schedules and budgets).




Don't overdo it.

It can be tempting to try to pack as much into your honeymoon as possible but take it easy and don't overbook. Leave yourselves enough downtime that you don't feel stressed or hurried.




Put your phone down.

Assuming you gave them ample notice, your friends, family and bosses should all know you're away on your honeymoon. They'll be fine without you. Other than taking photos, try to restrict your phone usage as much as possible. Airplane mode is your best friend.



Set a budget.

Your

budget is up to you

 but you'll be less stressed out if you know exactly how much you've spent and how much you can afford to spend. It's best to assume you'll go over your budget. Set aside 25% of your budget for "extras" and "hidden" costs. 
Honeymooning in the Age of COVID
2020 was a year of staying close to home. Even as we look forward to a return to normalcy in 2021 and beyond, travel restrictions won't disappear overnight. Keep these things in mind to prevent COVID from messing with your honeymoon:
Be flexible.

Try to remain hopeful but be flexible at the same time. Your plans and dates may need to change and it will be easier if you're ready to roll with the punches. Make sure you fully understand the refund and cancellation policies on any tickets you book or reservations you make.




Avoid travel agents.

Online travel agencies are sometimes convenient but they can also make it unnecessarily difficult to talk to an actual person, which can greatly complicate the process of getting a refund or

changing the date

 of a flight or hotel booking. During pandemic life, it's best to book your plane tickets directly with the airline and your hotel room directly with the hotel.




Plan on being outside.

The safest place to be right now is the great outdoors. Luckily, that leaves plenty of great honeymoon destination options, from ski trips and wilderness getaways to beach vacations and glamping retreats.




Book an Airbnb.

You can book a room in a far-flung beach resort or a vacation rental in your own home town through Airbnb. The big advantage of Airbnb right now is their

COVID-19 cancellation policy

, which includes the possibility of a full refund if your plans change as a result of the pandemic.




Stay local... for now.

You might not be able to have that destination wedding you wanted, or go on that unforgettable honeymoon of your dreams at this very moment. But that's okay! Plan a small, local mini-honeymoon within your home state for now and save your grand adventure for later when travel is easier.
Planning your dream honeymoon is an exciting part of planning your big day and it can turn into the trip of a lifetime. But before even getting married, you'll need the wedding rings! Message our live chat team to get started designing your own custom wooden wedding rings today! You can also take our ring style quiz for inspiration for wedding band materials, styles and sizes.