Purchasing a Wedding Band: Part 1 - Who Buys the Man's Wedding Ring?
July 05 2020 – Mike Yarbrough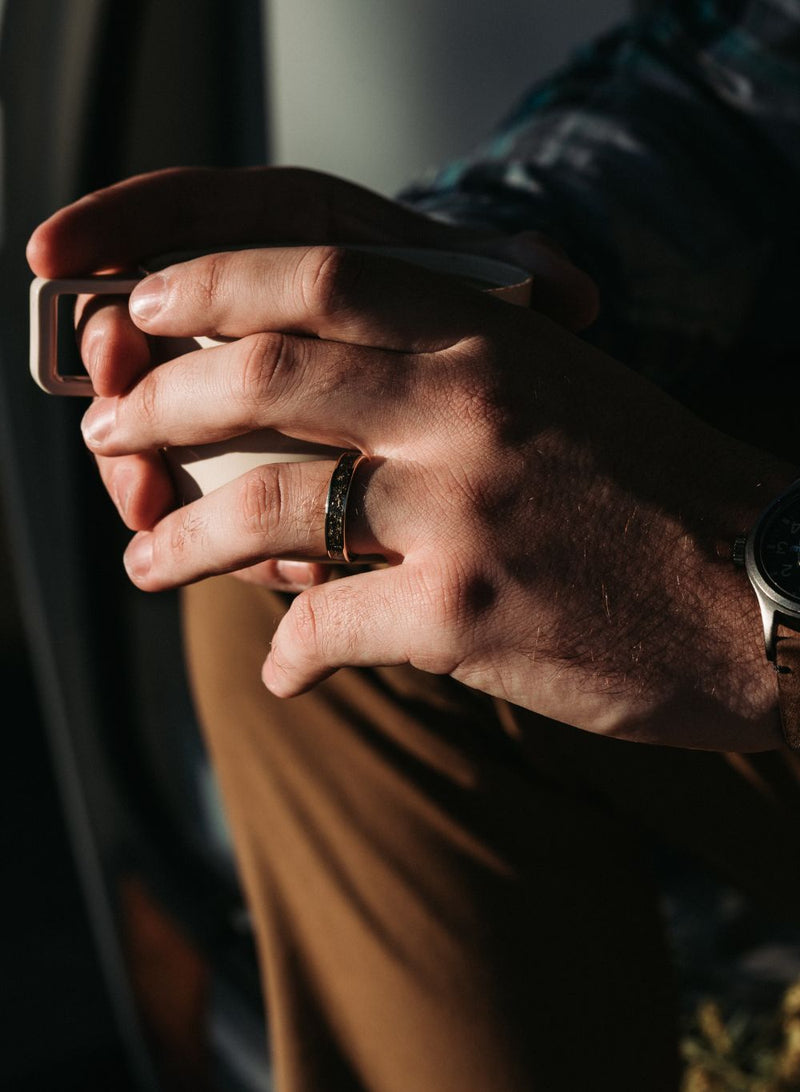 So, you popped the question—and she said yes. Congratulations! The two of you have a lot of amazing experiences to look forward to on your journey as bride and groom, but you probably have a lot of questions as well. 
One of the most common questions couples often wonder about is who buys the man's wedding ring. There are a few ways to approach the buying process for both traditional and contemporary couples. 

History and Traditions
The question of who buys the man's wedding ring is actually a pretty new one. Throughout much of American history, men didn't wear wedding rings at all. Even as a few men started to wear one in the 20th century, it was usually assumed that they would pay for it themselves.
This has a lot to do with how society viewed women at the time; they were for the most part expected to be housewives, and few of them had any income of their own. Things started to change in the 1940s.
With so many men overseas during World War II, women began entering the workforce in unprecedented numbers. Men also began to wear wedding rings more frequently, often as a reminder of their beloved while they were deployed overseas. In the decades since, it's become more and more common for men to wear a wedding ring, to the point that it would almost seem strange not to. 

Who Buys the Man's Wedding Ring?
It was once expected that the man would assume all financial responsibility for the wedding, including buying both wedding rings. There are many couples who still prefer to adhere to this custom, and there's absolutely nothing wrong with that. Many consider it to be a very romantic gesture for the man to buy both wedding rings. 
Still, not all couples like to go by tradition. A number of other factors can affect the buying process, not the least of which is your personal financial situation. When it comes to finally making a purchase decision, here are the main options to consider.
The man buys both rings.

Many couples still value the traditional scenario, in which the man buys both the bride's wedding ring and his own. 

The man and woman buy rings for each other. For a lot of couples, there is special meaning in each picking out the other's wedding ring, and giving it as a gift.
The man and woman each buy their own rings.

You might each have a specific idea of what you want in a ring, and prefer to each buy your own. 

The woman buys both rings.

Some couples decide that the woman will buy the rings, either because she is the primary breadwinner in the family, or because the man is assuming most of the other wedding expenses. 
Ring Buying Tips
Whether you're a couple who finds comfort in a traditional ring-buying experience, or you pride yourself on being more modern, buying wedding rings is an important decision that will stick with you both for the rest of your lives. Your rings are important!
No matter who buys the man's wedding ring, keep a few tips in mind: 
Shop together. Even if you decide to buy rings separately, shopping together can be a lot of fun. It allows you both to have input, and makes it possible to pick out rings that match. 
Know your ring size. Rings can be challenging to resize, so it's important to use a ring sizer to establish you and your significant other's ring size. Don't know your size? Learn more about how to get your ring size at Rustic & Main. 
Choose based on meaning. Buying wedding rings isn't about how much you spend. It's about choosing rings that tell your story, and have deep meaning for you and your spouse. 
Whether you're a whiskey aficionado, proud Military serviceman, or an outdoorsman, your ring should be as unique as you are. Take our ring style quiz and find which Rustic and Main ring collection best suits your style.