Telling the Story of Friendship: A Maker's Mark and Tobacco Custom Ring
July 21 2022 – Summer Yarbrough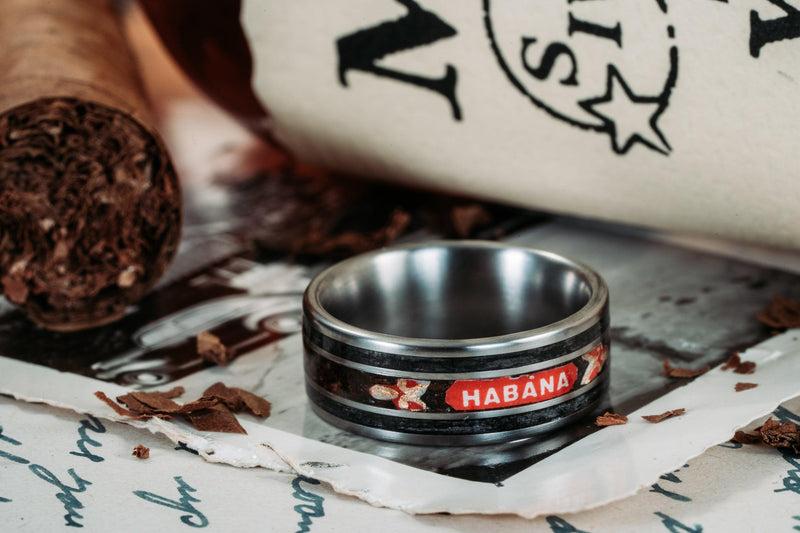 One of the main benefits of owning a business like Rustic & Main is we get to share in people's celebrations. Most of these celebrations have been weddings, but more and more people are seeing our custom rings as a way to commemorate events such as military graduations or loved ones' birthdays. We had the privilege of walking one of our friends, Richard Pappas, through the whole process of creating a ring for one of his best friends, Marc's 50th birthday celebration. Together, we were able to craft a ring that celebrated both their friendship and Marc's love for the Maker's Mark Brand.
Why a Ring for a Friend?
Richard and Marc's friendship started in their late teens and has spanned over three decades. Many people know the tight bonds formed in college, but there's a particular bond forged when you are in a service fraternity together. Richard was Marc's Big Brother in the service fraternity Alpha Phi Omega Chapter of Eastern Carolina University's Campus. APO is known for its heart for serving and was a central part of Richard's life where he developed his friendship with Marc and found the love of his life, Elilish. 
Richard and Marc created a tight band of brothers: Dave, Matt, Brian, and Brad. They kept their friendships going over the years even though they had not all been together since Marc's wedding two decades before. Fortunately, Marc's wife knew the best gift for her husband's 50th birthday would be a surprise trip with his brothers to
Kentucky's Bourbon Trail
.
  Richard's endearing friendship with Marc and Marc's love of Maker's Mark Bourbon is what ignited the idea of creating this particular ring for his birthday. With the trip and the ring being a surprise, Richard had to work with Marc's wife, Shannon, to get the correct ring size without raising Marc's suspicions. Once we knew the size ring we needed to craft, it was time to get started on the process itself.
Designing the Custom Ring 
Most of the rings we create are for customers we never meet face to face. We often walk customers through the design process through email, live chat, or phone conversation. We created a nifty tool on our website called the
ring customizer
. This tool allows you to design your ring from a wood, titanium, or precious metal base using our
curated materials
or materials that you provide. It was exciting for our team to work with Richard in real-time at our store to design the perfect ring for his friend.
 It was important to include two key elements into this ring: Richard and Marc's friendship and the fact that they are both Maker's Mark Brand Ambassadors. The love of Maker's Mark was an easy choice. We keep a stock of sourced Maker's Mark
whiskey barrel
lids and staves as this is one of the most popular brands requested for wood bases and inlays in our rings. All whiskey barrels are white oak, but we have perfected a technique that allows us to weather the wood naturally. Because of this weathering process, we have two whiskey barrel options for customers to choose between: a warm wood color with great texture and a weathered ebony color with many variations of charcoal and gray in it. Richard settled on the weathered whiskey barrel wood for Marc's ring.
The second element to include was material that represented their friendship. Richard had brought in pom poms from their shared time at
ECU
and a cigar. Both men appreciated a fine cigar, and this cigar was significant since Marc had given it to Richard after a mission trip to Cuba. Richard was waiting for the right time to enjoy the fine cigar and had practiced considerable constraint by not unwrapping it for eight years. We could technically combine the pom poms, cigar, and Maker's Mark into one single titanium base ring. But, wanting the ring to have a classier feel, Richard omitted the pom-poms and chose a triple design that featured the weathered whiskey and cigar. These elements came together to create an "Aficionado" themed ring.
 A third of the rings crafted at Rustic and Main are unique designs created by our customers, so we often rely on our
crafters
' knowledge in knowing what materials we can use in the rings and how to best lay them out in the most eye-catching way. Zach, a crafter who loves to work with customer-provided materials, helped us make the best choice of layout for Marc's ring.
When our crafters get a chance to be creative with unique materials, we're always amazed by the ingenious ideas they have. Zach came up with the idea to inlay the tobacco in the cigar and the Habana brand wrapper in the ring together. 
Zach took special care with Richard's cigar, only trimming off enough tobacco for the ring inlay and saving the rest of the cigar for Richard to use another day.
Because the materials were so fragile, Zach only had one shot to perfectly arrange the tobacco and cigar wrapper in the small center channel of the ring. But, between Zach's steady hands and eye for detail, he pulled off the perfect inlay! The tobacco sat as a gorgeous backdrop for the Habana label. Dual inlays of weathered Maker's Mark flanked the center Habana cigar inlay, allowing each material to complement the other. 
 Whiskey Weekend and The Ring Reveal
After Richard picked up the ring from our shop, the only thing left to do was enjoy a weekend with his fraternity brothers on the
Kentucky Bourbon Trail
and gift the ring to Marc. Marc was so surprised! Not only had his friends traveled to Kentucky to celebrate his 50th birthday, but his best friend also gave him a wonderful present that told the story of their friendship. 
Richard said he would not change a thing about his weekend and credited Marc's wife, Shannon, as the real mastermind behind the guy's well-organized and fun weekend. Shannon set up the group to spend Friday on a Whiskey tour using the highly recommended
Central KY Tour
group's guide, Jon Ryan. The whiskey tour started at the
Maker's Mark Distillery
and included stops at
Lux Row Distillers
and
Bardstown Bourbon Company
. 
(Row of three pictures of all the stops and them in front of the bus)
On Saturday, they ventured downtown on their own. They enjoyed Bloody Marys with bacon, watching their Alma Mata's game against rivals SC at a local taproom. The gang wrapped up their weekend by visiting
The Blind Pig Bourbon Speakeasy
, where you have to have a password to get in. If you want more details, check out our blog featuring this weekend.
Learn More About Our Whiskey Ring Collection!
Whether you love whiskeys like Maker's Mark, Jack Daniels, or Buffalo Trace or a long-lasting friendship you want to commemorate, our team at Rustic and Main is here to help you tell your story. From our top-notch customer service, design pros, and well-trained crafters, we can create a custom ring that we guarantee will be one of a kind and able to embody the memories and materials that you hold dear to your heart.