Telling A Story of the Old West: The Cowboy Ring
June 17 2022 – Summer Yarbrough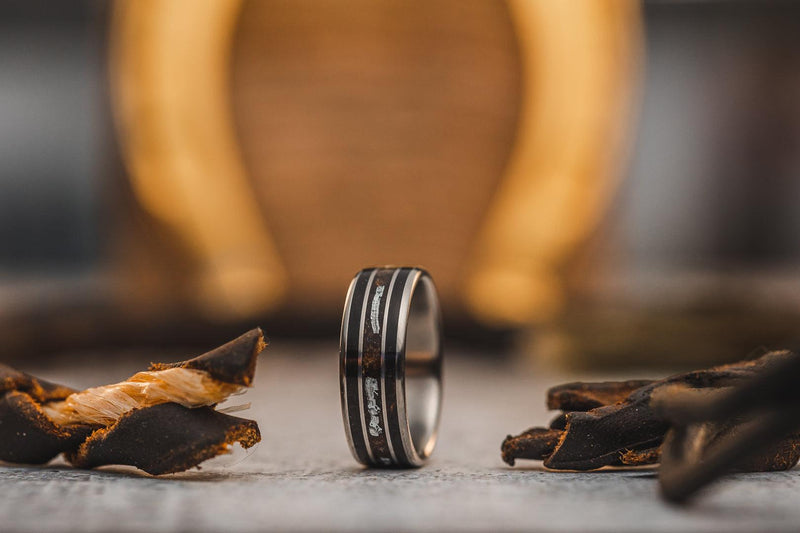 As you may well know, we love a good story here at Rustic & Main, especially when we get to tell it through a ring we crafted. 
Cole and Sarah wanted a Rustic & Main wedding band for Cole after seeing their friend Alan's R&M band. 

The Materials
They sent in some incredible materials for Cole's wedding band, that each linked to different points in Cole's life: a bullwhip, a horseshoe, and wood from a bar top. 
In a titanium band, we inlaid three of Cole's materials. 
In the center channel, we inlaid two materials together, shavings from the lucky horseshoe given to Cole's mother by her Irish father and leather from a bullwhip made by Cole's cowboy dad. 
The dual outer inlays are wood from a bar top made by Cole, his brother, and his dad. They made this bar top for a whiskey and bourbon bar, where Cole and Sarah met and worked together. 
The Cowboy Ring
This custom ring we've endearingly nicknamed 
The Cowboy Ring, 
and Cole kindly took the time to write up the story behind his custom Rustic & Main ring. 
Cole Tells His Story
Each part of the ring holds a special place in my heart, as you can imagine. 
The Bullwhip
I'll start with the bullwhip, seeing as it held my interest from a very young age. 
My dad is a cowboy, and I mean the traditional- ivory-handled six-shooters, bullet belt, chaps, and spurs wearing old west cowboy. He was fascinated with all things ``Wild West" from an extremely young age and never grew out of it as most kids would. 
He truly embraced it, and after meeting my mother and getting married, they bought a house on a 55-acre ranch  in Medina, Ohio, where they boarded and owned horses in our two large pole barns on the property. 
The larger of the two barns is where my interest in the bullwhip started. 
There was a room specifically for all things leather; saddles, bridles, reins, headstalls, halters, etc., all hanging in a well-organized fashion on the walls of that room. 
Anything
leather
we had was in there, including, of course, the bullwhip.
When we were kids, my brother and I would walk back to the barn with our dad in hopes of getting some sugar cubes as a treat, petting the horses, and going into the leather room for the bullwhip. Our dad had it hanging high up on a wooden peg in the dim-lit room that smelled sweet like hickory and tanning oil, and any time we had a chance, we would climb up the saddles below it and grab the whip to try to get it to crack. 
Crack the Whip 
The piece I have for the ring is a small portion of the actual thing. The bullwhip was originally about 15ft long. It was incredibly difficult for someone less than 1/3rd of its size to maneuver.
Regardless, my brother and I tried our hardest to get that oh-so-satisfying crack. 
 After seeing our dozens of failed attempts, Dad would eventually give in to our begging for him to crack the whip.
 He would ask us to step back - bullwhips being incredibly dangerous - with the actual crack coming from the tip of the whip breaking the sound barrier. 
As soon as we heard that small thunder from the whip snapping the air, we would immediately hop back in to give it another try.

Montana Trip
 We never did get it to crack until many years later.
We got invited to join one our dad's Montana trips. My dad had gone on trips to Montana with his brother and their father (my grandfather) for almost 30 years.
 At this point, my grandfather had passed away, and the normal crew who went on the trip was getting older. When we arrived at the ranch, one of my first questions was, "where's the bullwhip?"
 My dad laughed at his two 20-something-year-old boys, who, after all those years, still wanted to play with the bullwhip. He came back with the whip that had a piece of it removed to make the whip easier to crack. 
Needless to say, my brother and I spent a few good minutes acting like children again, trying to get it to crack, and as dads do, he hopped right in and showed us how to do it. 
Finally, we got the long-sought-after crack of the whip. 
A Real Cowboy
Later, during the same trip, a member of the regular crew told us how the whip came to be. His story grew our fascination twofold. 
As it turns out, my dad wasn't just dressing like a cowboy every day. My dad had done everything from start to finish to make that bullwhip himself, including hand machining the knurled brass handle. He is, in fact, a real cowboy and was generous enough to give me that piece of the whip he cut off as a keepsake.

The Lucky Horseshoe
Next up, is the horseshoe- fitting, seeing as my dad is a cowboy- but this one is actually my mother's keepsake. This simple gold-plated horseshoe that she received from her parents was inscribed with a "congratulations" to my mom on an important job promotion she received in 1988.
It seems simple enough, but it held a much bigger place in our house growing up until they gave it to me specifically for this ring.
Irish Roots
For a little background, my mom's side is Irish, and I mean IRISH. 
I know, a real cowboy and a real Irishwoman - what a couple! 
Her father was so incredibly Irish he won Irishman of the year in Ohio many years ago. All our family reunions had traditional Irish foods, folk songs, and of course, alcohol. If you can imagine 150 to 250 fairly inebriated Irish men and women ranging in age from 15 to 90 all singing, dancing, and enjoying Irish folk songs, that was a real Mathis reunion.
My mom grew up carrying out a lot of the usual traditions but outgrew most of the customs. Though she didn't keep all of the traditions, she kept my favorites- like enjoying St. Patty's day with Guinness and corned beef and cabbage and believing fully in the luck of the Irish, which is where the horseshoe makes its entrance.
Luck of the Irish
 The horseshoe was what some people would liken a holy symbol in our house. It hung in her kitchen above the exit door, where anyone leaving the room could see it. Naturally, it hung facing up in a U shape so the "luck wouldn't spill out", and if we ever left the house, we made sure to touch it. Even if we were sprinting out the door, we never left the house without our bit of luck. We believed it worked but never had any good evidence of it. 
But, none of us being the gambling type, it became our ritual for starting the day, regardless. 
The act of hanging a horseshoe above or on a door has a surprising amount of interesting lore behind it, but I always loved it because it made me think of my mom's family, our crazy reunions, and our home.
The Wood From the Bar Top
Last and maybe the most important is the piece of wood. 
It's unassuming, but it means a lot to Sarah and me. The wood is from an old barn on the property where I grew up, the very same barn with the leather room and the bullwhip. My dad, brother, and I eventually turned some of that barn wood into a bar top which we put into the bar where Sarah and I met. 

Meeting Sarah
There's a lot more story to it, but she loves it when I say we met at a bar. 
Amy Arbors
A new wine bar opened in the town where I lived. The bar started in a small storefront and quickly outgrew itself, moving into a small house just down the street from its original residence.
Cole's Dad Strikes a Deal
My dad wasn't much of a wine drinker, but he was very handy. 
He coaxed the owner into letting him have a special stash of Crown Royal in the back just for my dad in exchange for fixing up the place. When the owner, Amy, wanted to move her business to the new house, it needed a lot of work. The floors were a mess of stained carpet, and the building had its fair share of odd craftsmanship, even a set of stairs that covered a door completely, which remains a feature of Amy's Arbors to this day. 
With the preexisting deal for the Crown Royal stash, Amy set out to get some help cleaning the place up to be business worthy. Naturally, she called in a favor and asked my dad.
Cole's New Opportunity
 He, of course, was sweet enough to rope me into pulling out the carpet and cleaning up a large portion of the strange installments in the house. Amy, wanting to check the progress of her newest business venture, came in to see how things were going, which is when she offered me a job.
Not yet being 21 nor having ever served a drink in my life said,
As soon as I had my birthday that year, I started working. She had a family business owning a wedding/event venue, where I got my training. After learning the ropes, she put me to work in the wine store where Sarah and I first met. 
Love at First Sight
People make jokes about love at first sight but in my case, it seemed to be a fact.
He, being a long-time regular at the wine store, knew Sarah and told her,
"I don't know what you did, but you did something to my son." 
Unfortunately for me, at the time, Sarah was unavailable, but as the running joke between us goes, "persistence is key." 
So, as I'm sure you guessed, I waited and waited and waited.
During that time, the business expanded to add a bourbon bar in the back room. Amy, being from Kentucky, loved bourbon, and it was time to call in another favor from my dad. 
My dad, brother, and I got the wood from our old barn after asking the new owner's permission and set to work. The finished product was a dark rich whiskey-colored bar top that Sarah and I made our connection behind. We discovered a love for bourbon and cocktails, and our friendship flourished. 

Parting Ways and Coming Back Together
Years later, after going different paths in life, Sarah to the US Air Force and myself to several other lines of work, we finally reconnected when she came home for Christmas.
Within a year, I moved to South Carolina, where she was stationed at Shaw AFB. She was part of the 77th Fighter Squadron, and her pilots and their spouses welcomed me with open arms. This squadron became a second family as we learned to navigate through a rough 2020 and a deployment. Having her home safe in my arms after seven months solidified our relationship, and I knew if we could make it through that, we could do anything. 

What The Ring Means to Cole
This ring represents my past and my future all in one. I'll always remember where I came from and the people who helped me grow into who I am today, but it's also a reminder of the journey that got Sarah and me to this point. I'm so excited for our forever together and to see what other adventures we can get ourselves into. 
-Cole Mathis
The Proposal
Cole and Sarah had been house hunting for four months with no success. They had looked at over 50 houses and had bid on eight or nine houses, but nothing took. It was the end of January and the last weekend before Sarah started a new job when the couple decided to try their luck again. 
They drove down from Sumter, SC, to Savannah, GA, to meet with their realtor again. They didn't want the whole trip to be business though, so Sarah, being the planner of the relationship, organized a list of bars, lounges, and
speakeasies
to hit up after they ate lunch. Of course, Cole had other ideas for the afternoon.
After they finished lunch, Sarah went to order an Uber since it was 30 degrees outside, but Cole then insisted that he needed to walk off lunch. Sarah was dumbfounded Cole was insisting to go on a walk around the city in the cold but, being a nice girlfriend and a good sport, she went along with it. They walk through a nearby square,
Wright Square
in Downtown Savannah. The whole time, Sarah was seeking shelter from the cold and was getting increasingly annoyed that Cole kept stopping when they needed to get out of the freezing cold weather. It took Cole two tries, but he finally got Sarah to turn around, and she saw he was down on one knee.
Sarah, of course, said yes.
Wedding Tips
Sarah and Cole are finding wedding planning a little less stressful than most couples usually do, since Sarah worked as a wedding planner for three years before joining the military. Amy, the owner of the bar Sarah and Cole met at, also owned a wedding venue, where Sarah learned the ins and outs of planning a big day.

Sarah and Cole will have a Christmas Wedding in the city they love, Savannah, Georgia. The couple is excited to share this special place with friends and family.

Sarah advises couples to plan their big day together, and Cole says to make sure to make the day your own. Cut out the traditions that aren't for you, and add a few features to the day that make incorporate things you like. Sarah and Cole are doing both by swapping out the cake cutting ceremony for a grand champagne tower pour.
Tell Your Story with Rustic & Main 
This couple's advice in choosing a wedding band is to work with Rustic & Main! You can either send in your materials, like Cole and Sarah did or select one of our rings designs that tells a story. Check out our website today!