A Ring for Pap
December 24 2019 – Chelsie Kwah Barkley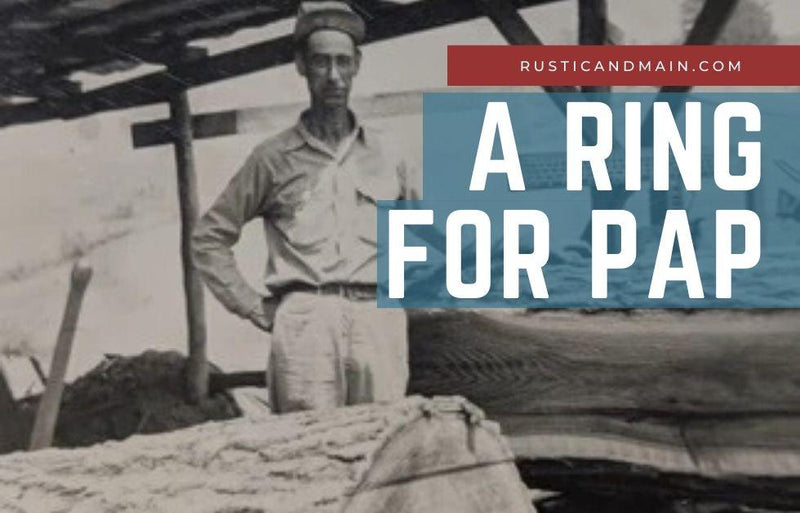 Steve P. contacted us at Rustic and Main one day, asking how we could help tell the story of his grandfather. Here is his story.
"My Pap had a sawmill, a small one on the farm, forever and between the mill and the farm that's how he took care of his wife and 9 kids." 

Pap
A sawmill is a machine that takes timber and saws it into planks or boards. The machine can also have several extra features involved that help with molding and finishing. According to Encyclopedia Britannica,
"

The biggest mills are usually situated where timber can be brought by river or rail, and the design of the mill is affected by the mode of transportation. Waterborne logs float into the mill and are dragged out in turn by a winch. More space is necessary for storage in the rail-borne system; an overhead crane serves the stockyard and carries the logs to the machines."

 

Truck carrying tree trunks ready for the sawmill.
Why was a machine like this important to Steve's grandfather?
"...as I said the mill was how he supported my Grandma and their 9 kids. One amazing thing about them is that from those 2 came 139 direct descendants, there's a lot of us. Their kids, their kids kids and their kids, kids, kids all played around the mill at one time or another.  The saw dust pile was our sand box, it was huge."

Pap and helper
A sawmill requires a lot of attention since the pieces can be reshaped with different machine parts depending on what the sawmill worker is aiming to do. There is also importance in efficacy with the process, but nothing goes to waste with these machines. According to Allegheny Mountain Hardwood Flooring,
"All of the "waste" from the boards is utilized so in essence THERE IS NO WASTE!
Sawdust

is used for energy for the dry kilns.

Bark

is sold to landscapers

Scraps

are put through the chipper and sent to paper mills."

 
As you can imagine, the machines themselves are huge.
"I remember a time when the main blade was taller than I was," reminisces Steve. "The picture I sent is me helping Pap roll a log onto the saw carriage. It looks like cherry which is appropriate, the piece of cherry my ring is being made from he cut on that mill..." 

Steve helping Pap roll a log onto a saw carriage 
As for why this was important to Steve,
"...we have a very large family and that mill was special to all of us, either playing there as kids or helping Pap when we were older." 

Family helping out by the sawmill 
Steve's grandfather is no longer with us, but Steve wanted to be able to capture his memory and thought that the sawmill was a huge piece of his story.
"Pap worked that mill till he was in his 90s, he passed at 97 years old in 2004." 

Pap working at the saw mill
We knew that it was important for Steve to pick a wood that had meaning, so we asked how he made his decision. His response?
"Cherry has always been my favorite wood, I love the color. I have my grandparents kitchen table which Pap made, it's solid cherry. lol  So that's why cherry…"
As for how Steve chose the liner of his ring:
"...the Jim Beam liner, Beam was Paps drink and it only seemed appropriate to do." 

The final ring created for Steve.
We always work to put meaning into the rings we create. What story can we tell for you? 
Works Referenced/Cited:
https://www.britannica.com/technology/sawmill
https://alleghenymountainhardwoodflooring.com/what-happens-at-a-sawmill/