Engagement Ring vs Wedding Ring: What's the Difference?
June 07 2020 – Mike Yarbrough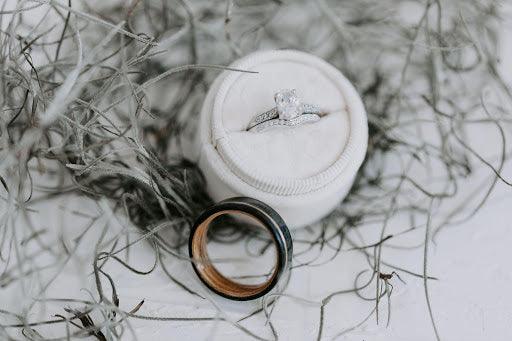 For most men, their wedding ring is the first ring they will have worn. It's not until they find the love of their life that they may have questions about the difference between a wedding band and engagement ring. What's the difference? Do I need both? Are there engagement rings for men? Should I wear one?
Getting married can be complicated and so can all the different kinds of wedding jewelry. We get it. We also understand that anything worth doing is worth doing right, so here are some answers to the most common questions you may be asking regarding engagement rings vs. wedding rings.
What's the Difference?
Both the engagement ring and the wedding ring carry significant meaning. The biggest differences pertain to when, and why, they are worn:
An engagement ring is given during the proposal, around the time a couple decides to get married. It's a symbol of love and commitment, and represents the couple's intent to be married. 

Wedding rings are exchanged by the bride and groom at the wedding ceremony and represent the official bond of marriage.
How Can You Tell the Difference?
There are no hard and fast rules that dictate how engagement rings or wedding rings should look. The most important thing is that they have meaning to the couple who wear them. Any style or material is acceptable, as long as your wedding rings represent something genuine about your fiancée and yourself. 
There are, however, a couple of traditional "guidelines" for purchasing the engagement ring and the wedding ring.An engagement ring doesn't have to be elaborate or expensive, but traditionally it will have a single dominant center stone that either stands alone, or is surrounded by smaller stones.
Wedding rings are usually simpler than engagement rings. A plain yellow gold or white gold band without any adornments is generally seen as a "classic" wedding ring, but it can be made in

any style

or using

any material

you and your

fiancée

prefer. 
Some couples don't even choose to have separate engagement rings and wedding rings. Using your engagement ring as a wedding ring on your wedding day is a perfectly valid choice, and one that many couples make. 
Which is More Expensive and Why?
Engagement rings are normally more expensive than wedding rings, and it's not hard to see why. While wedding rings are usually simple metal bands, engagement rings can include at least one precious stone—often a diamond or gemstone—which makes it much more expensive. 
The old "three months' salary" rule has been largely debunked, and how much you spend on wedding rings depends on what feels appropriate for you and your soon-to-be spouse. 
Can Men Wear Engagement Rings?
Men can absolutely wear engagement rings. Some men do. Many men don't. In some parts of the world, such as South America, it's actually quite common for men to wear engagement rings. In the U.S. it's not  common, but also not unheard-of. For some men, wearing an engagement ring can be just as important for its symbolic value as it is to women. 
Can They Be Worn Together?
This is an area where many couples—and especially men—get confused. Where and when do you wear each ring? There are actually a few different ways to go about it.
Some women will remove their engagement ring on the day of the wedding and never wear it again once the wedding rings are exchanged during the marriage ceremony. Others continue to wear their engagement and wedding rings side-by-side on the left hand ring finger from that day forward. Another option is to move the engagement ring to the ring finger of the right hand once the wedding band has been placed on the left.
For men, when it comes to wearing both a wedding ring and an engagement ring, keep a few tips in mind:
Buy them at the same time. You can purchase an engagement ring and wedding band together as a matching set, which will ensure that they will match nicely when worn together. 

Stack them correctly. According to tradition, the wedding band is worn inside the engagement ring so that it's closer to your hand (and also closer to your heart).

Make sure they're not too wide.

Men's wedding bands, in particular, tend to be wider

than women's rings, which can make them less comfortable to wear on the same finger. 
When Should You Pick Out Wedding Rings?
A good rule of thumb is to pick out wedding bands about 3 to 4 months before the wedding day. That allows you to have them in hand a month before the wedding, so there's wiggle room in case a change needs to be made, such as resizing, which is common. 
Still deciding which type of wedding ring is best for you or your soon-to-be spouse? Check out our ring styles quiz and find out which Rustic & Main ring collection best suits your style, then start designing your own custom wedding ring!