9 Hidden Gem Honeymoon Destinations Right Here in the US
April 15 2021 – Mike Yarbrough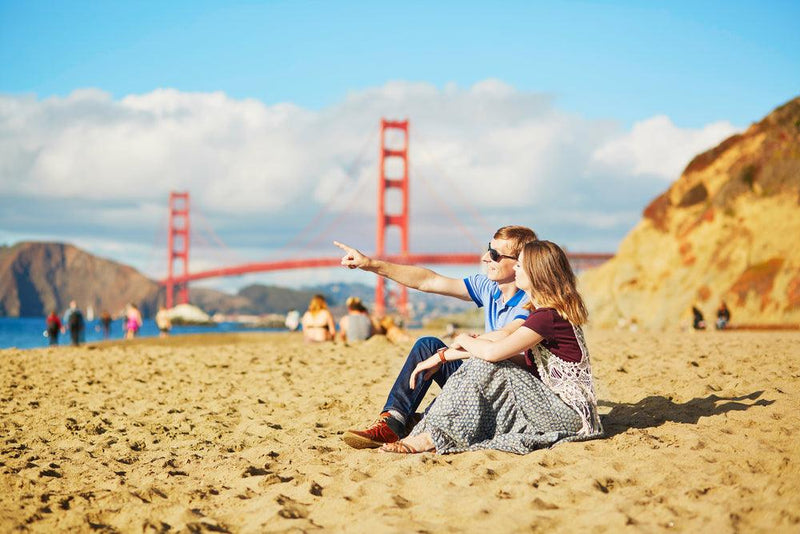 If you got married in 2020 or are planning to get married in 2021, chances are you've had to make some adjustments to your honeymoon plans. Even as we watch the world gradually get back on its feet, we have to admit that we're not all going to be resuming international travel overnight. Fortunately, there are plenty of amazing hidden gem honeymoon destinations here in the United States.
Whether you choose a full-on domestic honeymoon, or go on a smaller "mini-moon" close to home while you wait for your overseas dream trip to become available, these are some of the best places to celebrate your new life together right here in the U.S. 
1. Asheville, North Carolina
One of America's undisputed live music and craft beer capitals, Asheville is also a beautiful, romantic city that offers the perfect balance of small-town charm and big-city opportunities. You'll find an array of galleries, theaters, great restaurants and romantic accommodations in Asheville. Better still, the city is surrounded by the spectacular scenery of the Blue Ridge Mountains, a stone's throw from hundreds of miles of hiking trails and over 60 waterfalls.
2. Napa Valley, California
There may be no better pairing than wine and romance, and no place in the U.S. where those two things blend together more seamlessly than California's Napa Valley. Home to some of the best wineries in the nation, Napa Valley also offers a picturesque, rolling landscape with green hills and vineyards as far as the eye can see. Countless guided and self-guided wine tours are available by car, bike or on foot.
3. Georgia Coast Islands, Georgia
The barrier islands off the Georgia coast are one of the most underrated honeymoon destinations in the country. Of the state's 14 major islands, the four collectively known as the Golden Isles—St. Simons Island, Sea Island, Jekyll Island and Little St. Simons Island—are the most developed, with intimate beachfront resorts and charming bed-and-breakfasts. But Cumberland Island, which is managed as a National Seashore, is also a favorite, with cozy campgrounds overlooking the white sand beach.
4. Glacier National Park, Montana
It's easy to throw around words like "stunning" and "breathtaking" when describing natural scenery, but if ever there was a place that lives up to such lofty adjectives, it's Glacier National Park. This 1,583-square-mile wilderness in the heart of the Rockies is gorgeous beyond description. For couples with a thirst for adventure, stay in a lodge room or an alpine yurt.
5. Burlington, Vermont
One of the great mini-moon destinations in the Northeast, Burlington is a small, charming city perched on the edge of beautiful Lake Champlain. It's especially scenic in autumn, and you only have to drive a few minutes outside the city to immerse yourself in Vermont's legendary fall foliage. Burlington is also just a short drive from famous skiing destinations like Stowe and Killington, making it a great winter trip as well.
6. Cannon Beach, Oregon
Nestled in the northern Oregon coast, Cannon Beach offers spectacular, almost otherworldly scenery. The beaches are shadowed by towering rock formations like Haystack Rock (a haven for tufted puffins) and lined with colorful tidal pools. The town of Cannon Beach is filled with cafes, shops and inns, and nearby parks like Ecola State Park and Arcadia Beach State Recreation Site offer ample opportunities for sightseeing and adventure.
7. New Orleans, Louisiana
New Orleans is a city that knows how to have a good time, but it doesn't get nearly enough credit for being a romantic city. But what could be more romantic than staying in a 200 year-old hotel, wandering among the streetlamps beneath trees draped in Spanish moss, and listening to the jazz music drifting out of the cafes? New Orleans also offers some amazing deals on accommodations during the off-season.
8. Finger Lakes, New York
On a map, the 11 natural glacial lakes carved across Central New York look like they were left by the fingers of an ancient set of hands. In person, there are vast blue expanses of water that punctuate a landscape of rolling green hills. The Finger Lakes Region offers romantic accommodations that range from campgrounds to resorts, as well as more than 100 extraordinary wineries that are famous for their excellent white wines.
9. Hot Springs, Arkansas
The naturally occurring hot springs of Arkansas were once hailed as nature's cure for whatever ails you. These days, they're appreciated more for their relaxing properties than their curative powers. The springs and the small city around them are all part of Hot Springs National Park, where you can stay in a historic luxury hotel, enjoy a couples' spa day in the natural, mineral-rich waters, and even visit a brewery that makes all their beer using the natural thermal spring water.
Whether you opt for one of these hidden gem honeymoon destinations or you already have a location in mind, before planning your honeymoon, make sure you have the perfect wedding rings! Check out our ring customizer to start creating your own one-of-a-kind wedding band!