2021 Wedding Trends That Are Here to Stay
February 11 2021 – Mike Yarbrough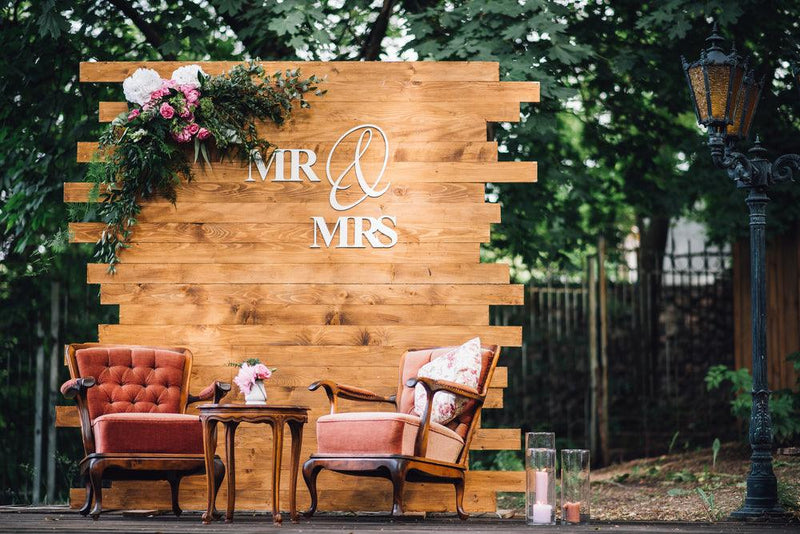 2020 was a rollercoaster year for everybody, but it probably felt especially turbulent for any couples trying to plan their wedding. While we look forward to the state of the world becoming more stable by the end of 2021, there's no doubt that the pandemic will continue to shape our existence for the foreseeable future.
Normally when people talk about wedding trends, they're talking about hot color palettes, trendy decor options and funky cake toppers. For 2021, our predictions revolve around the ways we approach getting married, and how they've fundamentally changed. Many of these 2021 wedding trends are about making weddings smaller, but there's more to the picture. We've also seen a huge shift toward creating a wedding experience that's more unique, more personal, and a little less traditional. 
One of the most important things we've learned within the last year has been that downsizing your wedding doesn't have to be a sacrifice. As we head into another uncertain year, here are a few wedding trends to keep your eye on.
The Rise of the Micro Wedding
If you'll excuse the pun, tiny weddings are big right now. The increased popularity of micro weddings has been one of the most significant trends to come out of the pandemic. These pared-down, simplified versions of a traditional wedding are likely to continue being one of the biggest 2021 wedding trends. 
Just what is a micro wedding? It's hard to pin down a precise definition but, in essence, it has most of the traditional elements of a wedding—a ceremony with guests, a reception with food, drink and entertainment—just on a vastly smaller scale. As a general rule, any wedding with 25 guests or fewer can be considered a micro wedding.
A Shift Toward Sustainability
People are becoming increasingly conscious of the impact their weddings have on the environment, and are taking steps to make their celebrations more eco-friendly. There are countless ways to accomplish this, and you can definitely count sustainability among the most popular 2021 wedding trends. 
If you're looking for ways to reduce your wedding's footprint, consider a smaller ceremony, and think about having it outdoors. And go digital! Set up a wedding website so that your guests will have all the necessary information about the location, schedule and registry details. Sending digital invitations instead of paper versions is another great step, as is skipping single-use dinnerware in favor of the real thing. You could also choose wedding bands made from sustainably sourced materials. 
More Weekday Weddings
One of the biggest 2021 wedding trends, quite simply, is that there will be more weddings. Countless couples who wanted to get married in 2020 but were unable to do so will likely be planning their weddings this year instead. That means prime dates like Saturdays and Sundays will fill up fast. 
Booking your dream wedding at your dream venue will require you to be more flexible with your dates. Weekday weddings will be more common this year, which is not necessarily bad news. Getting married on a weekday can actually save you some money and, in all likelihood, your preferred vendors will be more readily available. 
Assigned Seating
Safety is paramount as we ease into a new year in which COVID is still a concern. But we're all finding new and creative ways to gather safely, and if you're planning a wedding in 2021, one safety measure to consider is assigned seating, at both the ceremony and reception. 
Closest family aside, seating at wedding ceremonies has traditionally been a bit of a free-for-all. Assigned seats with ample space between each seat or between each group of guests, is a great way to keep everybody safe. 
Domestic Destinations and Mini-Moons 
Depending on what part of the world you want to visit, destination weddings and exotic honeymoons can be challenging (if not altogether impossible) right now. As a result, many couples are shifting gears. 
There are plenty of great wedding destinations right here in the USA, and you can even have a romantic getaway in your home state if you know where to look. Many couples are also choosing to have a mini-honeymoon close to home right after their wedding, with plans for a bigger honeymoon in late 2021 or early 2022. 
A Wedding in Your Own Backyard
As is the case with most of the changes we've seen over the past year, the increase in outdoor wedding ceremonies and receptions has been partly out of necessity. But only partly. There are a plethora of reasons why having a DIY wedding outside is a great idea, and one of them is that you can literally get married in your own backyard. 
Backyard weddings are budget-friendly, safe, and allow the bride and groom complete control over every aspect of the big day. Keep in mind, that a backyard wedding doesn't have to be in your backyard. Do you know a family member or close friend with a beautiful, spacious property? Chances are, they'll be delighted to host your wedding. 
Mini Wedding Cakes
Now this is a trend to get excited about. There's been a noticeable shift toward serving individual portions at weddings, from the cocktail hour to the seated dinner. For safety reasons, sharing, platters and buffets are going by the wayside. This new concept applies to the wedding cake too. 
Individual wedding cakes are great not only for health and safety, but they make each guest feel a little more special. And let's face it, they're adorable. Mini-cakes can be placed at each guest's seat during dinner, or wrapped up and sent home with them. 
Continuing Elopements
Elopements went through the roof in 2020, as record numbers of couples decided to abandon the hassles of planning a wedding during quarantine, and simply do their own thing. While eloping may not be everyone's dream scenario, there's a certain freedom and romance to it that can't be denied. 
Elopements are a trend we don't expect to go away in 2021, but we do anticipate that they'll level off somewhat. As the world continues to gradually climb back toward normalcy, having a traditional wedding, albeit smaller than you anticipated, will become more feasible. Still, eloping has become so much more "mainstream" in the last year, we suspect that many couples will still choose it, not because they have to but because they want to. 
Meaningful Moments
With so many aspects of weddings getting smaller this year, couples are learning to focus on the details that really matter. Weddings in 2021 may be scaled down, but they certainly won't be any less meaningful. A smaller ceremony with a reduced guest list gives couples an opportunity to focus on what their wedding is all about: making a commitment to each other and sharing your love story with those closest to you.
From finding an intimate venue to creating your guest list, choosing a cake and hiring a great photographer to capture it all, your 2021 wedding can still be incredibly special. Make sure you pick the right wedding style to go with your unique tastes by taking our short wedding style quiz.
And choosing the right wedding bands is a big part of the wedding too! Just like the wedding trends we're seeing this year, you want your rings to be meaningful to you, sustainable, and unique. Get in touch with us today and start designing your own custom wedding rings!