How Long Before a Wedding Should You Buy Your Dress?
March 04 2021 – Mike Yarbrough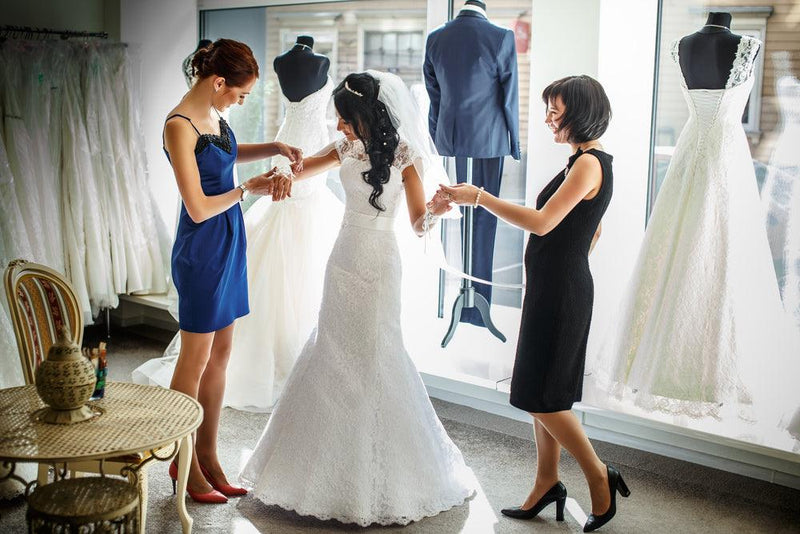 Without a doubt, one of the most fun and exciting parts of the wedding planning process is dress shopping. But how long before your wedding should you buy your dress? As with most things, it pays to get an early start. Here's what you need to know about your wedding dress shopping timeline. 
When to Get Started
You've just gotten engaged and, of course, you're excited to start planning your wedding! Whether or not you should start dress shopping the moment you get engaged depends on the length of your engagement. As a good rule of thumb, it's best to start dress shopping around 12 months before your wedding day. 
In other words, if you're planning to be engaged for a year or less, go ahead and get started right away. But if you're planning a longer engagement, you're better off allowing yourself some time before you start thinking about wedding dresses. There are a couple of reasons for this. 
First and foremost, too much time can actually be a bad thing. More than 12 months gives you more time to second-guess or overthink your choice of dress. Another reason is that most designers release new dresses every 6 months, so buying within a year will allow you to choose from the latest designs.
When to Buy Your Dress
Keeping in mind that you should never feel so rushed that you compromise in your choice of wedding dress, it's best to make your purchase between 6 to 9 months before the wedding. This gives you a few months to browse and consider your options, while still ensuring that you get your dress in time. 
Most bridal shops will make a custom dress just for you. That process usually takes 4 to 6 months, so you'll want to give your dressmakers time to do what they do best. Plus, you should also take into account shipping time and the possibility that alterations may need to be made.
Fittings and Alterations
It's incredibly rare for a wedding dress to fit you perfectly the first time you try it on. With that in mind, plan on going to a minimum of two dress fittings (it could be more) and give your dress maker the time they'll need to make the necessary alterations. 
Allow yourself some wiggle room here, depending on when you ordered your dress, and how long it takes to make it. Assuming you bought your dress 9 months before the wedding and it's ready 3 months before the wedding, expect to have your first fitting 6 to 8 weeks out and your second fitting 4 to 6 weeks out. 
If all goes according to plan, you should have your final fitting 2 to 4 weeks before the wedding and be able to pick up the dress and have it in your possession 1 to 2 weeks before the big day. Whew!
Wedding Dress Shopping Tips
Even when you give yourself plenty of time, there can still be delays that throw a wrench in the whole wedding dress buying process. Keep a few basic tips in mind to avoid surprises and keep things moving along smoothly. 
Do Your Research.

Not all bridal shops, dressmakers and designers are equal. Do your research and choose carefully. You'll sleep easier with the confidence that comes from knowing your dress is in the hands of someone talented, reliable and dedicated to making your dream dress for you.




Know Your Budget.

First and foremost, be realistic about

your budget

. Secondly, go into your dress appointments with a game plan for how you'll stay within your budget. Go in with a number that's less than your actual, full-stop budget cap. This gives you more flexibility, just in case.




Don't Forget About Accessories.

It's not all about your wedding dress. Don't forget about the shoes, undergarments, hair accessories and jewelry.

Leave room in your budget

for these items, and be sure to select them with the same care and attention to detail that you gave your dress.




Choose a Dress Buddy.

Shopping for a wedding dress is more fun with a friend! Plus, you'll have someone to bounce ideas off of. Choose your sister or your bestie—possibly your maid of honor—to accompany you on your dress shopping adventures. 
Choosing a wedding a dress is usually a girls-only event but one of the ways that you can share the fun of planning your wedding is for you and your fiancé to shop for a one-of-a-kind wedding band for him. At Rustic and Main, we're committed to helping you create custom wedding bands that reflect your unique love story. Our live chat team is always available to answer any of your questions, so get started today!