5 Wedding Financing Alternatives that Don't Involve Taking Out Loans
February 25 2021 – Mike Yarbrough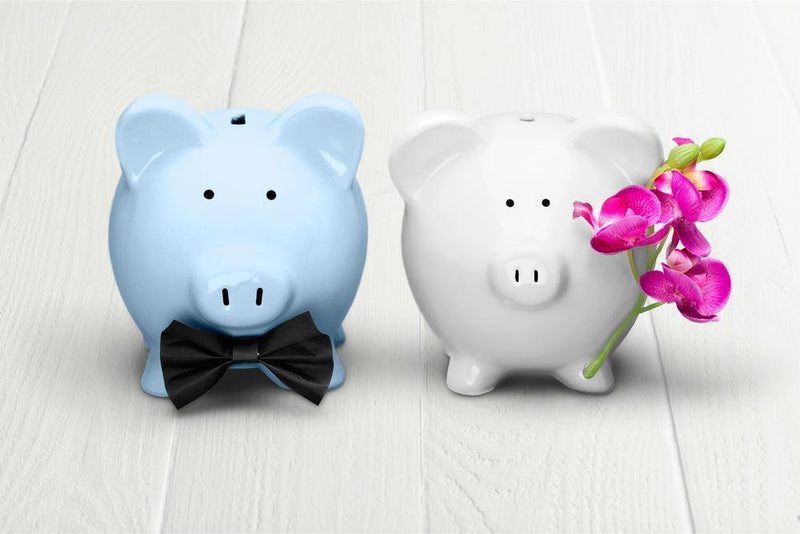 Wedding financing is one of those things that keeps engaged couples up at night. Weddings can be expensive and if you're experiencing some anxiety about how you'll pay for yours, you're definitely not alone. 
The average American wedding costs over $30,000. That's a lot of cheddar. Many couples turn to wedding loans to help shoulder the burden. While that's one way to go, it's not always the best option, and it's certainly not the only one.
Bottom line: you don't have to go into debt just to get married. There are many options out there, and it's important to consider them all. 
Pros and Cons of Wedding Loans
Taking out a loan to pay for your wedding is a bit of a double-edged sword. It might be a viable option for some couples, but be cautious about taking on any new debt that you can't afford to pay off in a reasonable amount of time. 
First and foremost, there's no such thing as a "wedding loan." When one talks about getting a wedding loan, what they really mean is a personal loan, which they will then use to pay for their wedding. There are plenty of reasons why people do this, but there are potential drawbacks too. 
Benefits of Wedding Loans
The primary benefit of taking out a personal loan to pay for your wedding is that it's a quick, convenient way to obtain funds. Many wedding vendors and venues expect an up-front deposit, and a wedding loan gives you fast access to cash for those down-payments. Getting a loan is also easier than you might think. Many financial institutions allow you to apply for personal loans online, and the application process can usually be completed in a matter of minutes. 
Another potential advantage worth considering is that a personal loan often has a lower interest rate than a credit card. So if you want to avoid getting bogged down in credit card debt, a wedding loan is a potential alternative. In some cases, taking out a loan and paying it back in a timely fashion can actually improve your credit score. 
Drawbacks of Wedding Loans
The biggest drawback of a wedding loan is an obvious one: interest. Even if you make all your payments on time, you'll eventually end up paying back more that you borrowed. You'll also be starting your marriage in debt, and that's not something most couples want to do. Having an existing loan can also make it more difficult to get an additional loan until it's paid back. For example, if you plan on buying a house or car in the near future, your wedding loan could make that challenging. 
Never take on any debts you can't afford. If you're unsure about your ability to pay back a loan, then you really shouldn't take one out. It's as simple as that. 
Wedding Financing Alternatives
If you'd prefer to avoid taking out a personal loan to finance your wedding, then you're in luck. Many alternative options for wedding financing are available, and you may also want to consider exploring ways to cut down the cost of your big day. 
1. Pay with a Credit Card
For most people, paying for your wedding with a credit card isn't a great idea. It really only works if you have a healthy line of credit, and the ability to pay down your credit card debt quickly. If you're thinking about opening up a new line of credit to pay for your wedding, most financial advisors would suggest you avoid that. 
2. Crowdfund Your Wedding
Start by talking to parents and grandparents about how they may be able to help. It's also worth considering asking for cash in lieu of engagement presents and a wedding registry. Your closest friends and family will likely be happy to contribute financially to your big day instead of buying gifts. Or, instead of asking for your family to help pay for the wedding and potentially feeling obligated to follow their every suggestion, if they ask what they can get you as a gift, ask for cash! Cash is always great because you can use it however you want!
3. Wait and Save
For many couples, this is the best option. Enjoy a longer engagement period and use the extra time to work hard and save as much money as you can. Even if you still end up taking out a loan, it will be a smaller one and you can pay it off more quickly. 
4. Downsize Your Wedding
A smaller wedding isn't necessarily a bad thing. Micro weddings have become a popular trend in the wake of COVID-19, and many couples have ended up saving a ton of money by planning smaller weddings with fewer guests. 
5. Budget Carefully
It's important to know how much each element of your wedding costs, so you can figure out how to trim your budget. For most couples, the wedding venue is the single largest expense, costing between $12,000 and $14,000 on average. By choosing a backyard wedding or rustic barn wedding, you can potentially save thousands. 
While financing your wedding might be stressful, buying your wedding ring doesn't have to be! Get started creating your own custom wood wedding rings and talk to our live chat team to get all of your ring-related questions answered.