Wedding Budget Breakdown: How Much Should You Spend?
November 29 2020 – Mike Yarbrough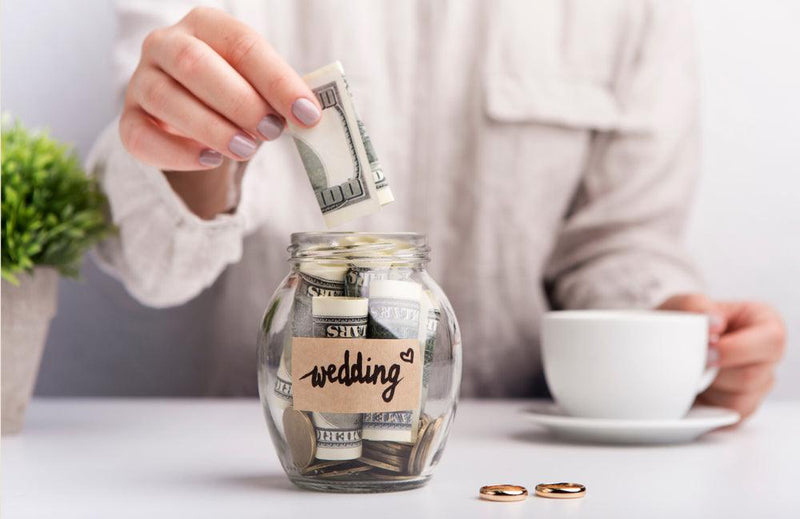 Weddings can be pretty expensive. The average American wedding came in at just a hair under $34,000 in 2019—the most recent year we could get data for—which is a pretty staggering sum. But whether you're spending $1,000 on your wedding or $100,000, it's absolutely essential that you and your soon-to-be spouse sit down and plan out your budget carefully.
Wedding Budget Breakdown
While certain wedding traditions may always remain the same, the reality is, every wedding is different. As a result, expenses can vary widely. Still, coming up with a wedding budget breakdown that includes the percentages you might spend on each aspect of the ceremony can be extremely helpful. All numbers listed below are based on an average $34-35,000 wedding. While the percentages and amounts listed below are a good guideline to follow, it is important that you and your soon-to-be-spouse talk about what things are most important. Is it more important to have the aesthetics on point, or is it the food that you are both all about? Being on the same page about this will make the rest of the process so much less stressful.
40% ($12,000): Venue and Catering
This is by far the most sizable chunk of most couples' wedding budget. Having a space to get married and enough food to keep everybody fed is, arguably, the most critical part of the wedding. This 35% includes the rental of the venue itself, hiring caterers, food and alcohol costs, and any associated rentals (i.e. chairs, tables, dinnerware, etc.). 
15% ($5,200): Photography and Videography
Hiring a professional photographer is one of those things that you'll be glad you did for the rest of your life. These days, many couples hire a videographer as well. It's worth setting aside around 15% of your budget for images and videos you can treasure for a lifetime.
12% ($4,200): Flowers and Decor
If you've never ordered flowers for a wedding before, try not to succumb to sticker shock while you're talking with your florist. The flowers and decor will most likely add up to approximately 12% of your wedding budget breakdown, including bouquets, flower arrangements, and any other special decorations required for the reception.
10% ($3,500): Engagement Ring and Wedding Rings
It's often difficult to pinpoint exactly how much money a "typical" couple will spend on the engagement ring and wedding rings. With so many factors involved in determining the price -- where the rings are purchased, what materials they're made from, whether there are diamonds or other stones included, the width of the bands, whether or not they're purchased as a set, and so on -- it's no surprise prices vary so widely. Some reports show the average cost of a women's wedding band, plus the engagement ring, is around $6,000, while the average cost of a men's wedding band is just under $500. Other sources say the total should be between $500 and $3,000. We think a safe estimate for all rings -- engagement ring and wedding bands -- is around 10% of the total wedding cost.
7% ($2,500): Hair, Makeup and Attire
Expect the total cost of everybody looking their best to account for about 7% of your wedding budget. One of the biggest expenses, of course, is the wedding dress. But this figure also includes the fees for hair and makeup artists, as well as the groom's tux.
5% ($1,750): Music and Entertainment
Hiring a live band or a DJ for your wedding reception can be pricey, but this is definitely not an area where you want to skimp and end up with sub-par music. Plan on spending up to 5% of your budget on entertainment.
3% ($1,000): Wedding Planner and Officiant
Other than the bride and groom, the wedding planner and officiant are arguably the two most important people at your wedding. One keeps the whole proceeding on track and helps the happy couple alleviate the stresses of the planning process. The other makes sure you're legally married. Plan on spending 3% of your total budget on both. 
2% ($700): Transportation
Transportation costs vary depending on the size and location of your wedding, but 3% is a ballpark estimate. That includes transportation for the bride, groom and wedding parties, as well as hotel shuttles for guests, if applicable. 
2% ($700): Stationery
A professional stationer is really an artist, and they're worth every penny for the work that they do. Plan on setting aside 2% of your budget for save-the-dates, wedding invitations, menus, table place cards, ceremony programs, thank-you cards and, of course, lots and lots of envelopes. 
2% ($700): Guest Favors
Most couples like to send their wedding guests home with something. Simply a small token or party favor to remember the experience by and show them you appreciate their presence. 
2% ($700): Wedding Cake
Some couples are able to squeeze the cost of their wedding cake into that big 35% for food and venue costs we mentioned earlier. If not, allocate an extra 2% in your budget for it. 
Wedding Budget Advice
Consider these tips and tricks when planning your own wedding budget breakdown. They'll help maintain your sanity and avoid potential pitfalls. You may even save yourself money along the way. If you find yourself wanting to spend more in one area than is suggested, just remember that money comes from one of the other categories. You may find the dream dress is worth splurging on, and you are fine skimping on the stationery costs. It's really about what you find most important.
Create a Spreadsheet
Stay organized to keep track of your spending every step of the way. Creating an Excel spreadsheet will make it easier to craft a wedding budget breakdown that includes details of every expense. You can also use the SUM feature and have a running total of expenses automatically calculated. 
Know Who Pays for What
One of the biggest mistakes couples make is not having this conversation during the planning process. Make sure you sit down and have a real talk about where the money is coming from for each part of your wedding. 
Expect Hidden Costs
Despite our best efforts, there's always a chance something will cost more than expected, or an extra, hidden expense will pop up. Mentally prepare for that, and set aside a little extra just in case. 
Downsize (If You Want)
If you want to save money, there are plenty of ways to do that. You could invite fewer guests, switch to a non-traditional venue, or scale back the flowers and decor. In many cases, non-traditional weddings end up being less expensive than their grander counterparts.
Your wedding style can have a big impact on your wedding budget. Take our
wedding style quiz
to find out which type of wedding is best for you!