How Long Does It Take to Plan a Wedding?
August 27 2020 – Mike Yarbrough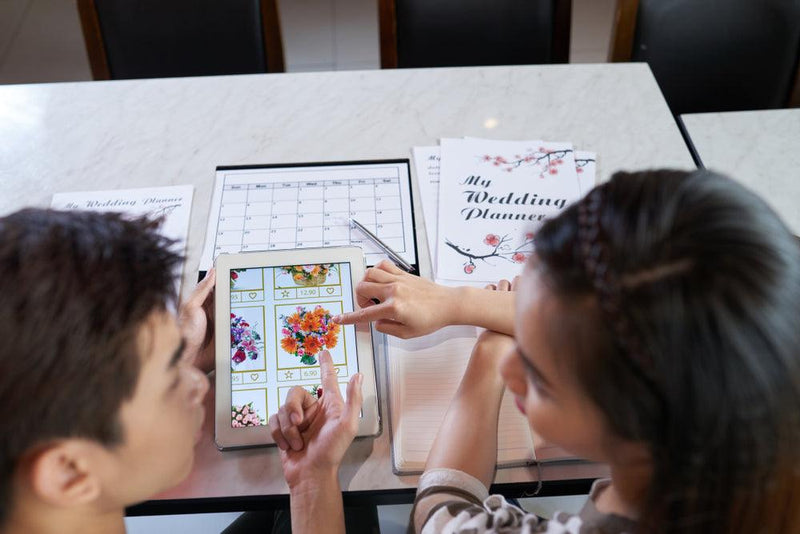 Weddings don't come together overnight. Even a simple ceremony takes months to plan, and a traditional wedding with hundreds of guests can take a year or more to really come together.
COVID-19 has forced a lot of us to rethink and reshape our wedding plans. Putting together a wedding in 2020 looks a lot different than it did just a year ago, but that doesn't mean you and your fiancé(e) can't still have a meaningful wedding that you'll never forget. It just means you will have to be a little flexible. 
Pandemic or no pandemic, you will need to put in some serious work to pull off a great wedding. We've put together a guide to give you an idea of just how long it takes to plan a wedding, what goes into it, and how you can make sure your wedding goes off without a hitch. 
How Long Does It Take to Plan a Wedding?
The average couple spends about 15 months planning their wedding. That might sound like a crazy amount of time, but wedding venues often book out over a year in advance. Even a very small wedding (i.e. a backyard ceremony with only close friends and family) can take up to six months to put together. 
Still not convinced you need that much time? Look at it this way: not everyone is a great planner. Maybe you are, maybe you're not, but either way, giving yourself as much time as possible will take a lot of the stress out of the wedding planning process. The fewer things you have to pull together  at the last minute, the easier the whole thing will be. If you're not a great planner and you know that, think about hiring a professional wedding planner to take some of that weight off your shoulders.
Important Wedding Planning Steps
Disclaimer: this is not an exhaustive list. Every wedding is different, so you might end up skipping some of these steps, or you might think of things that aren't on this list at all. That's all well and good, but there are some wedding planning details you definitely don't want to sleep on between now and your big day:
Create a wedding timeline.

First things first, make a prioritized to-do list and decide on a wedding date. Those two things will help you figure out what needs to be done, what order they should be done in, and keep your priorities straight throughout the planning process.




Set your budget.

It is typical for many couples to end up going over their budget on a wedding. With that in mind, you should, at the very least, have a ballpark idea of how much you can afford so that you can more easily monitor your spending - and avoid the added stress of overspending.




Hone your vision and choose your venue.

What do you want your wedding to look and feel like? Figure that out together, gather some pictures to help visualize your ideas, and then decide on a place to make that happen.




Work on your guest list.

You're going to go through more than a few drafts of this list, so it's a good idea to start making it as soon as possible.You may find it helpful to discuss your guest list with close family and identify any potential conflicts with seating arrangements or just to make sure you didn't forget anyone important.




Secure your vendors.

From caterers and photographers to florists, stationers and

entertainment

, it takes a lot of people to pull off a wedding. You don't have to book your vendors all at once, but put together a

list of vendors

so you'll know who you need. Some vendors may need to be booked further in advance, so you won't want to put off making this list to the last minute.




Shop dresses and suits.

We all know that the wedding dress is priority number one, but make sure the groom looks good too. Picking out a wedding dress and suit can be one of the most enjoyable parts of the planning process!



Consider guest transportation and accommodations.

Some guests may need help getting to your wedding and finding a place to stay. It's up to you to decide how much of this you would like to handle, and how much you may want to delegate to others. Having a good friend or family member to help arrange these details will keep you from being called when Aunt Sally can't figure out how to get to the venue from the hotel.




Send save-the-dates.

Most couples send save-the-dates about 5 months before the wedding, and then send official invitations when the wedding is 3 months away.




Create a wedding website.

This will help your guests make plans, but it will also be helpful to you.

Create a wedding website

with all the information your guests might need so they don't have to call you with questions!




Choose your wedding party.

Do you and your soon-to-be-spouse want big wedding parties with lots of groomsmen and bridesmaids, or do you want to keep it simple with just a best man and maid of honor? Your call, but you need to know who will be standing up there with you. On a related note, now is the time to start thinking about the

pre-wedding events

: bachelor(ette) party, bridal shower, rehearsal dinner, etc.




Get your wedding bands.

This is, of course, a crucial detail. It's best to

start shopping for wedding bands

at least 3 months before your wedding day, and plan it out so you have rings in hand at least a month before the wedding.




Order your wedding license.

Every state has its own regulations regarding when and how you have to get your marriage license. Do a little research to know which documents your state requires so there won't be any surprises when you go to get your license.
Alternatives to a Traditional Wedding
As crazy as everything is right now, many couples are choosing to forego a big wedding in a traditional venue in favor of something smaller and more intimate. Of course, the pandemic is a big reason for that, but alternative weddings are nothing new.
There are a lot of benefits to scaling down your wedding. You get to focus purely on what you and your fiancé(e) want. You'll save a lot of money. You can eliminate a ton of pre-wedding stress. You can un-invite your crazy uncle. The list goes on and on. These are some of the most common alternative wedding ideas to consider:
Throw a backyard wedding.

A

backyard wedding

can be every bit as fun as a traditional wedding venue, possibly even more so because of the freedom it offers. Depending on your space and budget, you can still invite all your closest friends and family, have great catering, and enjoy all the trappings of a classic wedding in an outdoor setting. Rent a big tent, set up a dance floor, hire a killer DJ and enjoy!




Have a courthouse ceremony.

This one certainly isn't for everybody. Getting married at a courthouse may not be the most romantic option, but some couples simply decide on the path of least resistance. If you weigh your priorities and decide that all that really matters is getting married, then a simple courthouse ceremony is worth considering.




Plan to elope.

Elopements are becoming increasingly popular as couples decide to focus on their own experience. Having lots of guests simply isn't for everybody. A

planned elopement

is a great way to refocus your wedding on committing your lives to each other in a romantic, meaningful way.




Go have a wedding-honeymoon. There's definitely something to be said for combining your wedding and honeymoon. It's essentially an elopement and a vacation rolled into one. You can, of course, choose to have a few select friends and family members come experience it with you. While international honeymoons might not be a realistic option right now, there are countless,

great destinations here in the U.S

. 
What If You Have to Postpone Your Wedding?
Because 2020 is basically the worst, it's entirely possible you will have to postpone your wedding. It's certainly stressful, but don't worry about a thing cause every little thing is gonna l be alright. If you're forced to postpone your wedding due to COVID-19, or any other unforeseen circumstance, here's what you should do: 
Let yourself be sad.

It's okay to be upset about it! Having to postpone your wedding is disappointing and upsetting, so give yourself time to be disappointed and upset. Lean on your friends, family and fiancé(e) for support, and let your fiancé(e) lean on you. You'll get through it together.




Notify your vendors.

One of the first and most important chores is letting all of your wedding vendors know about your change of plans. You may end up eating some deposits, but in these times, most wedding venues, photographers, caterers and other vendors are in the same boat you're in. They're dealing with postponements and cancellations left and right so, in all likelihood, they'll be willing to work with you.




Keep guests in the loop.

It's up to you to decide how much information you want your guests to know. At the very least, send everyone a

postponement announcement

as soon as possible, letting them know that your wedding is being postponed, with more details TBA.




Be flexible.

Being inflexible will only make things harder. Do your best to go with the flow and be willing to bend when it comes to picking a new date. You might have to have your wedding on a different day of the week, and every detail may not be exactly as you imagined it. The most important thing is that you're still getting married. Everything else is secondary.




Celebrate the day anyway.

Remember the date you had planned to get married, and celebrate it in some other way when it arrives. Make it a fancy date night or a cozy night in. Just take advantage of the opportunity to be together. 
Planning a wedding doesn't always have to be stressful. While we can't help you with every detail of your wedding, we can help you with one of the most important ones: your wedding style! If you're still deciding on your wedding style, take our wedding style quiz to get some inspiration! 
At Rustic & Main, we make it our mission to craft unique wedding bands that tell your story and reflect the love between you and your spouse, so that this year has a bright spot in it. T
alk to our team of wedding ring artisans about creating a set of rings that you and your family will treasure for a lifetime.