A Beginner's Guide to Pre-Wedding Events and Parties
August 02 2020 – Mike Yarbrough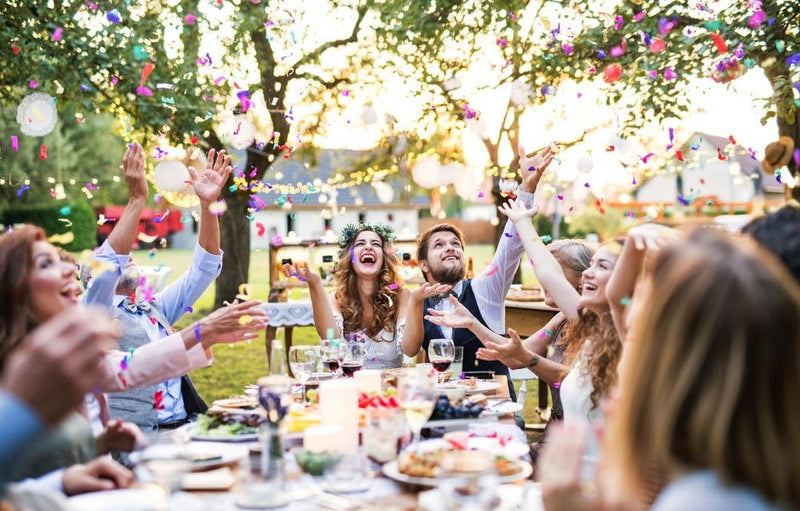 If you've spent even a short amount of time getting ready for your wedding, then you've probably come to the realization that planning a wedding is not a one-and-done kind of event. The engagement period leading up to the ceremony is actually packed with additional pre-wedding events. Fun!
It can all feel a bit overwhelming, but it doesn't have to. If you break it down, most of these events can easily be made fun and stress-free. Still, it's important to start planning out your pre-wedding timeline as early as possible. 
Essential Pre-Wedding Events
From the moment you become engaged, it's as if a giant clock starts ticking. Granted, the length of your engagement is entirely up to you and your soon-to-be spouse, but there are always going to be a lot of pre-wedding events that must—at least for most couples—happen before the wedding.
Some are more "essential" than others but, at the end of the day, you can decide to cut any of the following from your schedule. These pre-wedding events can all be a lot of fun if you plan them right: 
Engagement party.

First up is your engagement party! Some couples use the occasion to officially announce their engagement in front of friends and family. Others like to get everybody together for an engagement celebration after the announcement has already been made. Either way, it's an optional event.




Bridal shower.

Held in honor of the bride-to-be, the bridal shower can happen at just about any time, but you don't want it to be too soon or too late. If you have a bridal shower right after the engagement party - we get it, you're excited! - then there's a long gap before the wedding. If it's too close to the wedding, people may feel some effects of "gift fatigue" bringing gifts to your bridal shower and your wedding. You'll want to spread out the fun so you can celebrate throughout your engagement period. The bridal shower is typically organized by the maid of honor with some help from the bridesmaids and/or the parents of the bride.




Bachelor/bachelorette party.

Generally thought of as your last hoorah as a single man or woman, the bachelor(ette) party might be the most fun event on your pre-wedding timeline. Sometimes a wild night out, sometimes a weekend getaway, the parties are usually planned by the maid of honor and the best man, with the wedding party as attendees.




Bridesmaid luncheon.

This is an event typically hosted by the bride to say thank you to the bridesmaids for all their hard work leading up to the wedding. There aren't a ton of rules and traditions surrounding bridesmaid luncheons, but they're often held the day before the wedding.




Rehearsal dinner.

This event is traditionally held prior to the wedding rehearsal, on the night before the wedding. The rehearsal dinner offers the bride and groom, along with family, friends and both wedding parties, to simply enjoy some time together, have a few drinks and a great meal, and practice their speeches.
Planning Pre-Wedding Events During Coronavirus
Planning a wedding and all the pre-wedding events that go along with it can be challenging under the best of circumstances. Add a global pandemic to the mix, and you could be forgiven for feeling a little extra stressed.
Social distancing and limitations on big gatherings changes everything. Folks across the country are being forced to adjust their wedding plans accordingly, and the same goes for pre-wedding events. However, COVID-19 doesn't have to ruin your party. There might even be a silver lining if you follow some basic advice:
Keep it small. Chances are, your wedding is going to be smaller than you might have planned. It makes sense to similarly scale down your pre-wedding events. Include only the essential close friends and family on guest lists whenever possible. Intimate events can often feel more meaningful and memorable anyway, so it's not necessarily a loss.


Ask a friend to host.

Making dining reservations and renting a venue for pre-wedding events has gotten a lot more complicated. Luckily, you can ask friends who may be  more than happy to host events like bachelor parties and bridal showers in their backyard or living room.




Take it outside.

These days, outdoor gatherings feel a lot safer than inside parties, and many of your pre-wedding events can be turned into enjoyable, outdoor get-togethers. From patio dining to getting together in a nearby park or renting a big backyard tent, you have plenty of outdoor options! Even the wedding itself can be

hosted outside in your very own backyard

.




Stay safe.

Everyone should be on the same page when it comes to

health and safety measures

. Make sure hand sanitizer is available at all pre-wedding events, and instruct everyone to bring a face covering. 
Before planning your own unique wedding and pre-wedding events, take our short wedding style quiz to find out which type of wedding may be best for you and your beloved. You may also be looking for a unique and meaningful ring. Get in touch with our live chat team
 to learn more about our handcrafted and one-of-a-kind wedding rings, made right here in Huntersville, NC.