Alternative Wedding Entertainment Ideas for These Wild Times
August 09 2020 – Mike Yarbrough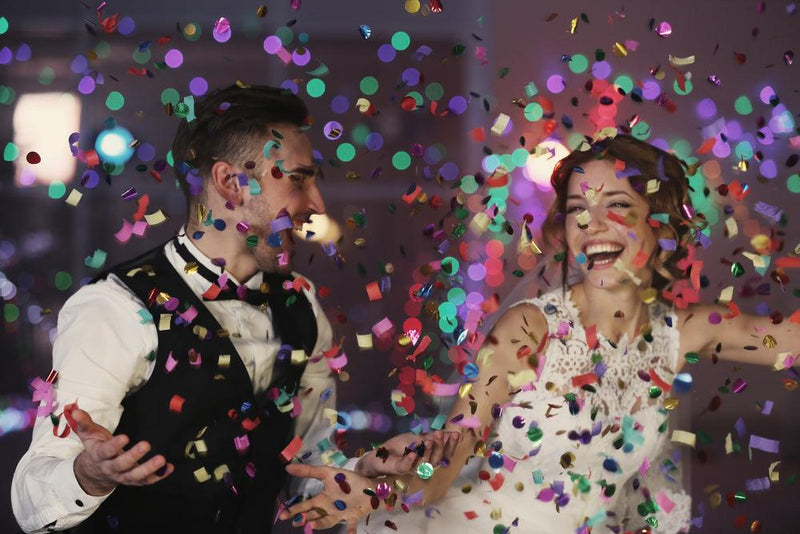 Life as we know it has changed in countless ways due to COVID-19, and that includes the way we plan weddings. Untold thousands of couples have been forced to cancel, postpone or downsize their weddings to meet the health and safety needs of our time. 
If your wedding is going ahead on its planned date, then certain aspects of it will probably have to change. In particular, you'll need some alternative ideas for wedding entertainment. 
New Ideas for Challenging Times
Moving forward with your wedding plans will almost certainly involve making some compromises. Chances are, you're trimming your guest list to only your closest family and friends, and you're likely forgoing a traditional wedding venue in favor of an outdoor ceremony and reception. Backyard weddings are more popular than ever, and festival tent rentals are booming. 
The bottom line: there are lots of options out there that your guests are sure to love. But if you're still planning a wedding, it's nice to have some form of wedding entertainment for your guests at the wedding reception. Try to keep a few things in mind before you make any solid plans:
Stay informed.

As new guidelines continue to be issued by the Centers for Disease Control and Prevention (CDC), keep up to date on the

latest news

, safety requirements and recommendations.
Know where you stand.

Different parts of the U.S. are in vastly different places right now when it comes to combating the coronavirus. An activity that might be acceptable in one state may be considered unsafe in another.
Be flexible.

If we've learned anything in 2020, it's that making firm plans is no longer possible. Do your best to remain flexible as the situation continues to evolve.
Wedding Entertainment Ideas
Let's get down to some planning! Wedding entertainment can still be fun and exciting, pandemic or no pandemic. Consider some of these ideas to keep your wedding guests entertained on your big day!
Consider a scavenger hunt.

Scavenger hunts are increasingly popular ways for the bride, groom, and wedding parties to have fun and go on an adventure. There are also wedding scavenger hunts for kids and guests of all ages, and about a million different ways to plan one out. Pick a friend who loves games and put them in charge!




Everybody likes fireworks.

A fireworks display is an unforgettable way to cap off the end of your wedding day. It's also a wedding entertainment option that doesn't require any compromising on social distancing. Just make sure the person you put in charge of fireworks is semi-responsible.




Live music is still an option.

This depends on a lot of different factors, but you don't necessarily have to give up on the idea of having that string quartet as your wedding entertainment. Be sure to make it possible for bands to socially distance—from the audience, and from each other—and consider hiring a smaller act with fewer members.




Bring in some food trucks.

From the wedding breakfast to the drinks reception and cocktail hour, COVID has also forced us to change the way we think about food and drinks at our weddings. Food can be challenging for an outdoor wedding, especially with social distancing concerns. Hiring a food truck (or two) solves the problem and adds an element of fun to your reception. Get a food truck that serves tacos or barbecue, and hire an ice cream truck to provide dessert.




Introduce some wedding lawn games.

Since your reception is most likely going to take place outdoors, there are

plenty of fun lawn games

for you and your guests to play. Cornhole, croquet, ring toss, Frisbee golf and giant connect-four are just a few options. They allow everybody to maintain social distancing, and an extra set of game pieces for each team or player will ensure that nobody has to touch the same pieces.



You can dance (if you want to).

No need for complex dance routines, but if you and your spouse have been taking some dance lessons, now is the time to show off what you've learned. Consider expanding the dance floor so everybody can have their space. Limit the number of people who can be out on the dance floor at any given time, and discourage guests from switching partners. 
While times are uncertain, one thing we can pretty much guarantee is that anyone who got married in 2020 (and beyond) will never forget the experience. We also know that the style of wedding you choose to have can have a big impact on the type of entertainment you hire. Take our wedding style quiz to find out which type of wedding is most suited to your unique tastes.