Wedding Ring Care 101
June 25 2020 – Mike Yarbrough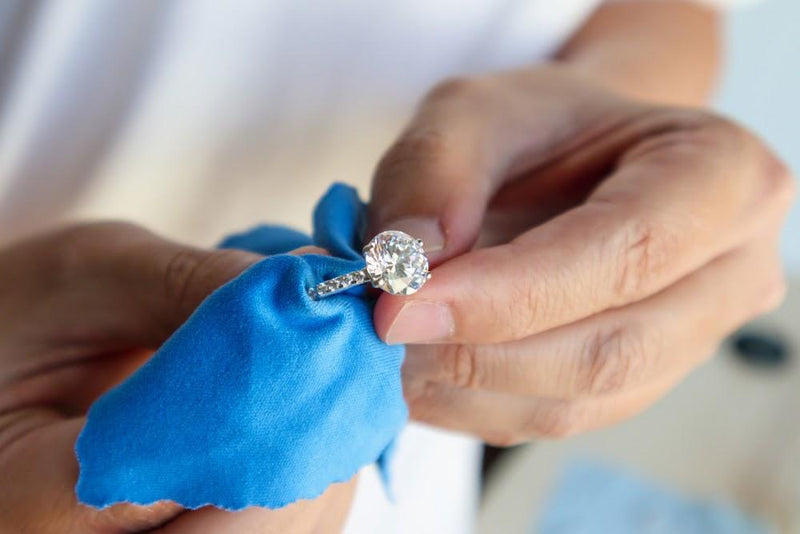 Your love may last forever, but your wedding ring might need a little help to go the distance. Whether your ring is made of gold, titanium, wood, or any other material, some basic wedding ring care will help it stand the test of time. 
With the proper care and attention, your wedding ring is something that can be passed on to your children and your grandchildren. Your ring can continue to tell your story through the coming generations. 
How Do You Clean Your Ring?
In most cases, wedding ring care is as simple as occasionally wiping the ring down with a dry, soft microfiber cloth. A gentle buff with a soft cloth is typically all it takes to maintain the shine of your ring's finish. 
If your wedding ring is made of metal, you can also clean your ring in warm water and a mild, natural dish soap or detergent. You can allow your ring to soak for 30 to 40 minutes, and then gently scrub with a soft-bristled toothbrush. For wood rings, "dry" cleaning, with a cloth, is typically best.
What Should You Avoid?
Avoid exposing your ring to harsh chemicals. Many chemicals, including some that are found in solvents and even some household cleaning agents, can damage your wedding ring. They are particularly harmful to the finish of wooden wedding rings, which are typically coated with cyanoacrylate glue (aka, CA glue) to give them a sheen and protective finish.
Fine jewelry and metal rings that have been plated, such as gold plated carbide rings, or coated in order to achieve a particular finish, can also be affected by harsh chemicals.
Exposure to saltwater can also be harmful to your ring. Fresh, cold water is generally considered safe, although this varies with the material. When it comes to wood wedding rings, they are considered to be water-resistant, not waterproof.
At Rustic & Main, we design our rings to be water-resistant so you don't have to take off your ring before showering or washing your hands. That being said, constant sustained exposure to water can be damaging, so you might not want to wear your ring while swimming, especially if you do it as part of your daily exercise routine. 
When Should You Take Your Ring Off?
Wedding rings are meant to be worn at all times to demonstrate your lifelong love and commitment, but there are certain situations in which it's best to remove your ring. This is to keep your ring safe and ensure your own well-being. 
Remove your ring before engaging in any high-impact activity that might damage it. That includes things like playing basketball and lifting weights. You should also remove your ring before doing potentially dangerous activities with your hands, such as working on machinery. If your ring gets caught, it can cause an injury known as ring avulsion. It's no picnic (just ask Jimmy Fallon). 
Should You Have Your Ring Checked by a Professional?
If your ring is set with stones, you'll want to monitor the prongs to ensure they are not bent or loose. Ideally, you would use a jewelers loop to ensure good contact with the stones but it's best to have it looked at by a professional jeweler every six months. For a standard metal band, there typically isn't any care needed other than what has already been mentioned. If you have a wood ring and notice that its finish has begun to wear away, or that the ring has sustained some dents and dings, it's probably a good idea to contact the original crafter for professional wedding ring care or to get it professionally cleaned.
Many rings can be re-finished or polished, depending on the ring material and what it was originally finished with. Most metal rings are easy to polish up, and wood wedding rings can, in most cases, be re-finished to look as good as new.
Can Your Ring Be Resized?
Most wedding rings can be resized. The method of resizing, and the extent to which a ring can be resized, depends on what it is made of. With many metal rings, resizing is done by cutting the ring, either removing or adding a small section, and then soldering the ring back together.
With wood wedding rings, resizing is not so simple. Quality wood wedding rings are made using layers of bentwood, which are tightly wound to create a circle. This makes these rings very strong, but re-sizing is challenging. Our wood rings at Rustic & Main can typically be resized up to a half size smaller and a quarter size larger.
Should You Get Ring Insurance?
Ring warranties or ring insurance are an option. It works similarly to auto insurance, homeowners' insurance, or any other insurance policy. Some couples purchase insurance coverage for their engagement rings or wedding rings, and the exact details of the coverage varies depending on the plan and the insurance company.
Whether or not you should get ring insurance depends on whether you consider the peace of mind worth the cost. For most couples, taking good care of their rings eliminates the need for insurance, but accidents can happen to the best of us!
Message our live chat team to see how you can get the most out of your rings. If you've had your wedding ring for and the care tips above aren't doing the trick, consider upgrading your ring! For a little style inspiration, try out our short ring style quiz!