Wedding Ring Photography Tips to Help You Shoot Like a Pro
November 05 2020 – Mike Yarbrough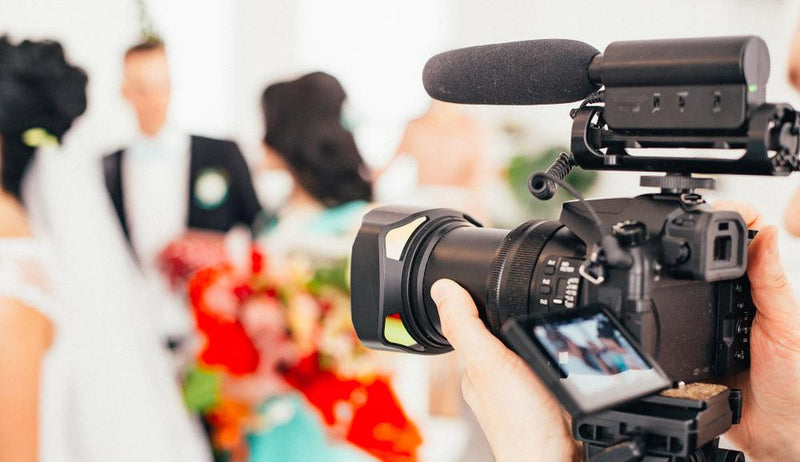 Capturing a great photograph of a wedding ring is no easy task. Trust us. We know from experience. Whether you eloped or had a small, modern rustic wedding, whether you're engaged or newly married, chances are, you want to show the whole world your new wedding rings. Here are some helpful tips for wedding ring photography, some from our very own Rustic and Main photography pro, Nathan Dowdy.
Shoot with a Good Camera
One of the  main things, if not the main thing, in getting spectacular shots of your wedding ring is to use a camera with interchangeable lenses. A proper camera gives you a level of versatility—switching lenses, precise control of focal length and exposure—that the average cell phone camera doesn't. Phones can shoot high-quality pictures but they don't give the look and feel necessary for really good ring photography.
Use a Macro Lens
Macro lenses are the best tool for shooting small objects close-up. They're what National Geographic photographers use to get hyper-detailed photographs of insects. What makes these lenses special is the ability to focus from infinity to 1:1 magnification -- an object can be reproduced on the sensor the same size as it is in real life, and look correct proportionally. It also helps the ring stand out better from the background, bringing attention to the ring itself.
Use Shallow Depth of Field 
Shallow depth of field (lower F-number) creates a smaller range of focus. This is a trick photographers use to make sure the foreground—in this case your wedding ring—is in sharp focus while the background is blurred.
Pay Attention to Details
The ring itself is obviously going to be the focal point of your photograph, but don't forget to notice all the other little details in the picture. Check the background to make sure it complements the ring, and if the ring is on your finger, make sure your hands look nice. Maybe get a manicure the day before!
Get the Light Just Right
Light is challenging when shooting a ring with a diamond or other gems, or especially a metal inlay. Never use your flash (it can make a diamond and other inlays and woods look dark) and avoid shining artificial light directly on the ring, as that will create unnatural and distracting reflections. Diffused, natural daylight is the best, so choose a sunny day, ideally as the sun is starting on its way down, and open your windows to let diffused light enter your room. If you're shooting on a gloomy day and have to supplement daylight with another light source, experiment with reflecting the light off of a wall or ceiling. Do not stand between the ring and your light source, as you will be reflected in the ring's surface.
Use Manual Focus
Auto-focus is great for most things, but manual focus can work better for shooting tiny objects. When shooting a diamond or other gemstone ring, focus on the prongs that hold the stone instead of the stone itself. They'll be slightly closer to you, and focusing on them will give you a more crisp image. Additionally, focusing on the inlay, instead of the outer edge of your wooden ring will give you your desired sharpness.
Get Great Ring Shots with a Smartphone
If you do not have access to a DSLR or mirrorless camera, your phone camera may alternatively work in its place, if you have a late-model smartphone with a decent lens and processing capability. Below, we've listed some tips to help you maximize your phone's capabilities and help you take a drool-worthy photo of your ring with your phone's camera. 
Shoot in Brighter Light
Your phone doesn't have the processing power that a DSLR or mirrorless camera has, so to get a photo of comparable sharpness, you must shoot in brighter lighting than you would need with a professional camera. Shooting outside in the morning or afternoon on a bright day is preferable, but if it's gloomy out, shooting in a brightly-lit room in your home will work just fine. Remember: diffused/reflected light looks best, so make sure to angle your light source to reflect off of a wall or ceiling if possible, instead of pointing directly at the ring.
Take Lots of Pictures
Instead of individual snapshots of your ring, set your phone to take a whole series, or experiment with a variety of angles and positions. This makes it more likely that some will be in focus, and you can pick out which shots you like best. 
Don't Use the Front Camera
The front-facing camera on your phone (i.e. the one you take selfies with) is never as high-quality as the rear-facing camera. On a typical iPhone, for example, the rear-facing camera is 12 megapixels, while the front-facing camera is just 7 megapixels. Even if you want a selfie with your wedding ring, have someone else take it so they can use the rear camera. 
Stabilize the Camera
It can be very hard to get a clear, properly focused picture of your wedding ring when you're holding your smartphone in your hands. Even the slightest movement can cause the picture to blur. It might be worth investing in a tripod for your phone -- or see if a friend has one and is willing to loan their tripod to you. Alternatively, you can set a timer for the shutter, and lean your phone against another object, if you don't have easy access to a tripod.
Use a Macro Lens
Macro lenses for a smart phone are a real thing. The lenses are universal, and you choose different cases to match different phone brands and styles so that they fit properly on your phone. They're the best way to get crisp, clear up-close shots of your wedding ring with a smartphone camera. 
Questions for the Pros
Sometimes there's no substitute for the work of a professional photographer. To find a talented wedding ring photographer who will do great work within your budget, the key is asking the right questions. 
What Are Your Rates, and What Do They Include? 
This is a good question to ask right out of the gate. If you can't afford a particular photographer or the package that would be best for you, asking this question first will keep you from wasting time.
Do You Often Photograph Rings?
Great photographers are versatile, but they don't all have the same skill set. Ask if they have experience shooting wedding rings and always request some samples of their work to make sure their style matches your needs and preferred aesthetic. 
What's Your Guaranteed Delivery?
Photographs take time to process and edit. There's no way around that, but you should ask what their turnaround time is, and what you can expect for delivery. 
 Does Your Photography Style Match My Vision?
You want to work with a photographer who has ideas and can look at your ring and come up with a vision for the photoshoot. However, they should also be open to your ideas, and want to create something that aligns with your vision. These questions should help you determine  whether they are willing to work with you to get you the pictures that you want of your rings.
Before you can get great pictures of your wedding rings, you first need to buy them! At Rustic and Main, we specialize in
crafting custom wooden wedding rings
that tell the story of the love between you and your fiancé(e). Take our ring style quiz 
today and get started on your design!