How to Throw a Modern Rustic Wedding
November 12 2020 – Mike Yarbrough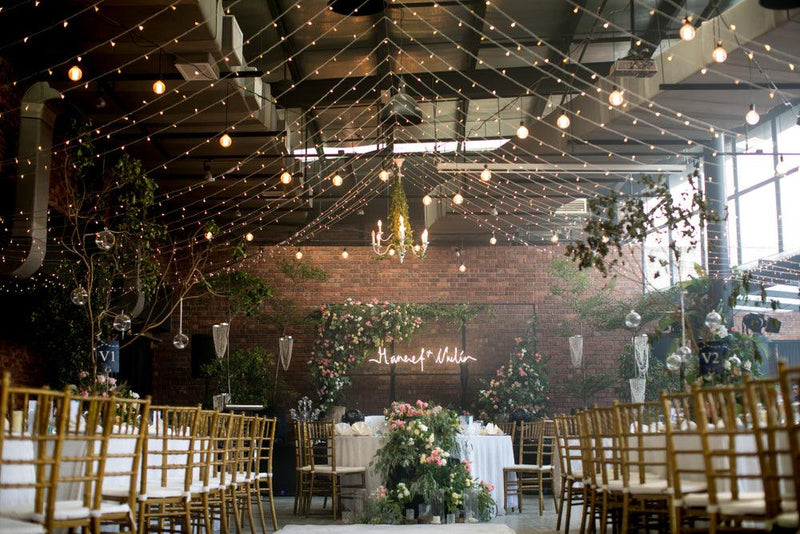 Having a "rustic" wedding theme has recently become a trending idea in some circles. But for many of us, a rustic wedding isn't really about choosing homespun decor or a folksy venue. It's a reflection of who we are, how we were raised, and the values we want to be a part of our lives -- 'til death do we part. 
We're all about combining the rustic with the modern here at Rustic and Main -- heck, it's right there in our name! -- and when you get right down to it, those two words sum up much of who we are, and the stories we try to tell. 
When you're planning a modern rustic wedding, you will undoubtedly be spending plenty of time thinking about the venue, the decoration, the clothes, the food, and countless other aspects of the ceremony. But remember, the really important thing is that your wedding reflects your love story. So make it a good one!
The Proposal
The moment you propose marriage, everything changes. There may have been life-changing moments in your relationship before, and there certainly will be after, but this is a big one. The way you propose and the ring you choose will set the stage for the lifetime you two will share. 
Modern Rustic Wedding Rings
The materials in your wedding ring say so much about your love story: durable, precious, one-of-a-kind. Rustic ring materials can connect us with the past while we look ahead to the future. Wood has become an increasingly popular choice for rustic wedding rings, and there are many options to choose from, including hardwoods like walnut and weathered maple, as well as reclaimed barn wood, whiskey barrel wood, and historic teak wood. Many ring designs include other elements like elk antler, rose petals, gold and turquoise, which come together to tell a more complete story.
Ring Presentation
You can find all kinds of interesting ways to present and store your rings in a way that aligns with the rustic atmosphere of your wedding. Custom leather ring wallets are a great option, and we've also seen some very well-made wooden ring boxes. Many have the option of custom carvings, etchings or engravings. With a beautiful ring and the right ring presentation, you might even be inspired to take up wedding ring photography as a new hobby!
The Space
When you look back on weddings you've attended, what do you remember most? Chances are, you remember the overall impression of the space more than the specific details. Setting is important, and choosing a venue—traditional or otherwise—is one of the biggest decisions you'll make on the road to holy matrimony. 
Indoor Weddings
As far as indoor wedding venues, a barn is a classic choice for a rustic wedding because the minimalist ambiance more or less takes care of itself. Just make sure you choose a nice barn—not too dirty, not too smelly, and certainly not so ramshackle that safety is a concern—that has enough space to hold all of your guests. A spacious lodge, historic home, winery or vineyard also makes an ideal modern rustic wedding venue. If you want to have your wedding in a city but still want that rustic feel, warehouse spaces can be suitable as well. 
Outdoor Weddings
Getting married in the great outdoors is undeniably special, particularly for couples who share a deep connection with nature and want to have a more eco-friendly wedding. Many couples choose to get married in a favorite park, in their own backyard, deep in the woods, beneath the trees of an apple orchard or in the wide-open spaces of a family farm. These locales are also great for the wedding reception (and all the games you have planned). Just be sure to choose a tent big enough to keep everybody safe from inclement weather. Invest in good lighting and plenty of bug spray!
The Attire
Dressing up doesn't come easily to everyone, and that's okay. A modern rustic wedding gives you a chance to dress up more comfortably -- and less restricted -- than a traditional wedding getup. You both still get to look your best, but in a more informal way that feels more natural. 
For the Bride
Brides will be happy to know that wedding dresses can indeed be rustic and elegant at the same time. Lace has an old-fashioned look, so you can choose a dress with some intricate lacy detailing. Off-white tones like almond or ivory are great choices if a pure white gown doesn't quite feel right. Brides can also choose a bouquet that ties the whole rustic look together. Ask your florist to use native in-season wildflowers.
For the Groom
Many men feel a little uncomfortable with the thought of wearing an anonymous black tux at their wedding. A rustic wedding gives you a chance to loosen things up while still looking good. A wool tweed suit is a first-rate choice for a rustic wedding, offering a more rugged, rough-and-tumble look that's still sophisticated (sophistication can't hurt while you're delivering the groom's speech). Wear earthy tones if that's what feels most like "you." Either a vest or suspenders can go along with it. Choose a good-looking necktie, bow tie, or even a bolo tie if you want a Western vibe. Some choose to forego the suit altogether and wear a nice shirt with a vest or tie and no coat, especially in warmer weather. It's really up to you.
The Ambiance
Setting the scene and choosing the decorations can be one of the most fun parts of planning your modern rustic wedding. Whatever space you've chosen, you get to truly make it your own and set the stage for your wedding in a way that lets your guests feel as if they're getting to genuinely take part in your story. 
Modern Rustic Decor
There's always a risk of letting rustic decor become too forced and artificial. Instead, foster a relaxed, just-thrown-together vibe by utilizing candles and rustic lanterns for lighting, and choose local native plants for the table decorations and bouquet. Choose a color palette or theme that you can use throughout the room to make it feel unified and unique. 
Follow the Seasons
A big part of modern rustic wedding decorations is the embracing of nature. Let the season in which you're getting married steer the color palette and your choice of decorations. For a spring wedding, whites and pastel colors, paired with more rugged earth tones, reflect the landscape alive with new wildflowers. For a summer wedding, embrace rich greens and blues. If you're getting married in fall, invite the warm colors of the changing leaves into your decorative choices. 
The Food
Now this is really the fun part. First and foremost, you and your spouse-to-be will get to sample some very tasty things as you're planning for your big day. However, keep in mind you don't have to get too fancy with your food. Pick things that are authentic, taste good, and go along with the overall 'feel' of the wedding you're planning.
The Catering
The food at a modern rustic wedding should reflect your tastes, and tie in with where you come from. Talk to caterers about sourcing ingredients from local farmers, and using recipes with some heritage and history to them. Who says your wedding can't serve great local staples like fried chicken, shrimp and grits, rainbow trout and even barbecue (all paired with local greens and vegetables, of course)? For drinks, choose local wine and craft beer, or have bartenders whip up tasty lemonade and tea cocktails with your favorite spirits. 
The Cake
When you're shopping around for wedding cakes, be sure to let bakers know that you're planning a modern rustic wedding. A tiered chocolate layer cake with buttercream frosting doesn't have to change much to look old-fashioned and taste delicious. A "naked" cake is also a great idea for a more laid-back look - exposed layers give character and is visually aesthetic. Another great way to give your cake a modern rustic look is to decorate it with flowers (edible or otherwise) and edible leafy greens like mint and sage. Fresh fruit is also a delicious way to decorate your cake.
Looking to the Future
Your wedding day may feel like the end of a long road, but of course you know that it's not an ending at all. It's a beginning. As you and your better half navigate life together, you'll often be reminded of this particular day, and perhaps even relive it in some sense. Renewing your vows is a way many couples choose to affirm their commitment again as years pass. If you choose to renew your vows, you can do so privately or gathered again with all your family and friends. You can exchange rings again, say your vows again, or exchange new rings that are more rustic and suited to you than the traditional band you opted for the first time around and new vows. It's up to you. The most important thing is to celebrate the time you've spent together, and commemorate the love you've shared.
At Rustic & Main, we know what it means to be rustic and a big part of having a rustic wedding means having rustic rings to match. We're committed to creating quality wooden rings that tell your love story. But even if you're still deciding on your wedding style (take our wedding style quiz for some inspiration!), we know we can give you
 the handcrafted wedding rings of your dreams.