Wedding Ring Presentation Ideas for Your Big Day
November 19 2020 – Mike Yarbrough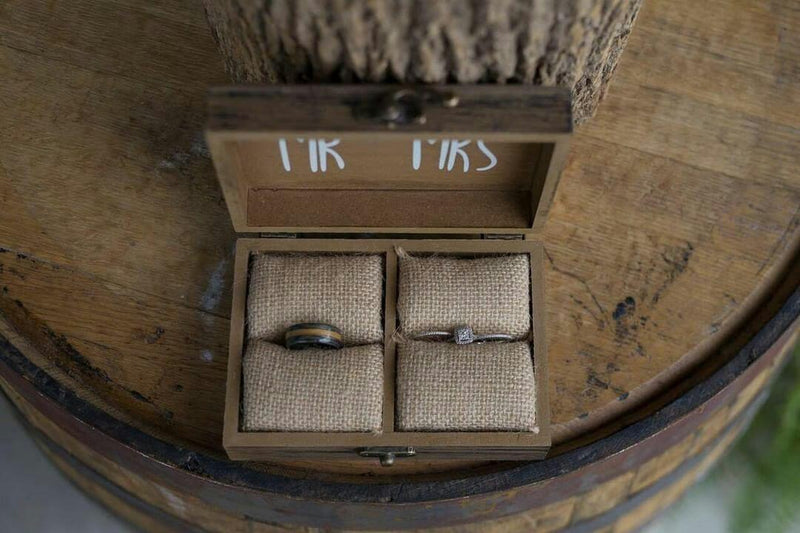 Wedding rings are some of the most significant objects you will ever own. Sure, the aesthetics matter (we know how essential good wedding ring photos are), but so does keeping the rings safe. If you want the presentation to be as meaningful as the rings themselves, treating them with care and keeping them secure until your wedding day is of the utmost importance. 
We've been creating one-of-a-kind wedding rings for a while now, and we have a few thoughts on how to keep your rings safe, secure and aesthetically pleasing. Consider these wedding ring presentation ideas leading up to your big day!
How to Present the Rings
The wedding ring presentation can (and should) be as personal and unique as the rings you buy, another part of your love story. While many ring holders are used to keep your rings safe right up until you say "I do," you may also want to use them after the wedding. They can come in handy for those times when you'll need to temporarily take off your rings and keep them safely tucked away until it's time to put them back on. 
Wedding Ring Boxes
The options for wedding ring boxes are only limited by your imagination. The box your ring comes in will certainly do the job, but you can also choose something more stylish and distinctive. Wooden ring boxes are a great choice to pair with a handmade rustic wedding ring, and you can find them hand-carved and finished in beautiful hardwoods like walnut, cherry or maple. Adding a monogram, imprint or carving to the box makes it even more personal. 
Ring Wallets
Ring wallets are a great way to keep your rings safe and secure, and carry them with you anywhere you go. Our leather ring wallets are handmade in the USA using the highest quality leather and antiqued brass adornments. Good leather develops its own unique patina and warm glow as it ages -- a beautiful metaphor considering the way love becomes deeper and richer with time. 
Ring Pillows
Ring pillows don't quite offer the security that would make them a good place to keep your rings long-term. However, there are many beautiful styles of ring pillows, ranging from the rustic to the ornate, that make for a great ring presentation on your wedding day. Choose one that includes ribbons or twine to secure the ring to the pillow. It's also possible to get smaller ring pillows that could fit inside a custom ring box or basket. 
Who Presents the Rings?
While there are no firm rules regarding who hangs onto your wedding rings on the big day, there are a few traditional options. 
The Best Man or Maid of Honor
In many traditional weddings, the best man is in charge of holding both the rings right up until the wedding ceremony. You could also choose to have the maid of honor and the best man each hold a ring, or designate different members of the wedding party. Either way, the person(s) holding the rings will be right there by your side when the moment arrives. 
The Officiant
Having the officiant hold the rings is another possibility. Doing so makes for a simple and seamless transition, as they'll be presiding over the ceremony and can easily present the ring to the right person when the time comes to say your vows and make the wedding ring exchange.  
A Designated Ring Bearer
You can pick anybody, really, and ask them to act as a ring bearer. This can be a lovely way to give a special job to a special person -- especially a family member like a parent, grandparent or sibling. Having someone dear to you both hold the rings until the big moment can add an extra layer of meaning to your wedding.
Children and Pets
Some couples choose to have kids act as ring bearers, while others attach a ring pillow to a beloved canine or feline and have them bring the rings down the aisle. It goes without saying that this can be an adorable choice, but make sure that any youngster you assign this task to has the necessary maturity level. If you choose a four-legged friend, make sure they are very well trained, and make sure that pillow is secure! A younger child can be escorted by a family member and a pet can be walked on a leash to avoid a disastrous (albeit most likely humorous) runaway puppy and rings.
If you're already thinking about wedding ring presentation ideas but you haven't even bought your rings yet, slow down! Start by taking our brief ring style quiz to make sure you get a ring that matches your unique tastes. Then, message our live chat team
 to design 
your own custom ring
!