What Is My Ring Size?
September 13 2020 – Mike Yarbrough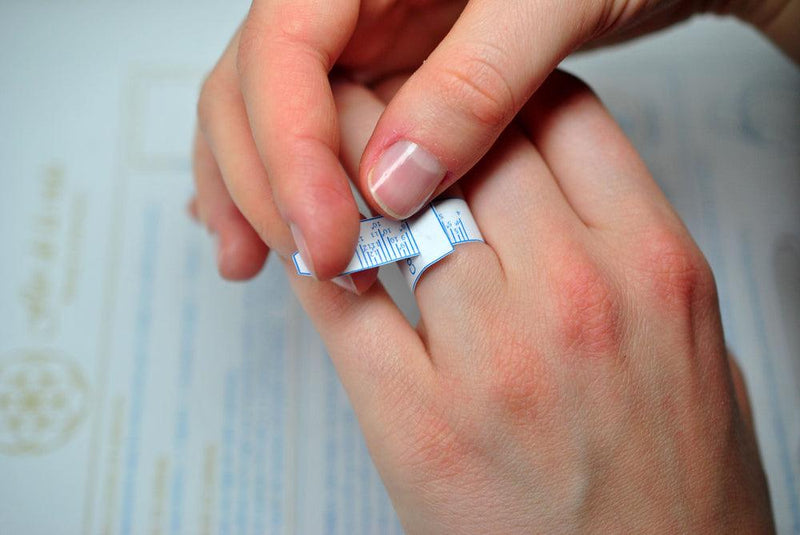 If you've never bought a ring before, ring sizes might seem mysterious. Actually they're pretty straightforward, but that doesn't always make measuring ring size an easy task. Whether you're buying a ring for yourself or for your fiancé(e)—or both—it's important to understand ring sizes. Here's what you need to know about finding the perfect fit and size for your ring.
How Are Ring Sizes Measured?
Ring sizes are based on measuring the inner circumference of the ring. In the U.S. and Canada, ring sizes range from 3 on the small end to 14 on the large end. There's a direct correlation between the measurement of the circumference in millimeters and the ring size. For example, a size 3 ring has a circumference of 14.0 mm, a size 4 ring has a circumference of 14.8 mm, and so on. Ring size charts and conversion charts are widely available so you can convert the measurement in millimeters to the actual, accurate ring size. 
Does the Fit Affect the Size?
There are two types of ring fittings—standard fit and comfort fit. Technically their sizes are the same, but they might feel a bit different. Standard fit rings, which are typically a bit more old-fashioned, have a flat inner surface. Most modern rings are comfort fit, which means they have a rounded inner surface. This makes them not only more comfortable, but allows them to slide on and off more easily. Comfort fit ring sizes are measured based on the centerline of the ring whereas standard fit rings are measured based on the edge.
Your ring should slide over the knuckle with a little resistance, and then fit snugly on your finger. It should not be loose enough that it falls off, but not tight enough to be uncomfortable. Basically, you want to be able to pull it off, but you don't want to be able to shake it off.
One exception for this is if the base of your finger -- where the ring sits -- is narrower than your knuckle. In this case, the ring still needs to be large enough to fit over your knuckle but will always feel a bit loose on your finger.
How Is Ring Width Related to Ring Size?
Ring width is different from ring size, so be careful not to confuse the two! The width of wedding bands and engagement rings is measured in millimeters, so there's no need to convert using any kind of ring size chart. Men's bands are typically between 5 mm and 10 mm wide while women's' are between 4 mm and 8 mm wide, on average.
It's important to note that a band with a thinner width will feel larger than a wider band of the same size. This has to do with a wider band making more contact with your finger. It's important to use a ring sizer that has a width close to that of the ring you intend to purchase. Traditional sizers are typically thin (around 2 mm wide) which doesn't accurately represent the feel and fit of a ring with a wider band. 
Although men tend to have thicker fingers and wear larger rings, the method of measurement is the same for both men and women. Men's rings and women's rings follow the same ring sizing standard, ensuring you'll only need one chart to find and choose a size that fits.
Can Rings Be Resized?
Most rings can be resized if you mistakenly picked out the wrong size, though it depends on the type of ring. Simple metal bands are easier to resize than rings made out of non-traditional materials like wood and antler. It's also easier to make a large ring smaller than the other way around; it's better to buy a ring a half size too big than a half size too small. In any case, know your size before you buy a ring, so you don't have to worry about it!
How Do I Find My Ring Size?
It's always best to work with the company or craftsman creating your ring to determine your ring size. You could measure your ring size at home using the old strip-of-paper or piece-of-string methods (and a ruler to measure your finger, if necessary), but we recommend using one of our ring sizers as we know they are true to our sizing tools used to craft your ring.
Hopefully you found this ring size guide helpful! Feel free to take our brief ring style quiz to find out which ring style is best for you. If you know you're style already, get started designing your own one-of-a-kind wedding ring that captures your heritage and will fit perfectly for many years to come.