Alternative Wedding Reception Ideas to Spice Up the Entertainment
February 14 2021 – Mike Yarbrough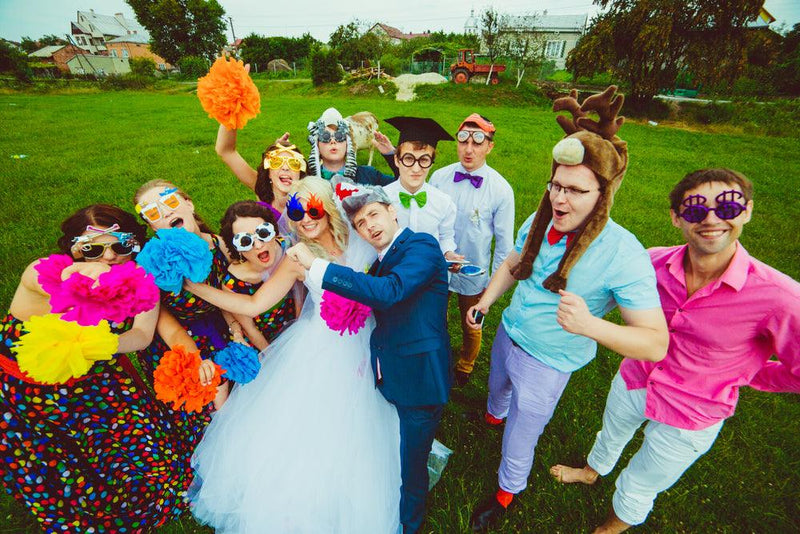 Some of us, at one time or another, have probably been to a wedding reception that just wasn't very fun. The last thing you want is a dull, stuffy affair with guests politely seated at their tables. Your reception is a chance for everybody to celebrate your marriage... so why isn't everyone celebrating?
These unique, alternative wedding reception ideas will liven things up and make your reception an affair to remember. And because this is a year in which we're still not fully out of the woods regarding COVID, we've included ideas that will make your reception a healthy and a safe one. 
Reception Entertainment Alternatives
Dancing the night away to a live band or DJ is a tried-and-true wedding reception staple. But if you're looking to add a little spice to your reception entertainment, we have a few ideas:
Outdoor Games:

Having an outdoor reception can be a blast, and it gives you an opportunity to

set up lawn games

to keep your guests entertained. From cornhole to badminton, outdoor wedding games are great for guests of all ages (and they make it easier to social distance).




Music Zones:

If your

wedding venue has the space

for it, you can set up different "music zones" in different areas. Each zone can have its own theme, either with a separate live performer or different music controlled by a DJ. It's a great way to enjoy music while allowing everybody to spread out.




Photo Booth:

Setting up a photo booth for your wedding guests is certain to make the day more memorable. Plus, your guests all get to take home

their own souvenirs

!




Live Event Artist:

Having a professional artist come and

paint a scene

from your reception in real time is a unique way to create prized keepsakes by which you'll remember your big day. You and your guests will have a great time observing the painting as it takes shape throughout the night.




Dancing Sign-Up:

  You don't have to completely give up on dancing at your reception. Allow a select few couples on the dance floor at a time, with a sign-up sheet so people know when it's their turn. Be sure to start the list off with the bride and groom!
Reception Food & Drink Alternatives
Typical wedding receptions feature an open bar and either a seated or buffet-style dinner. While there's nothing wrong with any of that, we have a few ideas to put an unconventional twist on the food and drink at your wedding reception:
Signature Cocktails:

In lieu of an open bar, consider designing unique "his and hers" custom cocktails for your guests. Each drink can highlight the bride and grooms' personalities by including some of their favorite ingredients. You can even tell a little story about your cocktails on the menu.
Highlight Local Beverages:

Another great alternative to a traditional bar setup is to offer a carefully curated selection of favorite local beverages. Pick a few craft beers from local brewers, and a selection of wines from local vineyards. Create a menu with fun facts about each choice and offer flights, or sample sizes, so your guests can sample a variety of options.




Mini Wedding Cakes:

With all the concerns about health and safety, serving everybody a slice of the same cake might make some people uneasy. An individual

miniature wedding cake

for each guest is a fun and tasty alternative.




Food Truck City:

Hiring several food trucks to cater your outdoor wedding will create a memorable event in which guests get to choose their favorite foods. With the option to go back for seconds and even thirds whenever they're hungry, the reception will feel more casual and laid-back.




Brunch Reception:

Some couples are choosing to skip the traditional late-night reception in favor of a brunch reception the morning after the wedding. It's a unique option for couples who enjoy a good mimosa and truly believe that breakfast is the most important meal of the day!
We hope these alternative wedding reception ideas help you create a perfect, unforgettable experience. Looking for more ideas for a non-traditional wedding? Take our wedding style quiz! 
You can also talk to our live chat team about any wedding ring-related questions you may have. We're proud to offer an incredible range custom wedding ring options of allowing you to design the perfect ring that reflects your personality and tells your story.