8 Micro Wedding Venues to Consider in 2021
January 28 2021 – Mike Yarbrough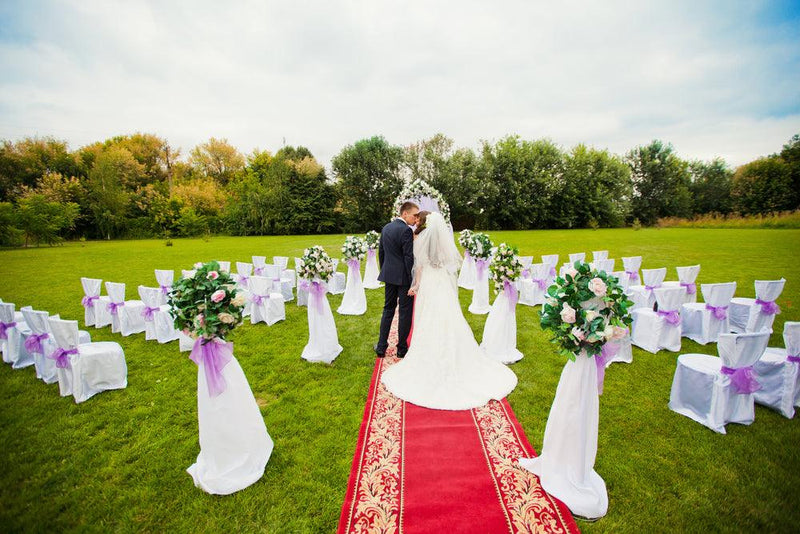 Just about every couple that got married in 2020 was forced to change their plans. COVID-19 caused record numbers of downsized weddings and elopements, and the reality is that we're not out of the woods yet. If you're planning on getting married in 2021, there's a good chance you're considering alternatives to a large, traditional wedding.
The good news is, the wedding of your dreams doesn't have to be a grand, lavish affair. A micro wedding can offer all the romance and all the celebration of a big wedding but on a smaller scale. Of course, choosing the perfect micro wedding venue is key. 
What Is a Micro Wedding? 
A micro wedding is generally considered to be any wedding with 25 guests or fewer, but still has most of the major wedding components, such as the ceremony and reception. You still get to dress up and celebrate your union surrounded by a select few family and friends. A big traditional wedding isn't for everyone and a smaller ceremony doesn't have to feel like a compromise.
While micro weddings are becoming more popular because of COVID-19 restrictions, there are plenty of other reasons to go the micro route. It can be a much more unique and intimate celebration, which also happens to be easier to plan and less expensive to execute.
Micro Wedding Venues
One of the great advantages of planning a micro wedding is the number of venue possibilities. Micro wedding venues only have to be big enough to accommodate a small group, but that doesn't mean you have to get married in a cramped, tiny space. 
1. Garden or Greenhouse
A picturesque garden is a perfect setting for a small, romantic wedding ceremony. Consider your local arboretum or botanical garden. Springtime is often the best time for a garden wedding with everything in full bloom, but the changing colors of autumn are lovely as well. If you're getting married during winter, a greenhouse would probably be more comfortable and still have the garden ambiance.
2. Family Home
A historic family home can be one of the best micro wedding venues. Not only is it already familiar (and free to book!) but it will also be packed with memories. 
In case you don't have a historic family home (not everyone does) you may be able to find an older home on VRBO or AirBnb to use that will have all of the charm and natural beauty old homes afford.
3. Your Favorite Restaurant
Many restaurants, bars and nightclubs are more than happy to host weddings. Make some calls to find out which ones are open to renting out their space. Imagine getting married in your favorite eatery, or the cafe where you shared your first date! Another great thing about a restaurant wedding is that the venue and catering are taken care of in one fell swoop. 
4. Meadow Wedding
You can create your own wedding venue from scratch in a beautiful meadow. Choose a wide-open space with a great view and get married surrounded by blooming wildflowers or a swaying wheat field. This can potentially turn into lots of work as you'll need to bring everything from tents and chairs to a wedding arch or arbor.
5. Art Gallery or Museum
Gallery spaces and museums are perfect for weddings, yet they are often under-used for this purpose. They're awe-inspiring spaces that can accommodate groups of almost any size. If you or your fiancé(e) love art, science or history, so much the better. 
6. Rustic Barn Wedding
A barn offers a charming, rustic ambiance that many couples fall in love with. You can dress up the space any way you want, essentially making it a blank slate. If you have a friend or family member who owns a suitable barn, see if they'll offer up their space. Just make sure the barn you choose isn't too old and decrepit. There's a fine line between rustic-chic and dangerously dilapidated. 
7. Park or National Park
Depending on how far you're willing (and able) to travel, you can get married in some of America's most spectacular landscapes. You could also get married at a beloved park in your own home town. In any case, local, state and national parks offer some of the most stunning outdoor wedding locations. 
8. Boutique Hotel
Boutique hotels and bed-and-breakfasts are perfect micro wedding venues. The spaces are just right for small groups, and may even employ wedding planners on-staff. You can usually use the same venue for your reception as well. (And, in many cases, they'll let you stay the night at a discounted rate!)
For more inspiration on wedding venues and wedding styles, take our short wedding style quiz. And of course, no wedding would be complete without the perfect one-of-a-kind wedding rings. Get started creating your custom ring today, and let our live chat team answer any questions you may have!