5 Alternatives to Wedding Favors Your Guests Will Definitely Enjoy
December 31 2020 – Mike Yarbrough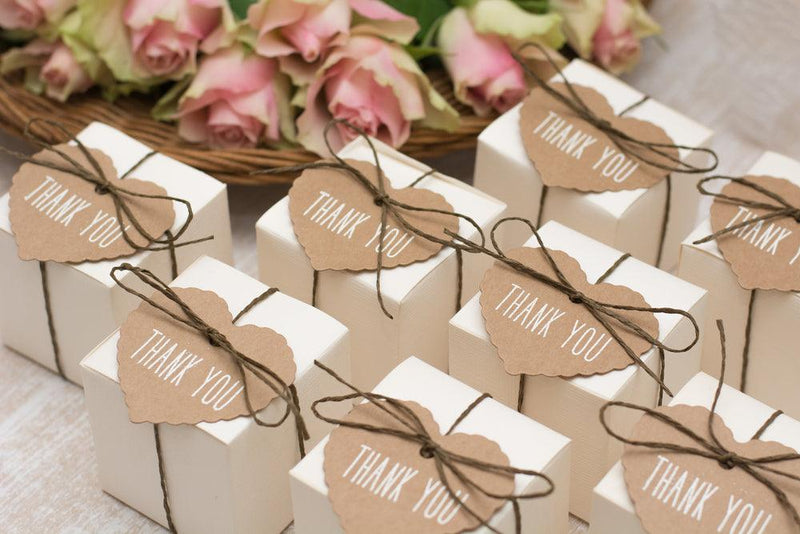 As you go about planning your wedding, you may notice a trend: there's quite a bit of gift giving involved. The bride gives gifts to the bridesmaids. The groom gives gifts to the groomsmen. The bride and groom give gifts to each other... and receive gifts from all of their wedding guests. And, indeed, it's customary for the happy couple to send their guests home with wedding favors. Whew!
For this moment, we'll focus on the wedding favors. What are the origins of this wedding tradition, and what are some interesting alternatives to wedding favors you can give to your wedding guests?
History of Wedding Favors
Centuries ago, wedding favors were seen as a luxury. Only wealthy couples could afford to send their wedding guests home with gifts, so it was considered somewhat of a status symbol to do so. 
The earliest traditional wedding favors were given out by French and Italian aristocrats in the 16th century. These favors, known as bomboniere, typically consisted of ornate boxes made of crystal, porcelain or gold, each containing some sugary confection or treat.
In addition to signifying that the newlywed couple had the wealth to bestow gifts on their wedding guests, these gifts were also viewed as a representation of luck, longevity and happiness. These were (and remain) concepts associated with a new marriage, and wedding favors were a way to pass on some of that good luck to friends and family. 
Traditional Wedding Favors
Today, wedding favors are seen as a way for the bride and groom to thank their guests, and give them a gift that will remind them of their wedding day. These are a few traditional wedding favors: 
Jordan almonds -

Over time, traditional

bomboniere

evolved into confectionary almonds known as

Jordan almonds

. A classic wedding favor is exactly five candied or chocolate-covered almonds, each representing a different concept: fertility, happiness, health, longevity and wealth.




Wedding bells -

Giving each guest a bell as a wedding favor is an Irish tradition, and one that some couples still observe. Each guest is given a wedding bell, which they can ring at the end of the ceremony.




Sweets and treats -

It is still very common to give candies or other sweets as wedding favors, similar to the traditional

bomboniere

. Chocolates and mints are popular, often with custom wrappers bearing the couple's initials.




Glassware -

One of the most popular wedding favors in recent years, custom glassware is a useful gift that will remind guests of your wedding every time they take a swig. Any kind of glassware makes a great gift, but many couples choose custom wine glasses or champagne flutes, which can be used by each guest during the reception and then taken home afterward. 
Alternatives to Wedding Favors
These days, more couples are opting for a blend of the traditional with the non-traditional by choosing, or creating, unique alternatives to wedding favors. With these extraordinary wedding favors, you can thank your guests in bold fashion with gifts they will never forget. 
1. Photo Booth
This is an idea that your guests will have tons of fun with. Set up a photo booth and give everyone free rein to take pictures throughout the reception. That way, everyone gets a few memorable snapshots to take home with them at the end of the night. 
2. Plants and Seeds
Giving live plants to guests as wedding favors is becoming increasingly popular. Easy-to-care-for plants like succulents and herbs are ideal. You could also give each guest a packet of seeds that they can plant on their own. Every time their flowers bloom or their vegetable garden is ready to harvest, it will remind them of your wedding day!
3. Party Playlist
When you send out your wedding invitations, offer guests the option to request a song when they RSVP. You can then have the DJ play everyone's requests at the reception. Sharing the whole playlist of all the guest requests is a great reminder of the fun that was had celebrating your wedding.
4. Something Tasty
Everybody likes food, but you may want to choose a gift a little more memorable than regular chocolates or candies. A few options worth considering are candy apples, popcorn, doughnuts, mini bottles of olive oil or maple syrup, and packets of coffee, tea or hot chocolate.
5. A Gift of Charity
Choose a charity or two that you and your guests believe in and, in lieu of gifts, make a small donation on behalf of each guest.
If you have other alternative wedding favor ideas, we'd love to hear them! Send us an email at team@rusticandmain.com and let us know!