Anniversary Gifts by Year: Traditional and Modern
September 24 2020 – Mike Yarbrough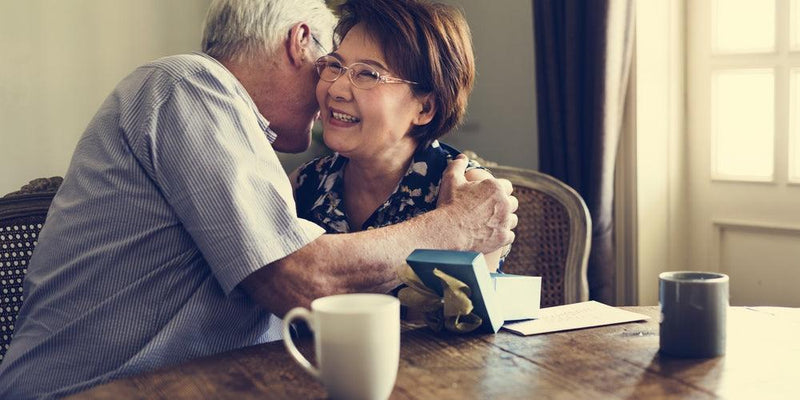 Every milestone anniversary comes with its own special gift with a unique meaning behind it. The tradition of gift-giving as a mark of a wedding anniversary has been around since the times of the Holy Roman Empire and medieval Germany. However, until the 18th century, there were no specific examples of married couples exchanging anniversary gifts. Certain anniversaries—you know, the big ones—have been associated with specific gifts since the Victorian era in the U.K.
If you're shopping for wedding anniversary gifts by year, it's worth considering some of the traditionally popular anniversary gift options, but you could just as easily go with a more modern theme. You can stick with the old traditions, or you can create some new, modern rustic traditions of your own. Here are a few gift suggestions for you and your spouse's biggest marriage milestones.
1st Anniversary
Traditional: Paper - The first year of marriage can be seen as a blank slate, a new beginning. It's an opportunity to write your own story, and paper perfectly represents the endless possibilities that lie ahead. Great paper-themed gifts include a customized stationery desk set, a signed journal or a handmade card.
Modern: Clock - A year of marriage is significant, but in a sense, you still have nothing but time! A clock is a great way to celebrate the years that lie ahead, whether you choose to give a pocket watch, a decorative desk clock or something high-tech like a smart watch.
5th Anniversary
Traditional: Wood - Wood is the perfect rustic material and symbolic in many ways. You can think of its strength and the unique quality of its grain, or you can visualize it in the sense of putting down roots (something you've surely done after five years of marriage). Consider a custom-made wooden sign or a new headboard. Wooden rings to capture your heritage, or a living tree that you can plant together in your yard are also great options!
Modern: Silverware - Perhaps when you were first married a good quality set of silverware was not in your budget. Or maybe it was one of the items on your registry that was left unchosen. Now that you are likely more financially established, this is the time to invest in quality silverware.
10th Anniversary
Traditional: Tin - Pliable, strong and resistant to rust, it is a great symbol of how a marriage needs to be flexible to withstand life's challenges. A new set of cookware is a traditional 10th anniversary gift, but you can get more creative with tin, like decorative ornaments and engravings, custom picture frames, or a set of personalized tin camping mugs.
Modern: Diamond - All kinds of symbolism has been drawn from diamonds over the years. They represent love, beauty, purity, perfection, commitment, timelessness and many other  hallmarks of a committed union that come to mind around the time your marriage hits the 10-year mark. Consider diamond jewelry: rings or bracelets for her, cufflinks or a watch for him.
20th Anniversary
Traditional: China - China is delicate, and needs to be handled carefully and taken care of. Just like marriage, it can last a lifetime, but only if you give it the care it needs. A new set of china is a classic gift to celebrate 20 years together, and all sorts of porcelain figurines, vases and other decorative items can fit the bill.
Modern: Platinum - One of the most durable precious metals in the world, platinum is prized for both its strength and beauty. A platinum ring is a great 20th anniversary gift, but platinum-plated flasks, pen sets and countless other ideas can also be used if you want to go in a less traditional direction.
25th Anniversary
Traditional: Silver - The 25th year of marriage is known as the silver anniversary, and represents the precious nature of love. Traditional silver gift ideas include engraved silver jewelry, silver picture frames or a silver flatware set.
Modern: Silver - Silver is also the usual modern anniversary gift idea for the 25th anniversary, but you can always choose a less-traditional gift that happens to be silver. Scour your local antique stores for a unique silver piece that you can customize with an engraving. A personalized silver compass is another great idea - and a good reminder to help keep your marriage heading in the right direction. 
30th Anniversary
Traditional: Pearl - A true "hidden" gem that rests at the bottom of the ocean, pearls represent strength and beauty, as well as the patience and time required to create them. Pearl jewelry or a mother-of-pearl vase are traditional gift ideas.
Modern: Diamond - If you got a diamond as a 10th anniversary present for your significant other, you're probably thinking, "diamonds again?" But as an eternal symbol of love, these gems never seem to go out of style! Perhaps upgrading her engagement ring diamond to a larger carat. If you have enough diamonds as is, feel free to break outside of the box and create your own way of expressing the things that a diamond represents: light, life, and sun (an emblem of purity and perfection), a stone of commitment, faithfulness and promise. Whatever is the most meaningful to you and your spouse and your journey thus far. 
40th Anniversary
Traditional: Ruby - In ancient myths, it was believed that rubies contained a flame that would never burn out. Rubies also represent love and passion, two qualities you need in abundance to reach the milestone of your 40th anniversary. Ruby jewelry is a classic anniversary gift.
Modern: Ruby - Rubies are the modern gift for the 40th anniversary too, but you can take the idea of a ruby a little less literally if you want to get a non-traditional gift. A bouquet of ruby-red roses, a scarlet-colored scarf, or a bottle of your love's favorite red wine are excellent choices. If you want a good reason to cozy up with each other you can reflect the myth of the fire inside of a ruby and have a fire pit built to enjoy for the years to come. 
50th Anniversary
Traditional: Gold - Reaching the 50-year mark, which has long been known as the golden wedding anniversary year, is an incredible milestone. Gifts of gold—a gold necklace, heart-shaped pendant or gold watch—are all great traditional gifts for this most special of anniversaries.
Modern: Gold - Countless non-traditional gold gift options are available, making it a great modern gift as well as a traditional one. Consider a golden picture frame with side-by-side pictures of you both on your wedding day and on your 50th anniversary to celebrate all your adventures together, or a custom gold LP of a record you both treasure. Dance the night away!
Whatever anniversary you have coming up, make sure the gifts are special. With so many options, both traditional and modern, there are plenty of ways to express your love through the years. At Rustic and Main, our expert ring craftsmen can create the perfect
custom wood ring
for you and your beloved, whether you're getting ready to propose, engaged to be married or you already have many years under your belt.