A Coffee Ring: Telling the Story of a Caffeinated Love
September 03 2022 – Mike Yarbrough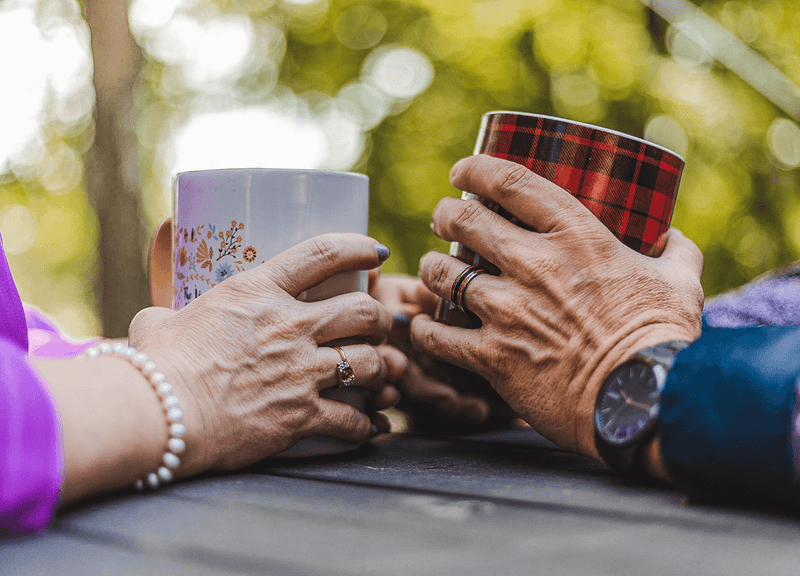 Rustic & Main is not your typical big box jewelry store or an impersonal online vendor. Our handcrafted wedding bands stand out because of the story behind each one. We found that a unique wedding band is like a good cup of Joe: it brings people closer together, starts great conversations, and gives people an opportunity to connect and tell their stories.
Our Coffee Rings
One unique material we are proud to work with is coffee. It might not be the first material that comes to mind when searching for a wedding band, but time and again, coffee proves to be a brilliant and exceptionally rustic addition to our handcrafted rings. 
Rustic & Main offers three unique styles of handcrafted coffee rings: The Trailsman, The Americano, and The Campfire. They both feature a unique inlay of vintage 1940s Hills Bros coffee, but often people switch out the Hills Bros vintage coffee inlay with a unique and custom coffee selection near and dear to their hearts. It's easy to personalize the coffee in the Evergreen designs, or you can go all out and design a custom coffee ring using our ring customizer tool!
The following story is about a couple who chose to tell their love story with a coffee ring.
Chad Janey's Custom Campfire Coffee
Chad & Melisa started dating the first day they met.
20-year-old Chad and his friend had come back early from an unsuccessful weekend of trying to meet some ladies down at Myrtle Beach and decided to go to Sunday service.
17-year-old Melisa was visiting Chad's church with her parents. Melisa's parents had done mission work, helping churches out across America, so Melisa felt like she was just visiting another church. 
During that Sunday morning service Chad, who was supposed to be miles away on the coastline, and Melisa, serendipitously met. Chad was smitten and asked Melisa to skip the not-so-good church potluck and go find some real food. 
Melisa did not think her dad would approve of her going out with a guy she met that day, but Chad and Melisa's dad hit it off great!! So, to Melisa's surprise, her dad gave the green light for Melisa to go out with Chad.
After that first date, the rest is history.
On New Year's Eve, Chad gave Melisa a poem at midnight, proposing to her with most of her family present. Five short months later, Melisa and Chad would tie the knot on May 24th, 1997.
25 Year Later
Twenty-five years later, Chad is an IT director and a bi-vocational pastor, and Melisa teaches math at an alternative school. The couple has three wonderful children, and Chad has picked up the hobby of roasting his own coffee beans.

A Coffee Hobby
It all started a little over two years ago. A friend started bringing his own roasted espresso to the couple on Sunday mornings, and Chad and Melisa were hooked! He started them out with a small coffee roasting setup, and over time, Chad advanced his skills and upgraded his equipment. The couple now starts and ends each day with their special home-roasted brew. Their coffee is now a symbol of a beloved hobby and time enjoyed together.
Wedding Anniversary Bands
To celebrate their 25th anniversary, Chad and Melisa wanted to update their wedding bands. Melisa quickly found a ring she loved, but Chad had a more difficult time. He often wore silicone bands because he was so active and struggled to find anything he liked at a big box jewelry store. His search was overwhelmed by gold, diamonds, and big price tags. Chad didn't want to pay a small fortune for a ring he didn't particularly like, and Melisa was sad that they wouldn't be updating their wedding bands together as they had planned. Chad's desire to make Melisa happy and to honor their 25th anniversary with new bands inspired him to continue his quest to find the perfect ring.
Finding Rustic & Main
Chad started searching for alternative rings online and came across Rustic & Main. He liked how we handcrafted our bands in the USA and that he could customize his own band with meaningful materials to fit his style and tell his story.
The Campfire
Chad, the coffee connoisseur, and The Campfire were a match made in heaven. The titanium band is exceptionally durable, lightweight, and can keep up with his active lifestyle. The mesquite wood in his ring pairs beautifully with that center inlay of Chad's own home-roasted coffee, and the price is much more affordable than jewelry store options.
Couple's Recommendations
Chad highly recommends Rustic & Main if you're looking for a unique and meaningful ring that fits your style and tells your story. 
He could inlay his very own coffee in his ring and that it was a durable and affordable ring alternative to the jewelry store bands that weren't his style.
Learn More About Our Coffee Rings
Now that you have heard Chad & Melisa's story, it's time to tell your own. We are proud of our Coffee Ring Collection, but we are also blown away by the beautiful custom coffee ring designs we've seen our customers create. If you want to see a variety of coffee rings before you start customizing your own, check out our ready-to-ship coffee rings to get inspired!