Ethical & Sustainable Jewelry: The Origins of Our Gold
August 25 2022 – Mike Yarbrough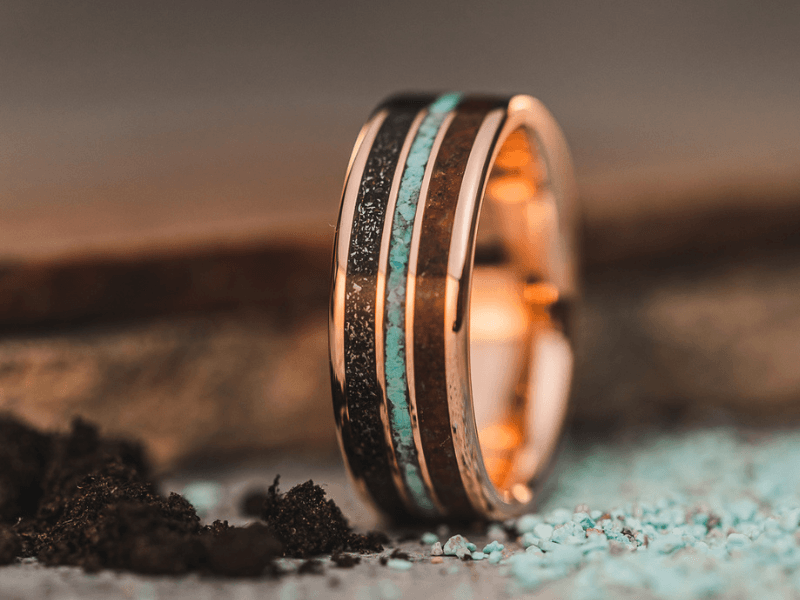 We are excited to see more consumers learning how to be more mindful with their purchases, especially when it comes to sustainable jewelry. The jewelry industry has been known for its unethical mining practices that put people and our planet in danger. Luckily, companies like Rustic & Main are taking steps to provide ethical gold jewelry.
What is Ethical Jewelry? 
Ethical jewelry differs from typical jewelry in two big ways: Sourcing and Impact. 
Sustainable jewelry companies must use responsible sourcing practices, to insure their materials are traceable throughout the jewelry supply chain. But, traceability alone is not enough. Along with being traceable, companies should verify that these materials are sustainable, which can seem difficult since there is a limited amount of precious metals and stones on earth. Don't worry, we found a way that we'll tell you about later in this blog ;) 
Along with reducing its effect on the environment, ethical jewelry reduces its social impact. Gold and diamond mines are notoriously dangerous for both their workers and the societies they live. Ethical jewelry haves fair trade practices, creating a healthy, safe work environment and paying its workers' fair wages. 
Why Did We Choose to Craft Rings From Sustainably Sourced Gold?
At Rustic & Main, we are committed to ethically and sustainably sourcing our materials used in our handcrafted rings. This is why we use recycled gold, repurposed wood, naturally shed elk antler, and other consciously curated materials to make our rings. Sourcing raw materials this way preserves the world we love while adding depth and history to the bands we craft.
Normally, one gold ring alone produces 20 tons of waste. We couldn't knowingly craft rings that were creating that much pollution, so that's why we found a company that sustainably sources its gold. 
Environmental Impact of Gold Mining
Mining is one of the top contributors of contaminated solid waste all over the world, including North America. Poisonous chemicals are commonly used in gold mining, which releases large amounts of toxins into the surrounding environment. Only a decade ago, metal mining was the number one toxic polluter in America, creating yearly 1.5 billion pounds of waste. This included 200 million pounds of arsenic, 4 million pounds of mercury, and 200 million pounds of lead. 
Social Impact
This amount of toxic waste has a profound effect on the surrounding communities. In gold mining, there's a cost-effective mining practice called Heap Leaching, which resulted in multiple communities in Miramar, Costa Rica being poisoned. This practice involves dripping a cyanide solution into giant piles of ore. 99% of the original pile of ore becomes waste. To save money the heaps of toxic waste, reaching up to 300 feet high, are left behind, dominating the landscape and contaminating the water supply.
Mining is extremely dangerous, accounting for thousands of deaths and injuries. Every year, there are over 15,000 deaths recorded, but since supply chain aren't often untraced, this could only be a fraction of the actual number.  
What is Recycled Gold, and Why is Gold Recycling Important?
Recycled gold bypasses mining and reuses what has already passed through the supply chain. Recycled gold takes existing gold, mostly jewelry, and melts it down to be reused. Since pure gold does not tarnish, the quality stays the same no matter how many times the gold is recycled. It also solves the supply chain issue of gold being a limited resource. 
The Origins of Our 100% Recycled Gold
All of our 10K and 14K solid gold rings use gold bases are SCS-Certified 100% recycled gold and are sourced from Stuller, a brand established in 1970 with a steadfast and ongoing commitment to ethical sourcing and fair trade practices. 
We are proud to source our gold from a like-minded business that believes in an Earth First Commitment. Stuller is certified through the Responsible Jewellry Council. This organization is a leading standard for sustainable jewelry, requiring its +1200 members to have a code that holds a certain standard for labor rights, health and safety, and supply chain. 
Shop Our Ethical Gold Jewelry: Solid Gold Rings + Custom Gold Rings 
Ethical jewelry is the future of the jewelry industry, and Rustic & Main is proud to be a part of this movement. Gold recycling bypasses mining altogether, and ethical companies like Stuller champion this ethical jewelry industry practice. You can shop Rustic & Main's gold collection or create a custom gold band, knowing it is ethically and sustainably sourced. Learn how you can tell your story through Rustic & Main's Gold rings today!