6 Ideas for Inexpensive Yet Great Bridesmaid Gifts
December 10 2020 – Mike Yarbrough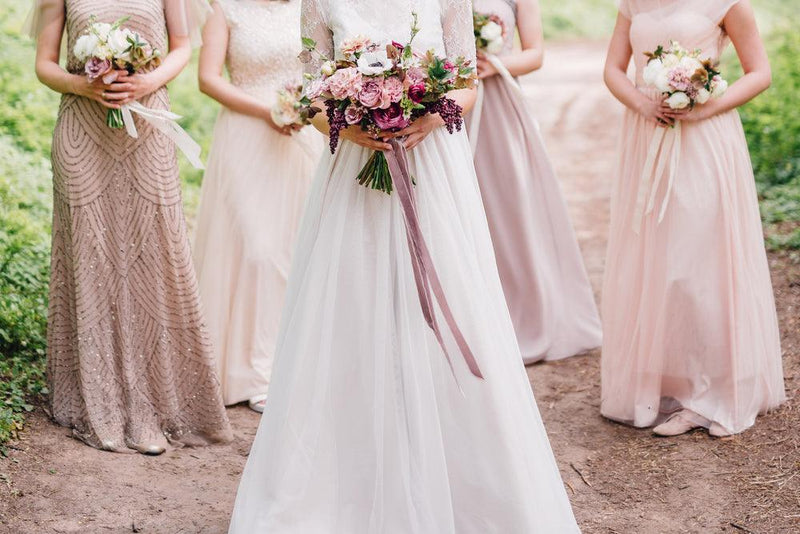 Finding the perfect gifts for all the important people who helped make your wedding happen is no small task. And if you're trying to do so on a budget, then it becomes even more challenging. 
It can be tough to find bridesmaid gifts that won't strain your bank account, especially if you have several bridesmaids at your wedding. Fortunately, there are plenty of great inexpensive gifts out there for bridesmaids (and other members of your wedding party). 
Inexpensive Bridesmaid Gifts (That They'll Love ❤️️)
Bridesmaid gifts don't have to be costly. The best gifts are about capturing the memory of your big day and saying "thank you" to those who helped make it special. Gifts like these will remind your bridesmaids of just how special they are to you and how much you value their friendship and support.
1. Bridesmaid Gift Box
One of the most popular gift ideas is a customized gift box filled with goodies. Gift box items could include favorite candies, lip balm, nail polish, and miniature bottles of a favorite liquor. Try to include at least one item that is customized and/or displays the bridesmaids' names. Top it all off with a sweet little note to let them know how much their friendship means to you.
2. Bridesmaid Jewelry
Jewelry is a classic choice for a bridesmaid gift, but you don't have to go overboard on the spending. You'll find a wide variety of simple, elegant bracelets and necklaces that cost under $50 without looking cheap. Something like a friendship bracelet or monogram necklace will always be a reminder of them being an important part of your wedding. 
3. Bridesmaid Robes
Personalized bridesmaid robes are a fun gift that you can give at your bridal shower or bachelorette party. That way, all your bridesmaids can bring them to your wedding venue and you can all wear them as you get ready. 
4. Tote Bags
Personalized bridesmaid tote bags make great gifts as they can be re-used for years and years. You might even want to put a few goodies in each tote bag, like your bridesmaids' favorite snacks and beverages. If you have a destination wedding, including specialty items from that area is sure to be a hit!
5. Wine & Wine Glasses
Customized wine glasses are an inexpensive bridesmaid gift that anyone will love. Depending on how many you order, expect to pay around $10 each. Pair each glass with a bottle of your bridesmaids' favorite drinks.
6. Custom Photo Book
A custom book of photographs will really emphasize the personal connection between you and each of your bridesmaids. You can choose a selection of photos from throughout your friendship, or—if you're willing to wait some time after the wedding to give your gift—you can fill it with photos from your bridal shower, bachelorette party and wedding day.
Tips for Giving Bridesmaid Gifts
Even if you already have plenty of ideas for inexpensive bridesmaid gifts, a little extra guidance couldn't hurt. Here are the answers to some of the most frequently asked questions about bridesmaid gifts.
How Much Should You Spend on Bridesmaid Gifts? 
A widely accepted rule of thumb suggests that between $75 and $150 per bridesmaid is considered customary for gifts. If that works for your budget, then feel free to spend somewhere in that range. But there are also plenty of gift ideas that come in at $50 or less. 
When Are Bridesmaid Gifts Given?
There are a few different options here. Really, any time you can gather all your bridesmaids in one place (other than the actual wedding, of course) is a fine time to give them their gifts. Potential opportunities to give bridesmaids gifts include:
At your bridal shower or bachelorette party

The night before the wedding, during the rehearsal dinner

On

the morning of the wedding

, while you're all getting ready together

At a bridal brunch the day after your wedding
How Many Bridesmaids Should You Have?
Anywhere from three to six bridesmaids is typical, not including your maid of honor. At some very large weddings, you might see up to a dozen bridesmaids, but that's relatively rare. In the end, it's really your call.
What Does the Maid of Honor Do?
Your maid of honor has a bigger role and more responsibilities throughout the wedding process than the other bridesmaids, so it's customary to give her a gift with something "extra." That could mean a separate, additional gift that no one else receives, or perhaps just a grander version of your standard bridesmaid gift.
If you have any ideas for bridesmaid gifts that we didn't think about, reach out and let us know.