6 Non-Traditional Wedding Venues for Your Non-Traditional Wedding
December 17 2020 – Mike Yarbrough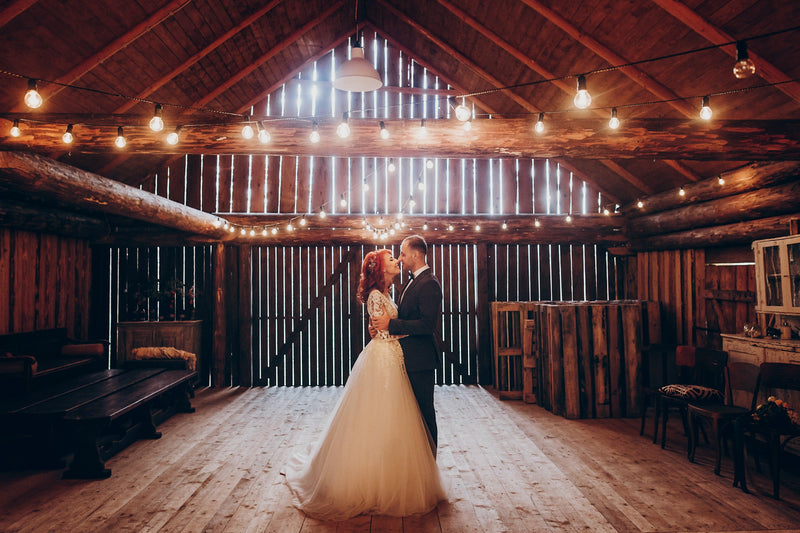 2020 has been a year of change. One of the things that's changed the most is the way we approach weddings. Now, more than ever, non-traditional wedding venues are becoming commonplace. 
In part, this shift has occurred out of necessity. Lockdowns and fears of gathering together in a traditional space have prompted many couples to look into alternative wedding plans, from backyard weddings to elopements. But there are also advantages to non-traditional wedding venues that go far beyond the restrictions of pandemic life. 
Pros and Cons of Non-Traditional Wedding Venues
As with any choice, there are advantages and disadvantages to choosing a non-traditional wedding venue. These are some of the most important considerations to think about. 
Pro: You Can Choose a Venue that Means Something to You
The possibilities are almost endless when it comes to non-traditional venues, so you and your fiancé(e) can really choose a place that's dear to you. You could get married on the beach, in your favorite park, in your grandparents' barn, or in the restaurant where you had your first date. 
Con: People Will Be Disappointed
Chances are, at least one of your friends or family members will be disappointed the wedding wasn't in a church or some grand location. If you end up choosing a venue with lower capacity, that will likely mean some members of the original wedding party were left out, leading to further disappointment. However, at the end of the day, as long you and your future spouse are happy with your choice, that's what really matters.
Pro: Your Date is Probably Available
The more non-traditional your venue is, the less likely it is that someone else has booked it for a wedding on your chosen date. While traditional venues like churches and ballrooms are in constant demand, it can be much easier to book a non-traditional venue on relatively short notice. 
Con: It's Easy to Overlook Certain Details
One of the major downsides of a non-traditional wedding venue is that you're in charge of everything. Having that level of control can be nice, but it can also cause problems because it's so easy to overlook those crucial little details. You don't want to be the couple who books a non-traditional venue only to realize it doesn't have the electrical capacity for a wedding. Here are a few items that are easy to overlook:
Enough parking for everyone attending

The ability to keep your food warm or cold until it is served

Access for anyone who has disabilities

Do you have to supply your own seating and tables?
Pro: Total Freedom and the Ability to Save Some Money
Non-traditional venues are often much less expensive than traditional venues. If you have a good relationship with the person who owns the space, it could cost you next-to-nothing. In many cases, you'll be granted total freedom to arrange, decorate and light the space however you want, and really plan the wedding of your dreams. 
But beware: not all non-traditional locations can be categorized the same way. If you have any doubts about certain venue restrictions, or if you're worried about sinking a ton of money into renting the space and spending endless hours fretting about getting the necessary permits, reconsider using a traditional venue.
Choosing a Non-Traditional Wedding Venue
It's possible to get married just about anywhere. Of course, that level of choice can become overwhelming, so here are some of the more unique venues you could choose from:
1. Rustic Barn Wedding
A popular choice for couples who want an intimate wedding in a special, meaningful setting, rustic barn wedding venues offer plenty of freedom to plan the wedding you really want. Barn weddings are typically inexpensive compared to a traditional venue, and they offer a setting that is laid-back, romantic and has a deeply personal feel. 
2. Museum or Library Wedding
Spaces like museums, libraries and art galleries are perfect for wedding ceremonies and receptions, and they're often available to rent out. They generally have enough space to accommodate all of your guests, and they also have amazing architecture that can make your wedding all the more memorable.
3. Park Wedding
Outdoor weddings are increasingly popular, with park weddings being a great way to enjoy nature on your wedding day. From local parks to state parks and even national parks, there are tons of options all over America. Mountains, forests and waterfalls would make the perfect backdrop. 
4. Warehouse Wedding
Tying the knot in a warehouse or old factory may not sound romantic at first, but consider all of the possibilities an industrial-chic ambiance an urban space can offer. Much like a barn wedding, this option gives you a blank slate and the freedom to play with the rustic vibe. 
5. Garden Wedding
From hosting your wedding in your own backyard to getting married in a local botanical garden, these are some of the most romantic and visually stunning wedding venues. Be sure to consider greenhouse and glasshouse weddings as well. One of the advantages for this setting is that you don't have to spend additional money on decorations and flowers, as the garden has already provided this for you.
6. Historic Home Weddings
Whether you want an indoor or outdoor wedding, a historic home will set the scene beautifully. From historic landmarks and far-flung castles to Airbnbs and family estates, there are some amazing options out there. Perhaps you even have one of those historic homes in your own family!
For more inspiration on wedding venues and wedding styles, take our short wedding style quiz to find out which type of wedding is most suitable for your unique tastes!