4 Wedding Day Timeline Planning Tips for a More Relaxed Schedule
November 26 2020 – Mike Yarbrough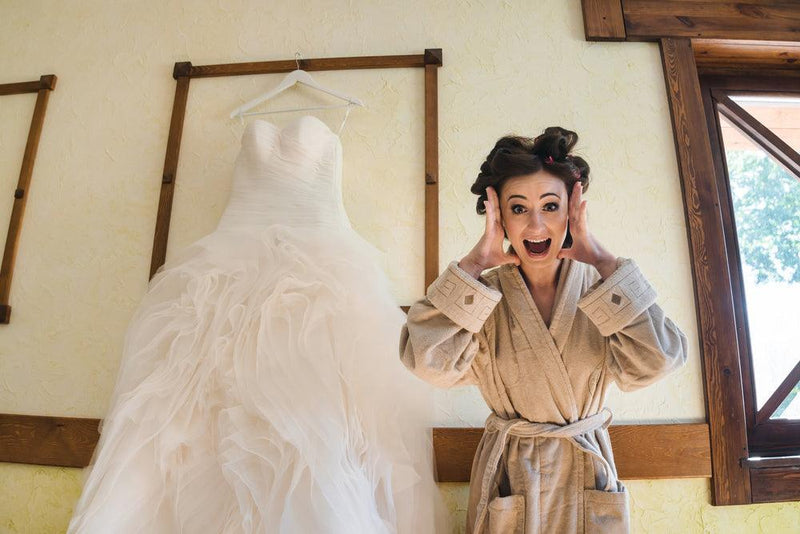 Here's a harsh truth for you: your wedding day is going to be hectic. It can also pass you by in a blur if you're not careful. That's why planning out your wedding day timeline in advance is so important.
Carefully architecting your wedding day timeline will take so much of the stress out of the big day. It will also make it easier for you to really stop and savor every moment. After all, it's a once-in-a-lifetime event, and you and your future spouse  will look back on it for decades to come. 
Wedding Day Timeline Tips
The more detailed you can make your wedding day plan, the easier it will be to follow, and the less likely it is to go off the rails. Keep a few basic principles in mind as you're working out your wedding day itinerary. First and foremost, remember that this day is about you and your fiancé(e), and no one else!
1. Start Early
Don't expect to sleep in on your wedding day. It's going to take longer than you might think for everybody to get ready, so do yourself a favor and go in with the expectation that it will be a long day. If the ceremony is planned to start at 5pm, preparations should begin no later than 9am. 
2. Talk to Your Wedding Planner
Your wedding planner has done this a million times. They can help you plan out your day based on their experience. Chances are, they're also very familiar with your venue and all the wedding vendors, which will help your wedding planner keep things on track. 
3. Pad Your Schedule
You need to schedule some downtime to keep your day from getting too overwhelming. Schedule a few breaks into your wedding day timeline, and include a little wiggle-room—let's say an extra 10 or 15 minutes—between each event, so if somebody ends up late to the photo shoot, it won't send the whole day toppling over like dominoes. 
4. Keep Everyone on the Same Page
Distribute your wedding day timeline to everyone who could possibly use it! In particular, make sure all of your VIP guests (i.e. wedding party members, parents of the bride and groom) receive an itinerary, as well as all of the wedding vendors. On the day of the wedding, your wedding planner should be in charge of keeping things on track so the bride and groom can relax. 
Typical Wedding Day Timeline
Bear in mind, this is only an example of what your wedding day timeline might look like. Your big day could be entirely different, and that's okay! Just be sure to sketch out the schedule in advance so you have time to pack in all the events and moments you'll treasure. 
The following wedding day timeline is based around a 5pm wedding ceremony start time, which is fairly typical but by no means set in stone. Adjust it according to your needs, and remember that you may also add events the day before the wedding (like a rehearsal dinner, cocktail hour or a bridesmaids' brunch).
9:00 am:

Hair and makeup personnel arrive and set up

10:00 am

:

Bridesmaids hair and makeup

11:30

- Lunch break

12:00 pm:

Bride's hair and makeup

1:00 pm:

Photographer arrives

1:45 pm:

Videographer arrives

2:15 pm:

Members of the wedding party dress and get ready

2:45 pm:

Bride and groom have first look and photos

3:30 pm:

Wedding party and family photos

3:45 pm

: Guest shuttles from hotels begin

4:30 pm: Wedding party arrives at the wedding venue 
5:00 pm:

Wedding invitation start time (meanwhile, wedding DJ or band arrives at reception site).

6:00 pm:

Ceremony ends and cocktail hour begins

7:00 pm:

Cocktail hour ends and guests are ushered to the wedding reception

7:30 pm:

Introduction of bride and groom and first dance

7:45 pm:

Guests asked to take their seats as the first course is served

8:00 pm:

Welcome speech from the parents of the bride and groom

8:15 pm:

First course is cleared and main course set

8:45 pm:

Best man and maid of honor toasts

9:00 pm:

Parent dances

9:30 pm:

Cake cutting

10:00 pm

: Bride and groom's grand exit

10:30 pm:

Guest shuttles begin departing back to hotels
The more planning you can do in advance, the more likely it is that your wedding day will go off without a hitch. We hope this wedding day timeline helps! Now that you have your wedding day timeline figured out, you can focus on one of the main details of your wedding - wedding rings. We would love to help you by
creating unique wedding bands
for the bride and groom. Take our ring style quiz to make sure you're getting the perfect ring and feel free to reach out to our live chat team at any time with your questions!