10 Ideas for Budget-Friendly (or Extravagant) Maid of Honor and Best Man Gifts
March 14 2021 – Mike Yarbrough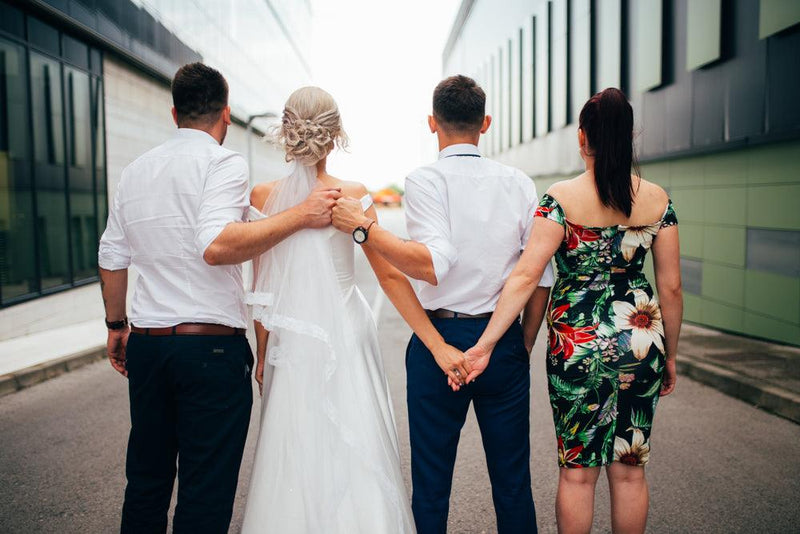 It's customary for a newlywed couple to get gifts for all of their bridesmaids and groomsmen as a small token of appreciation for all the hard work they put into making your wedding day a success. But when picking out the gifts, the best man and maid of honor deserve a little something extra. Ideally, the maid of honor and best man gifts will be a tad bit bigger and more special compared to the bridesmaids' gifts and groomsmen's gifts. The idea is to give a gift that really expresses your affection and friendship for your best bud, while also serving as a memento of your big day.
Most maid of honor and best man gifts fall into the "meaningful, yet budget-friendly" category. But if you want to go all-in and get those "wow" gifts with a higher price tag, we have a few ideas for those too!
Inexpensive Maid of Honor Gifts
The sentiment behind the gift you give your maid of honor is so much more important than the price tag. These gift ideas under $100 are easy on the budget, but still express your gratitude in a meaningful way:
Framed Photo:

Make sure your wedding photographer gets at least a few good shots of you and your maid of honor. Put one in a custom frame to make the perfect gift.




Custom Scented Candle:

A scented candle in a customized jar is another great way to say thanks. Every time your maid of honor lights the candle, she'll be reminded of all the great times you've shared.




Wine Glasses:

With custom engravings to commemorate your wedding, a beautiful wine glass set is a thoughtful gift that will get years of use!
"Wow" Maid of Honor Gifts
If you want to spend a little bit more on a gift for your maid of honor, that's okay too! These gift ideas may cost more but the memories that come with them will be worth every penny:
Necklace:

Depending on the material, jewelry can fit in any price range. Consider getting matching bracelets for your maid of honor and yourself to represent your ongoing friendship.




Maid of Honor Gift Box:

Gather up your best friend's favorite things and wrap them all up in a beautiful custom gift box. You could include high-end beauty products (spa set, cosmetics, etc.), a vintage bottle of wine, fancy European chocolates and maybe an item of jewelry like a bracelet or a pair of earrings.
Budget-Friendly Best Man Gifts
The best man, like the maid of honor, likely isn't expecting you to spend an arm and a leg on a gift. He's just happy to help out and honored to be your number one dude. Still, these best man gifts give you a chance to say thanks in a meaningful way without breaking the bank: 
Whiskey Glass:

An etched or engraved whiskey glass is a great 'thank you' gift that you and your best man can use to toast to your friendship for years to come.




Custom Hatchet:

If your best man is the woodsy, outdoorsy type, a hatchet with an engraved handle is a cool, practical gift that he'll be sure to enjoy using.




Engraved Lighter:

For the cigar aficionados out there, a windproof metal lighter (i.e. a Zippo-style lighter) with a custom engraving or monogram can be a special gift that your best man will love to show off. 
Next-Level Best Man Gifts
Of course, just because your best man doesn't expect a fancy gift doesn't mean you can't get him one! Consider these options if you have a little more room in your budget: 
Watch:

A nice wristwatch is a classy gift for a classy best man. Add an engraving to the back to make it more personal.




Best Man Box:

You know what your best man likes. Like the maid of honor's gift box, you can find (or make) a nice wooden box and fill it with his favorite items. If you're short on ideas, think grooming products like cologne and beard oil, a bottle of his favorite whiskey with a customized glass, or even a

retro video game console

with a few games!
Just like every other aspect of your wedding day, your maid of honor and best man gifts should be as unique as your friendship. They should express your gratitude to your best friends and, ultimately, become another memorable part of your wedding story. 
It is important that the gifts you give to your maid of honor and best man remind them of the stories of your friendship and your big day. It is even more important to celebrate and remind yourself of the unique love story between you and your future spouse. At Rustic & Main, we specialize in telling your story through custom wedding rings made to your specifications, using non-traditional materials. If you would like to learn more, our live chat team is standing by to answer any and all of your questions!