10 Random Wedding FAQs Couples Often Wonder About
April 11 2021 – Mike Yarbrough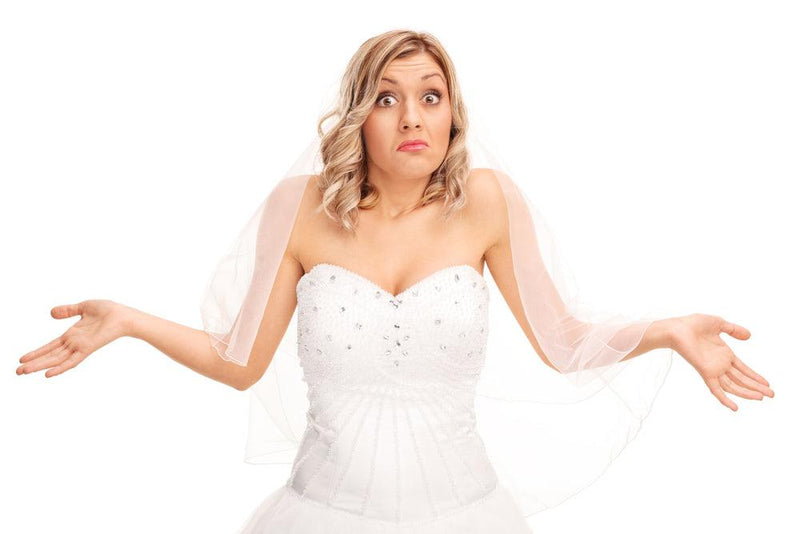 If there's one thing we've learned about wedding planning, it's that no matter how random you think your questions might be, you're definitely not the first person to ask them. Wedding planning can be overwhelming; it's as simple as that. From choosing bridesmaids gifts to matching your wedding bands, here are 10 wedding FAQs soon-to-be-married couples often have.
What Exactly Do the Bridesmaids and Groomsmen Do?
The bridesmaids and groomsmen all have certain responsibilities. Chief among them is offering a support system for the bride and groom. Essentially, bridesmaids and groomsmen need to be there when the bride and groom need them.
Duties of the Groomsmen
Groomsmen duties include helping plan the bachelor party, attending all of the pre-wedding events, offering to transport out-of-town guests, helping the best man if he becomes overwhelmed and, above all, being a good friend to the groom.
Duties of the Bridesmaids
Similar to the groomsmen, the bridesmaids are expected to help plan the bridal shower and bachelorette party, attend all pre-wedding events, go wedding dress shopping with the bride, supporting the maid of honor and offer any emotional or logistical support if the bride starts to feel overwhelmed during the planning process.
On the day of the wedding, both the bridesmaids and the groomsmen should also be ready to answer any of the guests' questions and be sociable during the reception. 
How Do You Choose Your Wedding Party?
Deciding who should and shouldn't be part of your wedding party can be a challenge. There's always a chance of feelings being hurt if a friend isn't chosen as a bridesmaid or groomsman. Here are some ways to make the selection process easier: 
Start with family members, especially brothers and sisters.

Consider how different personalities will go together.

Choose friends you're closest to and/or have known the longest.

Give other jobs to friends you don't have room for in the wedding party.
The number of bridesmaids and groomsmen you choose largely depends on the size of your wedding. For a tiny micro-wedding, you might choose only a maid of honor and best man. But for a larger wedding, you may have as many as 10 bridesmaids and groomsmen. 
What Are Good Gifts for the Maid of Honor and Best Man?
It's customary for the bride and groom to get small gifts for everyone in the wedding party, but the gifts for the best man and maid of honor are typically slightly larger and more personal. Choose a gift that is meaningful, and reflects your gratitude for not only their help on your wedding day, but also your many years of friendship. The price tag on a gift is less important than the meaning behind it. Gift ideas for the maid of honor could include custom wine glasses, a monogrammed necklace, or a gift box with some of their favorite items. For the best man, you could give them a nice wristwatch, engraved whiskey glasses or a couple of retro video games.
Can You Combine Bachelor/Bachelorette Parties?
You certainly can! While throwing a combined bachelor/bachelorette party isn't for everyone, it's a fun way to celebrate your engagement as a couple instead of throwing two separate parties. It also involves less planning and can create less waste! 
Be sure to have an honest discussion about whether this is the right option for you as a couple. It's only fun if the bride and groom are both on the same page, and if the party equally represents both of you. Generally, a combined bachelor/bachelorette party is planned by the best man and maid of honor, so make sure they both understand your needs. 
Who Gets the First Dance at the Wedding?
The prevailing tradition at modern weddings is that the bride and groom share the first dance at the wedding reception. This convention has changed a lot over time and there are no firm rules about how you observe it. Another common custom is for the bride and the father of the bride to share the second dance.
How Do You Choose Wedding Flowers?
Picking out wedding flowers can be a very personal choice and there are numerous ways you can go about it. Start by making a list of flowers you like and using online resources like Pinterest to save flower ideas that appeal to you. Once you get down to choosing specific flowers, consider a few different factors: 
Choose flowers by season, using flowers that are most readily available during the time of year in which you're getting married. 

Choose flowers that are native to your region to give your wedding a personal, local touch. 

Consider the decor of your wedding venue and pick flowers that go with the overall color scheme and ambiance. 
It's also important to hire a good florist. Choose someone who is not only talented and experienced, but who is dedicated to chasing your vision for what you want your big day to look like. 
What's the Best Way to Finance a Wedding or Engagement Ring?
There are numerous paths available when you need to finance a wedding ring or an engagement ring but the less debt you go into the better. Plenty of people take out a personal loan or use a credit card to finance their wedding ring, but at the end of the day, these choices could lead you to spend much more in interest than you need to. 
Save up as much as possible so you can pay for most, if not all, of the engagement ring in cash upfront. If you do need additional financing, be sure to talk to your jeweler about the options they offer before you take out a loan or open up a new line of credit. 
Can You Have Multiple Wedding Rings?
You can definitely have multiple wedding rings, and there are any number of reasons why brides and grooms choose to do so. Some choose to have a "backup" ring in case theirs is lost or stolen, or to have a more versatile ring they can wear while doing activities that might damage it. 
Many brides (and a few grooms) also choose to wear multiple wedding bands, either switching their band depending on the occasion and attire, or wearing two bands at once. Some brides wear an engagement ring between two bands for an increasingly trendy "stacked" look. 
How Do You Pick a Wedding Ring to Match the Engagement Ring?
"Matching" is in the eye of the beholder! When most of us think about matching rings, we think of rings that are made out of the same metal. And while that's one option, it's far from the only option. 
Consider rings made out of complementary metals, such as a white gold engagement ring with a yellow gold band. Or choose a wedding band made out of a non-traditional material -- like wood -- with a metal inlay that matches the material of your engagement ring. 
What Does a Wedding Planner Do?
Wedding planners are there to assist with the entire wedding planning process. In a nutshell, they exist to keep you sane and shoulder much of the burden that comes with putting a wedding together. Some of the most common wedding planner jobs include (but are definitely not limited to):
Working with you to plan out your schedule for your wedding day

Discussing your budget and helping you stick to it

Lining up vendors and negotiating their contracts

Securing a wedding venue

Running interference on your wedding day so you don't have to answer any logistical questions
Planning your wedding should start with buying the perfect wedding ring! Take our ring style quiz to find out which of our ring collections is best for you, then start designing your own ring using our wedding ring customizer!